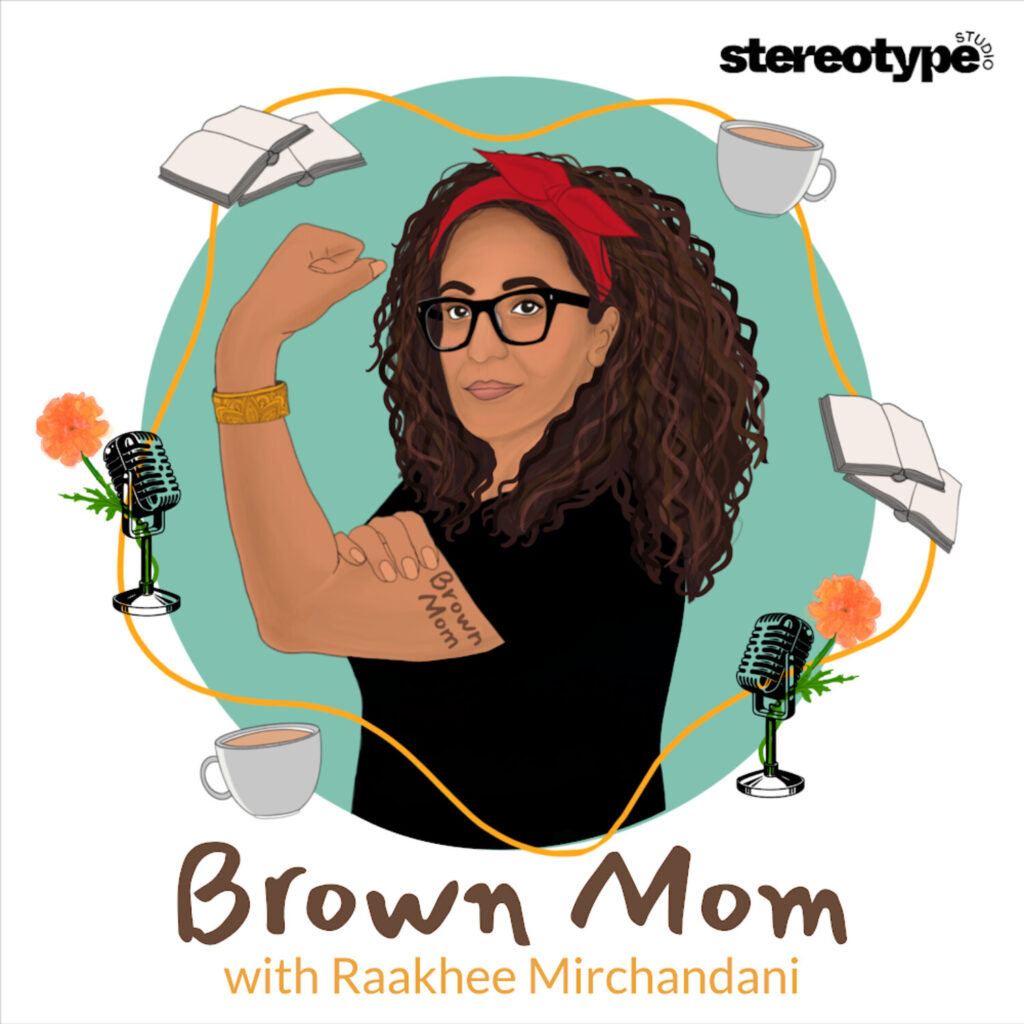 The following piece was originally published to ChaiMommas.com and republished here with permission. 
You know when you've been craving something for so long, but you can't quite put your tongue on it? Then randomly, it pops up in your life and you can't live without it? For me, that's "Brown Mom," a new podcast hosted by award-winning writer, editor, pediatric cancer crusader and badass mom Raakhee Mirchandani. I honestly didn't know how much I needed Raakhee in my ear until now and it couldn't have come at a better time.
Mom-life is hard in general, let's be honest, but 2020 has been a serious roller coaster. Not only are we moms, but so many of us are working from home, homeschool teachers, chefs of every meal, and the housemaid that procrastinates folding laundry. It's pure overwhelm most days, but every Tuesday for the last five weeks, I have had the pleasure of listening to Raakhee speak to other brown moms, who like us, are more than just moms. I feel so heard, so seen.
Raakhee is a breath of fresh air. She says what I'm thinking and has me nodding my head so hard. Her candid conversations with women including Hitha Palepu and Reshma Saujani make us smile wide and LOL while our children run in the background (thank goodness for Airpod pros). So far, she touches upon body hair, culture, raising children, single motherhood, fast failure, and a variety of desi foods that makes me crave mom's cooking.
View this post on Instagram
I had the opportunity to interview the host and learn more about "Brown Mom," and it only made sense to start with rapid-fire:
What dish reminds you of home? Sindhi curry and rice
Songs that lift you up? Beyonce's "Brown Skin Girl," Dolly Parton's "Coat of Many Colors," "Hawa Hawaii" from Mr. India, and any DJ Rekha set. I've also been known to get hype to "Ek Do Teen," Madhuri is a queen and that song is pure fire.
What book are you reading right now? I'm listening to President Obama narrate "A Promised Land" and re-reading Supriya Kelkar's "American As Paneer Pie" to prepare for her upcoming "Brown Mom" recording!
Jeans or Leggings? Leggings, specifically Athleta's Elation Shine Tights; make me look like a superhero. (I don't button things around my waist unless absolutely necessary.) 
Pakora or Samosa? Samosa.
1) What inspired you to start "Brown Mom?"
Does a hairy upper lip count? Because between my middle school moustache, high school invisibility and growing up desi in the '80s and '90s in suburban New Jersey, well, you could say it was all very, um, inspiring. 

Our voices have gone unrecognized for a very long time. I don't see myself, my mother, my friends, my daughter and my sisters reflected back at me very often. And to be honest, I'm over it. Also, we can change that. It's the reason I went to journalism school. It's why I ended up writing children's books. I'm at the stage now where I'm no longer waiting, I'm doing: writing books, essays, starting podcasts and pitching ideas to studios. 

'Brown Mom' is a manifestation of that shakti. These are the conversations I have with friends all the time and I'm amped to be able to share them more broadly. Being able to trade experiences and insights with other Brown women is so good for my soul. I was nervous to start the podcast; I still am. What if no one likes it? What if people don't listen? What if people think I'm dumb? Self-doubt is pervasive and powerful, but I'm doing it anyway.

I love hosting this podcast. I love these conversations and the space we are creating together. It's worth every bit of the fear.
2) What message are you trying to deliver with this new platform?
The message is simple: We are here. Brown voices, voices of the South Asian diaspora, are here. And we will gather, share, build, heal, laugh, repair and create together. Join us!
View this post on Instagram
3) Who's your dream guest for the podcast?
I've been able to snag some pretty dreamy guests already and I'm very grateful. I talked to Reshma Saujani about bravery, Hitha Palepu about hair, Nisha Vedi Pawar about faith and Poorna Jagannathan about "Never Have I Ever" and desi names. And this season is just getting started, so stay tuned for some other fantastic guests and conversations. 

But I pray on the dream guests list daily. Here you go: Vice President Elect Kamala Harris; I'd love to talk to her about Shymala and ancestral lessons, Meena Harris for a conversation about ambition and her new book "Ambitious Girl" and Mindy Kaling so we can talk about 100,000 things including sweat pants, dosas, brown Hollywood and her skin and soul care routine because her glow and light is so real and that's some deep soul level care she's got going on. And, of course, Gitanjali Rao, student, author, science enthusiast and Time's first-ever "Kid of the Year." (I'd also *really* like to talk to her caregivers!)

I'd also love to have my friend Jameela Jamil come on to we can talk about body image, Padma Lakshmi so we can chat about food, taste and 'Taste the Nation,' the cast of Netflix's 'Bollywood Wives' show so we can talk about accents ( I have *a lot* of questions for them). Also: Stacey Abrams, DJ Rekha, Hasan Minhaj, Tan France, Robin Arzon, Jayshree Ullal, Ravi Patel, Valarie Kaur, Deepica Mutyala, Aparna Nancherla, Lilly Singh, Monika Shergill, Rupi Kaur, Jay Shetty, Samata Nara, Payal Kadakia Pujji and Nina Davuluri, among many others! 
4) You have such a beautiful outlook on life, which we hear in your podcast and candid conversations with other moms. What's one piece of advice you can give to other moms?
Thank you! The connection is the thing that really lights me up, so while I've thought about doing this podcast for a while now, it's poetic that it all came together during this year where we are distanced and isolated from the people we love. 

I'm not great with advice: I'm neither a parenting expert nor an expert parent! But the things I keep coming back to, over and over are these two. Sorry, I know you asked for one, but I'm pretty shit at following directions:

Make time for friends and make time for yourself. Whether that's a text chain with your besties or a WhatsApp group with the folks who make you laugh, make time for non-parenting related connections. And take time for yourself, whether that's a run, a walk or just sitting in a spot, on a park bench, reading a book or listening to a podcast for 20 minutes.

Let's include partners, caregivers, dads and mamas when we're planning activities, school events, birthday parties and more. The extra work — and let's be real here, there's a lot of damn extra work — can't continually and consistently fall on women. So if there's a school share that needs to be scheduled around Vaisakhi or Diwali, emails that need to be sent around extracurriculars or even playdate scheduling, alarms that need to be set for the 4,000 Zooms your kids have to get on for remote learning, well, let's take all that stuff off the "mom plate" and serve it up for all the caregivers to share. 
For more Raakhee, you can find her on Instagram (@Raakstarwrites) and, of course, every Tuesday on "Brown Moms," which airs on all podcast platforms.