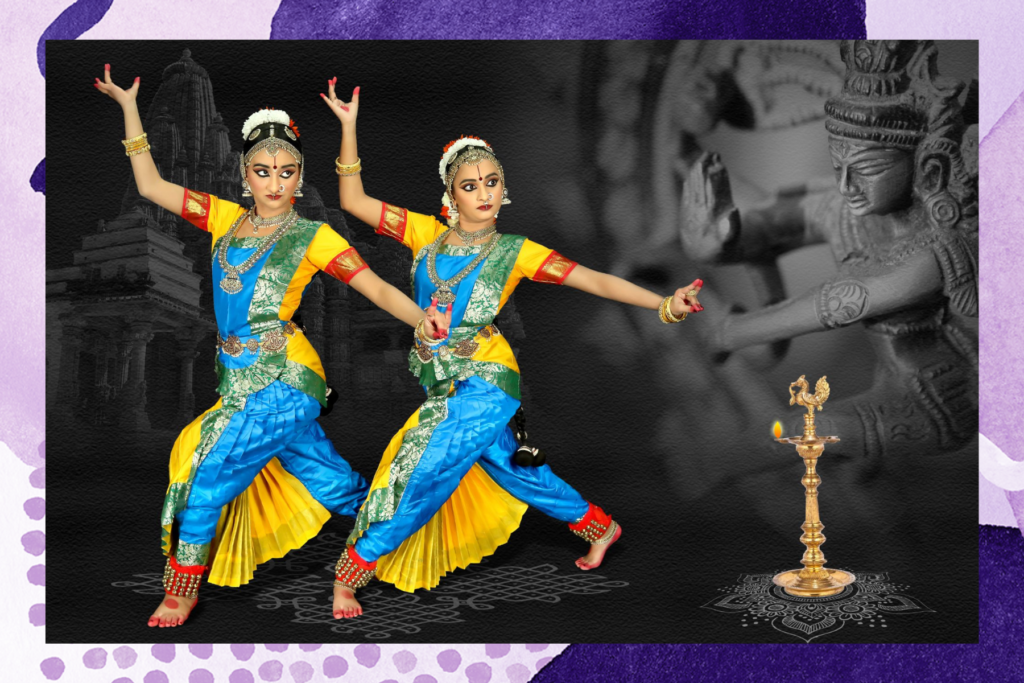 What is Bharatanatyam?
Bharatanatyam is a traditional Indian dance form and the oldest classical dance tradition in India. Bharatanatyam, originally a dance performed by women in temples of Tamil Nadu, is often used to convey Hindu religious tales and devotions. It is taught by a teacher known as a guru. The dance costume resembles that of a South Indian bride and the dancer wears anklets, called ghungroos, to keep the rhythm while dancing to the music. While Bharatanatyam is still taught all over the world in the traditional way, the styles of teaching have changed over the years. For the last six years, my sister and I have been taught modernized styles of Bharatnatyam in the USA.
View this post on Instagram
What is an Arangetram?
An Arangetram lasts approximately three hours and has nine, or in our case 10, dances in total. It begins with an introduction dance called a Mallari or Pushpanjali following the guru's nattuvangam (rhythm kept using symbols). In the middle of the program is a Varnam — a centerpiece dance that lasts about 30 to 40 minutes. This dance tests the dancer's endurance as well as their storytelling ability. The performance is concluded with a Thillana which is seen as the last glimpse into the dancer's full capacity. The Thillana is followed by a Mangalam, the closing dance of the Arangetram.
Preparing for the Performance
My sister and I began learning Bharatanatyam in 2016 when we were nine years old. Despite our instant attachment to the art form, we were always daunted by the idea of having an Arangetram of our own. It would be challenging, mainly because we are twins, and our performance would have to be suitable for two people to perform side by side. We began preparing for this event in the summer of 2021. Our guru would make us run for the first half hour of class to build our stamina — much-needed for a three-hour repertoire. We would spend the next two and a half hours learning our repertoire. The first dance we learned together during this time was our Varnam. Learning this dance took a month and we spent a lot of time memorizing it. Our Varnam was dedicated to Lord Krishna, one of the many Hindu gods, known for his charm, wit, and being a master Guru whose philosophies were immortalized through the Gita — the Hindu Holy scripture.
An Arangetram is the on-stage debut of a traditional Bharatanatyam dancer following years of training and discipline under the able guidance of a guru. This is a milestone for young artists as it opens up the opportunity for solo performances, choreographing individual pieces, and instructing other dancers.
By January, we had learned our entire repertoire and were starting to memorize it while adding expressions, poses, and building up our stamina, making them look effortless. Some dances were more difficult to memorize than others, particularly dances that were story-based. Because most Bharatanatyam dance music is in either Sanskrit or Tamil so we couldn't understand the lyrics right away. Our guru helped us interpret the stories before teaching us the choreography making them easier to commit to memory. We also had help from our mother who listened to all our songs and gave us keywords that corresponded with our dance moves. Listening to dance music on the way to school, dance, or while getting ready for bed, became a part of our daily routine as it helped us internalize the rhythms.
Although a year seems like a long time to prepare for an event, the day of the Arangetram came before we knew it. The morning started off with family and friends coming to our house to help us transport decorations and essentials we would need backstage. We arrived at our venue — the Balaji temple in Bridgewater, New Jersey — and made our way to the green rooms. Our makeup artists assisted us with hair and makeup, which lasted four hours. During this time we were going through the dances in our heads and mentally preparing for the performance to come. Once we were dressed in costume, we headed for the stage pooja, a prayer session on the Arangetram stage with close friends and family, to invoke a successful performance. This was also the time when jitters started kicking in. It had just occurred to us that the performance we'd been preparing for our entire dance careers was about to happen and this was the only chance we had to show the audience our very best.
A person can only have one Arangetram in their lifetime, and this huge milestone comes with pressure given how special the performance is.
As the masters of ceremony were introducing our first number all I could do was stare at my sister standing in the other wing, and I knew we had the same thoughts going through our minds.
Delivering the Dance
As we began dancing I felt almost a sense of relief because of how well we knew the dance. Every single dance was so ingrained in our muscle memory that it felt like second nature even in front of such a large audience. During the repertoire, we had two costume changes, with three costumes in total. Each costume change took 15 minutes while the audience was learning about SAMHAJ or listening to speeches from our friends and family. Backstage, our makeup artists and backstage moms were busy helping us change our costumes and jewelry, adjusting them to make sure nothing would move while dancing. We also had some of our fellow dance girls backstage giving us water and fruit as well as tightening our ghungroos so they wouldn't fall off on stage.
Our Varnam was a huge success, resulting in a standing ovation from the audience. After the Varnam, we performed a slower dance called Ramabajanam, telling all the stories about Lord Ram, another Hindu god known for his chivalry and virtue. We decided to dedicate this dance to our parents since it was always their favorite to watch and listen to. My mom was heavily involved in helping us memorize this dance by telling us the stories so we wouldn't forget the choreography. Right before the last dance, we acknowledged all of the people who helped us backstage and were presented with our graduation certificates. In order to give the audience a peek at the effort that went into the performance they were watching, we shared our experience with the audience as well as our guru's message during this time. Our last dance surprised the audience, as our mother joined us on stage and danced with us. She always dreamt of being a dancer as a child but was never able to learn. Sharing one dance meant a lot to us, and watching it was very entertaining for the audience as well. After all the dances were over, all our guests proceeded to the banquet hall for dinner where we were able to greet all our guests and thank them for coming. When the night ended we were exhausted but still full of adrenaline.
View this post on Instagram

Even though the tension that had built-up in my head over the last few months had now subsided, I was somewhat disappointed that the process had come to an end. I wouldn't exactly call my Arangetram journey perfect or effortless, but I grew so much this past year as a dancer and as well as a person. The lessons I learned from dance about hard work and resilience will carry on with me for the rest of my life and for that I am forever grateful. The event itself brought so many people together such as my aunt and cousin, who came all the way from India to attend, as well as so many relatives that we hadn't seen in years. Grandparents, as well as young children all gathered in the audience to watch a display of their culture, or for some audience members, learn a new one. Not only did we spread awareness for this beautiful art form, but we also raised awareness on mental health amongst South Asians — an issue we're passionate about.
Along with our guru, we decided to leverage this event to create awareness for mental health amongst South Asians in the United States. We decided to advocate for SAMHAJ, a charity that provides education and support for South Asians affected by serious mental illnesses. In order to educate people about mental health, SAMHAJ offers workshops to social service organizations, schools, and mental health professionals as well as provides culturally competent mental health services by creating bilingual support groups. You can donate to SAMHAJ via this link.
Overall, this process has been immensely gratifying and I simply cannot wait to see what the future has in store for me with Bharatanatyam.