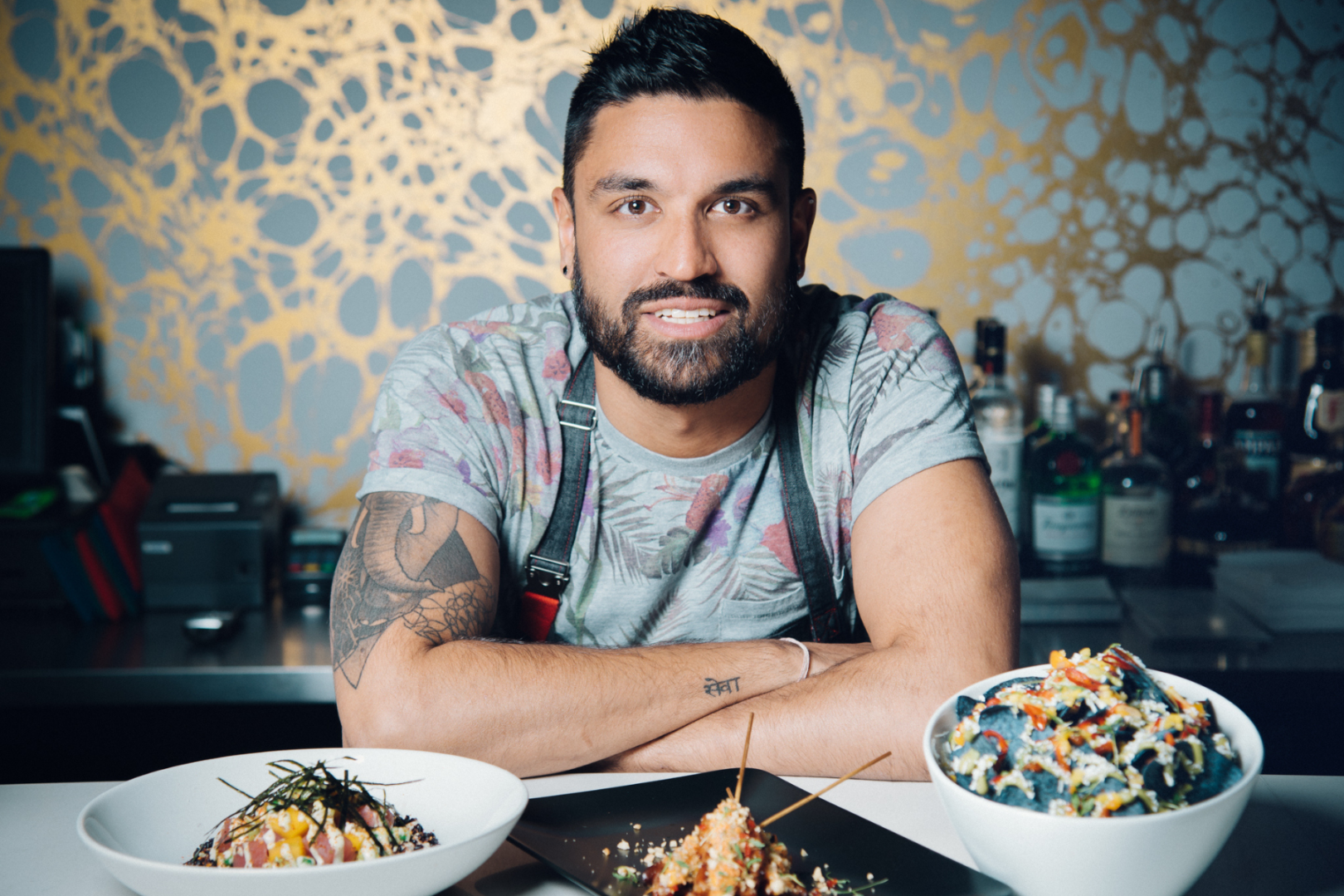 Passion is something many claim to have, but few truly possess. Whether it's hobbies, professions or romances, it's the secret ingredient we all crave but is quite difficult to come by. But on meeting Chef Devan Rajkumar — aka Chef Dev — it takes just a few moments to understand true passion. For the Indo Guyanese chef from Toronto, passion has always been food and its power to connect, nourish, excite and represent. 
It was there, as a child, when he followed his mother and grandmother around the temple, getting daal stains on his kurtas. 
Today, he's used it to become a TV personality on Canada's "Cityline" and Food Network Canada's "Fire Masters," to collaborate with renowned caterers The Food Dudes, develop his own line of signature soups and host pop-up events around the world. 
View this post on Instagram
Whatever the outlet, Rajkumar feeds his mission to be an ambassador for modern, West and East Indian cuisine. I recently sat down with him to talk about this and the experience of bringing Indo Caribbean flavors to South Asia and beyond.
Feeding a passion for food
"The sights, the sounds, the aromatics. The excitement of the kitchen has just always appealed to me," he began. "Food moves me in a certain way. I want to nurture and nourish. I've just always wanted to do for others."
As he sat back in a 'Guyana vs. the world' tank top, Rajkumar's energy was palpable.
"I've always lived and breathed food, all day, all night. Like I'm talking about food right now. I'm constantly talking about food."
To Rajkumar, food is education — one of the best (and most enjoyable) ways to learn, teach and explore the world — and he credits his older brother Jai for inspiring this mindset. Jai was the first to introduce him to different cuisines, teach him to be curious about the world and show him how to challenge the norms of a "typical brown kid."
Despite this encouragement, however, a culinary career wasn't Rajkumar's first instinct. The son of a businessman, he initially jumped around universities and career paths. He also struggled with substance abuse and grief after Jai's passing. Through all the challenges, food remained a constant, and the sense of community it created was a powerful draw.  
"At a very young age, I recognized how food made me feel if I was in a bad mood and how it made others feel," he shared. 
He's always looked forward to sitting around a table with friends and family, enjoying a nice meal, and how everybody could share their stories or just forget their troubles.
"Food is a very powerful vehicle for transporting someone."  
In 2009, Rajkumar finally followed his passion and joined a culinary school. He realized he had a knack for creating this experience for others.
"I realized I had the power and the gift to nourish and nurture someone else in this way," and it became irresistible. 
A cook with no boundaries, Rajkumar didn't want to limit the number of people he reached to just those in Canada. 
View this post on Instagram
For many, success in the culinary world is having a thriving restaurant, but after spending six months opening one with The Food Dudes in 2015, Rajkumar realized this route wasn't for him. 
"I wanted more culture," he explained. "I wanted to learn and not so much get my ass kicked, but to be a sponge. I knew I needed to travel to broaden my horizons."
So he did. Rajkumar spent months cooking in India, London, Peru and Dubai. He shared his experiences on social media and people back home took note.
"When I returned to Toronto," he continued, "that trip had established me as a cook who had no boundaries. As someone who wasn't afraid to explore and get out of their comfort zone." 
And get out of his comfort zone he did. 
"From catering to a pop-up abroad to filming 'Cityline' and speaking engagements, every day is different," he explained. "I've had my bouts with imposter syndrome, but ultimately, I've gotten to make more of an impact than just opening a restaurant." 
That impact has especially been prominent in South Asia. 
View this post on Instagram
"Mad Love" in the Motherlands
Rajkumar embraces not only his Caribbean culture, but his South Asian roots as well. 
The temple he grew up in was a blend of Guyanese and East Indians, so he knew foods from a typical Guyanese household like alu curry and saijan but also East Indian favorites like dhokla and malai kofta. 
"Ultimately, we came from India," he declared. "I embrace the culture and I am very comfortable leaning back and forth into it. It's in me. It's who I am."
In fact, Rajkumar noted his career became much more defined and successful when he really began to identify as not just a chef, but as an Indo Guyanese Canadian chef. 
Hearing this, it was no surprise that Guyana, India and Pakistan stand out as some of  his favorite destinations. 
"Guyana is hugely impactful for me," he shared, having visited his parents' homeland frequently. "As soon as that door opens [at the airport], you smell Guyana. You smell the sugarcane burning from rum factories. I have all these wonderful sights, sounds, smells and flavors from those trips."
His sentiments for India are similar.
"Incredible India is incredible India," he referred to the country's tourism slogan. "Every 100-200 kilometers, the menus can change completely. I can live in India for the rest of my life and never see it all."
Pakistan, however, is in a class all its own.
"There's something special about Lahore," Chef Dev explained. "I was told Lahori hospitality rivals the best in the world and I got to experience that. I was interviewed on national television by Mustafa Shah. I explored Old Lahore with Ali Rehman. I got to cook my own chicken karahi at Butt Karahi. Anything I needed, I had. I've never met kinder people in my life." 
View this post on Instagram
Rajkumar's first trip in 2020 was only nine days long, but its impact stayed with him. 
He couldn't have been more excited to return for a month, earlier this year, and host what his friends there dubbed the "Mad Love Pop-Up," after one of his signature sayings. 
He filled the menu for the 18-day event with global dishes like ceviche and scotch eggs but infused them with West and East Indian flavors like masala, jerk and cassareep — a rich extract of the bitter cassava native to Guyana. Before he left, he even prepared Guyana's national dish of pepper pot, a hearty meat stew, for the staff meal. 
"My whole thought process was 'let me give these people — my family there — an experience they've never had before," he detailed. "Any time I give someone pepper pot or cassareep, they're just so shocked. It's so unique."
Rajkumar is always excited to share the flavors and culture of Guyana with new people, but with his roots in South Asia, bringing them to Pakistan was that much more profound. 
"In India, maybe it's different, but in Lahore, most people don't know about Guyana or where it is. That's another reason why I did this. That's why I do all the things I do. That's why I'm wearing this tank top — to raise awareness about my culture and how beautiful it is," he said. 
Time in South Asia has also helped Rajkumar gain a deeper appreciation for the origins of many Indo Caribbean dishes and reinforced his love for them.   
"Guyanese cuisine doesn't just have Indian influence, but so many dishes in some way, shape, or form come from there. Like when I'm eating sada roti, I can tie it back to which type of flatbread it came from in India. I feel like a better-equipped chef at the end of the day. I'm more connected to my Guyanese roots and to the culture overall." 
Rajkumar wants to foster a deeper understanding and relationship between both heritages. He wants his food to build connections, not disparity. 
Bringing the world back home
Rajkumar has visited over 20 countries, but Pakistan remains one place he'll cherish his entire life. He is grateful not only for the opportunities he's had there, but also for the chance to offer a fresh, alternative view of the country from what is often shown by the media.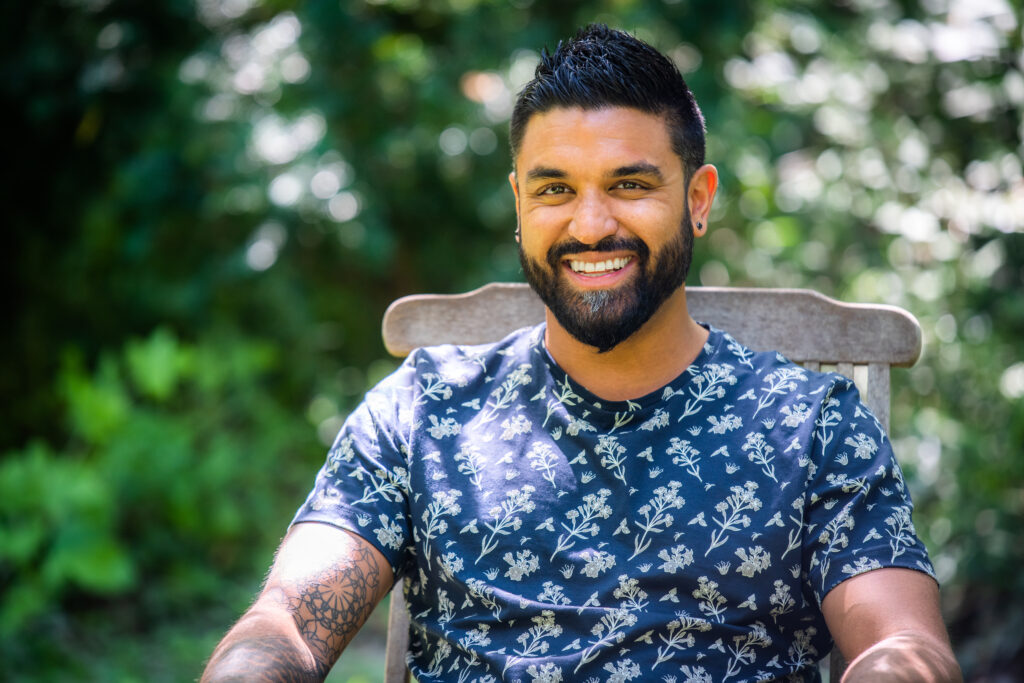 "When people saw me posting content from Lahore, they were like, 'Oh my God, this is Pakistan?' This is not what we expected. This is not what we thought we'd see.' They were shocked at how beautiful, kind, and welcoming everyone was."
Reactions like these are Rajkumar's ultimate goal.
A cookbook is due next year. He has aspirations of launching merchandise and cookware, traveling to South East Asia, and continuing his pop-ups, but ultimately, he concludes,
"I just want to stand for something. I want to continue to learn, remain humble, represent my Western and Eastern cultures and spread mad love. I want to be an ambassador to that world and be someone who's dedicated to his craft, bettering himself and those around him." 

"I just want to continue to grow as a person," he added with sincerity as he touched on his sobriety and what it's taught him about achieving your goals. 

"That might sound cliche, but it's new to me. I've spent the last two years learning about myself and being vulnerable about how I feel, my healing journey and what I'm going through. If I excel and continue to invest time and discipline in that arena, everything else around me will flourish. I believe that goes for anyone."
Rajkumar is going far literally and figuratively, but no matter where he lands, you can be sure he'll bring something back for his supporters, whether it be a new view of the world or a concoction like a ceviche pani puri on one of his menus. 
"That's my travels to India, Pakistan and Peru all in one bite!" he exclaimed. 
Chef Dev's journey has not always been an easy one, but it's a powerful example of the success one can taste with hard work, embracing authenticity and following true passion. 
To learn more about his work visit his website or follow his Instagram for real-time updates, recipes, and all the 'mad love.' 
Photos Credit: Alec Luna