The following post reflects the author's own views and is not a representation or an official endorsement of any candidate by Brown Girl Magazine. We will not be endorsing any candidate running for the upcoming presidential election.
It's 2020, it's an election year, and politically we're watching the moves of the field's major players. Sen. Bernie Sanders just dropped out of the presidential race, President Donald Trump is fumbling on his administration's coronavirus response, and the world as we know it appears to be a horror film come to life. 
As an American people, we're looking to our leaders for direction and empathy. And while yes, the presidency with its power and might will always be the media's central focus, the executive position is not the only one responsible for governing this country.
If we look behind the scenes of the U.S. political mechanism and pull the curtain back, we'll see thousands of state and city elected officials who work tirelessly to keep their cities, towns, and communities running. They are talking to voters one-on-one every day and attending to real-life, right-now, can-not-wait issues of everyday people.
Our local city councils are among this group and are largely our unsung heroes who advocate and vote for our local laws, negotiate our city's budgets, monitor government agencies to make sure they are serving taxpayers appropriately, and review development plans for improving the places we live.
So, why aren't we discussing these people and the work they do on a regular basis? Or better yet, who is even signing up to step up to the plate for this enormous responsibility?
Felicia Singh is.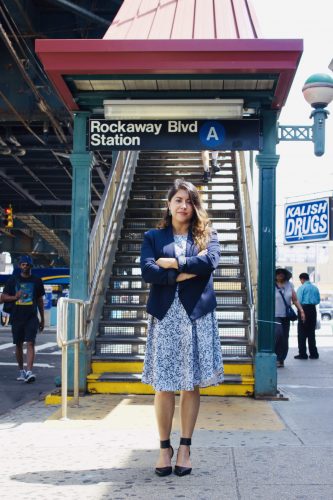 The Coney Island Prep High School teacher hopes to represent District 32 in southeast Queens, New York, as a city council member, and Brown Girl Magazine had the chance to pick her brain about her journey to run for office, platform and how local government can really change the lives of people with urgency, and more so, tangibility.
The district Singh hopes to govern is partly known for its delicious West Indian and South Asian cuisine and colorful, diverse shops. The community is close-knit, filled with immigrants, culture, and hospitality that may rival the southern U.S. It stretches from Richmond Hill through Ozone Park goes up Cross Bay Pkwy to Howard Beach, Broad Channel, Far Rockaway, and the surrounding area.
Living in Ozone Park her entire life, Singh has whole-heartedly believed in the act of service.
"I was raised in a Sikh and Muslim home and service is a pillar of both religions," she said. "So, when I graduated from college I decided to join the United States Peace Corps."
From 2013 through 2015, Singh lived in China and learned the importance of organizing. She lived in a new community for the first time and taught children English, met new people and learned a different culture and language. 
"I had this experience of working across lines of difference toward a common goal of learning, friendship, and partnership," she said. "When I came back from the Peace Corps I really wanted to use the skills I learned in my home town, so I had to re-engage with my community in a whole new way."
While for many, a two-year stint with the Peace Corps may have satisfied the volunteer bug, Singh had other ideas. In 2018, she joined a local non-profit called the Indo Caribbean Alliance (ICA) to further her organizing education and deepen her involvement in her community.
Singh's first charge as part of ICA was to register South Richmond Hill residents to vote. The young, and unbeknownst to her at the time, the budding politician took to the streets to talk to immigrant families about their most basic level of political self-advocacy.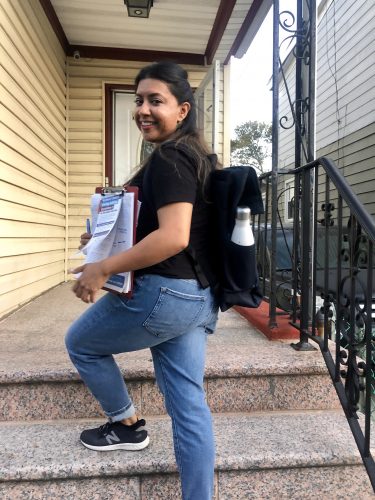 "Usually, it was a lot of people who were just like 'I don't vote because I don't think my vote matters at all, and I don't think what I say, counts,'" she said. "Many people in our country, cities, and towns are so disengaged from feeling like they have some sort of advocacy in policy and legislation."
This notion is not unknown or surprising to minority communities, who have routinely suffered political erasure due to lack of representation. As many families struggle to make ends meet in an ever-changing economic landscape, which in 2020 is further complicated by the spread of COVID-19, communities are looking for leaders who are able to identify the most basic of human issues — do you see me? 
"We [minority communities] need to find the power in our vote to say I'm going to vote you out if you're not going to do the thing you said you're doing to do," she said. "And it is so important that we do that and find that power. They are not more powerful than us, they represent us."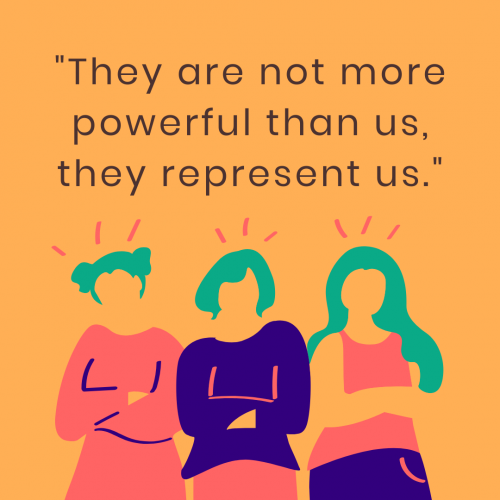 But who represents the people of District 32? In May 2017, Singh attended her first civic association meeting for her region, and when she walked into the room she realized that there was only "one other person" that looked like her in this space.
"The minority community in District 32 is almost equal to the majority community but the civic association is pretty much all white," she said. "I walked in and I thought, this is really uncomfortable, but I'm going to stay and listen, and get to know people."

"I was asked whether or not I lived in the community, if I was a liaison for an elected official or if I was a lawyer," Singh continued. "The city councilperson, who is currently in office, was speaking at the meeting and stopped to ask if I was a journalist."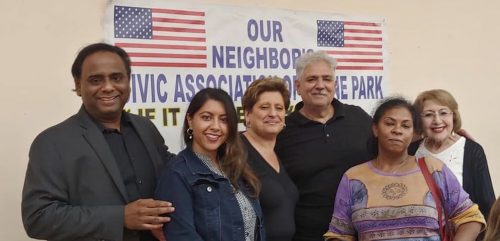 Taking a moment to put the awkward emotions of being in that space into perspective, she decided to take a leap forward. 
"They were recruiting a new e-board and I asked the president if he had a vice president, and he said no," Singh said. "And I said I want to be it. And he said 'OK, I will bring that up in our next meeting and I'll nominate you, and you can run and see if anyone runs against you.'"
She ran unopposed and won the seat, she said: "It took a lot of courage."
At the end of her one and a half-year term in 2019, Singh decided that she would take her passion for action to the next level and put her name in the ring for the soon-to-be campaigned for District 32 City Council seat, where she will run for an open seat since the current City Council Member, Eric A. Ulrich will be term-limited. 
This does not mean her journey will be easy as she is expecting this to be a crowded Democratic primary and potentially a tough general election. 
"Disrupting this space is so important as women, we need to disrupt the space," she said. "And, disrupt sounds like a terrible word but really what it means is that you're shaking the infrastructure to make it better for others, and I know this is my responsibility."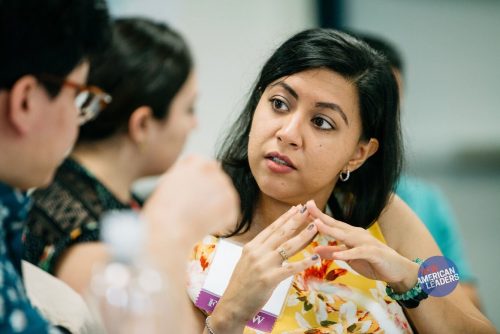 "We are used and abused as people of color, politicians want to take pictures of us they want to show up when our women die of domestic violence, they want to show up when we have sewage coming into our homes, in our basements because of poor infrastructure but then they disappear and they never come back again," Singh continued.
The progressive democrat, and so far the only declared woman for the seat, allows her humble beginnings to drive her purpose forward.
Growing up as the daughter of a taxi cab driver Singh has personally seen how easy it is for families to be driven to the brink of bankruptcy, and as the economy tumbles she's made it one of her goals to support small businesses, aiming to be sure that business owners in her district have access to every resource New York City has to offer.
"My dad purchased a medallion in hopes that by the time he retired it would help pay for our home and bills after he sold it," she said. "But what ended up happening was the medallion market crashed, and he took loans via lending predators who didn't give a crap about what would happen to these families."
Protecting small businesses is a significant tenet of Singh's platform. District 32 is marked as a transportation desert and experiences major turnover of its small businesses, she hopes to bring the resources New York City offers to southeast Queens and advocate for cutting fees that burden businesses and leave them handicapped before they even open up shop.
Alongside her passion for keeping stores that provide for the basic needs of the community open, Singh wants to ramp up access to educational tools, support environmental justice, create a community center and update the existing transportation system.
"Basic needs for people and getting them what they deserve in the communities that they invest in, and it's what I'm the most passionate about – that's where I see my work to be the most purposeful at the absolute ground level," she said.

"I envision a District 32 that is thriving from bottom up, and what that looks like is a space where we become a united community again, where that sense of otherness doesn't exist because we have become a home for people," Singh continued. "I want a space where we are talking about justice, better schools, a place where families are moving into our community and not out."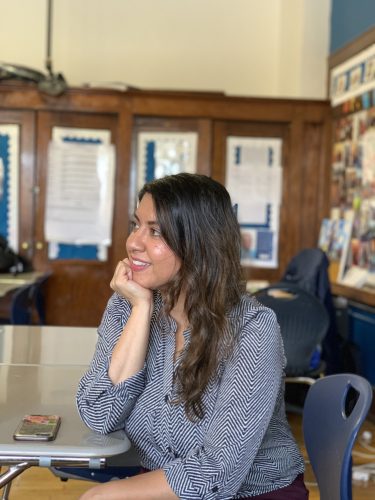 In June 2021, the people of District 32 will have the chance to cast their vote for the candidate they believe will work the hardest for their beliefs.
"There are 50,000 people in my district who are registered as Democrats and about 16,000 are registered Republicans, and we have a Republican City Councilperson. How did that happen?" Singh said.
Getting out the vote in today's political climate is more important than ever, and being politically engaged is becoming more of a requirement for citizens across the country. It's a sense of responsibility that should feel empowering, and when representation meets service, belonging is born.
"Everyone wants to be seen and everyone wants to be included," she said, "Everyone wants a chance to thrive and be successful in their lives and for me, that is what I want to see in my district."
---
Support Singh by learning more about her promise to District 32 and donating to her change campaign.