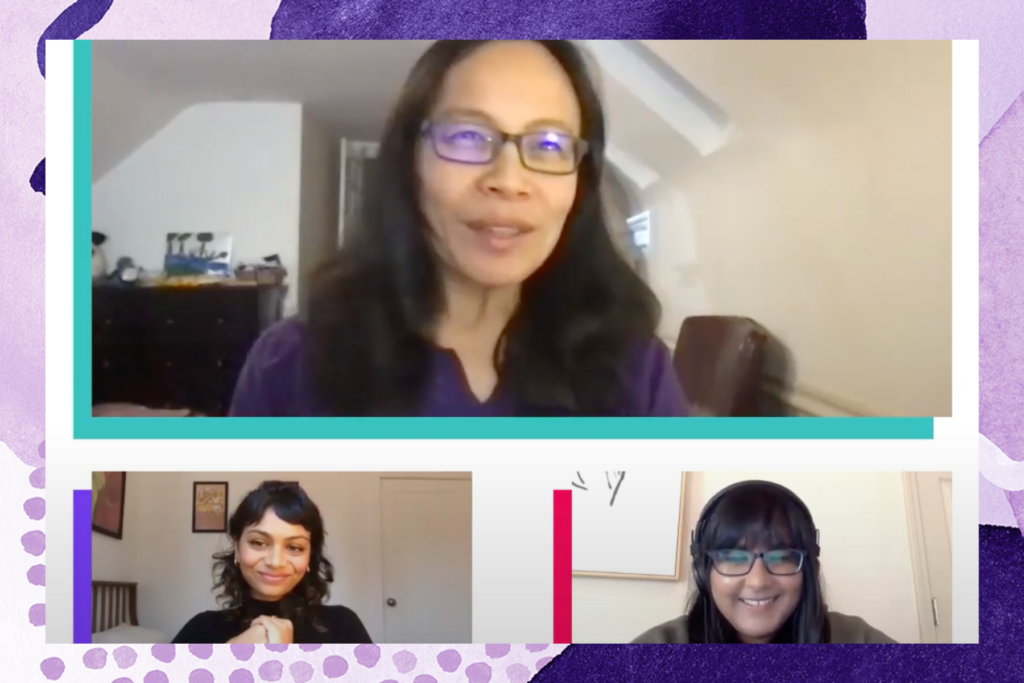 It's no longer a rare sight to see South Asians making waves in media, have influence in politics and have seats in board rooms. To name a couple of newer South Asians on screen, we've got Kingo, the first South Asian superhero in the Marvel Cinematic Universe and Ali, the India-born, Korea-based breakout star of Netflix's Squid Game. While they are the most recent examples, what is the state of South Asian representation on screen today? South Asians make up about 2.3 percent of the total U.S. population. Nielsen's latest Gracenote Inclusion Analytics data shows that the share of the screen for South Asian men is at parity at 2.3 percent while South Asian women share of screen stands at just 0.3 percent. Hasan Minhaj in Patriot Act, Aziz Ansari in Master of None, and Kal Penn in Harold and Kumar, are some of the notable actors who paved the way for South Asian representation. In recent years, South Asian women have been making progress, with The Mindy Project's Mindy Kaling, Youtuber turned late-night talk show host Lilly Singh, Never Have I Ever's Maitreyi Ramakrishnan, and Spin's Avantika Vandanapu closing the gap.
While the media works to catch up in terms of representation by numbers, there is still even greater opportunity for authentic portrayals of South Asian stories and characters. For a long time, the South Asians most frequently seen on screen were nerdy techies, comedians, cabbies, or corner-store owners like The Simpsons' Apu. For this reason, Kingo in Eternals is a win, as South Asians are able to see "someone like me" be a hero. Shows like Spin, which tells the story of Vandanapu's character pursuing her dream of becoming a DJ, are also reshaping the South Asian narrative. 
Using Gracenote Inclusion Analytics, we looked deeper into the top 10 programs with a high share of screens to further examine what South Asians see when they see themselves on screen.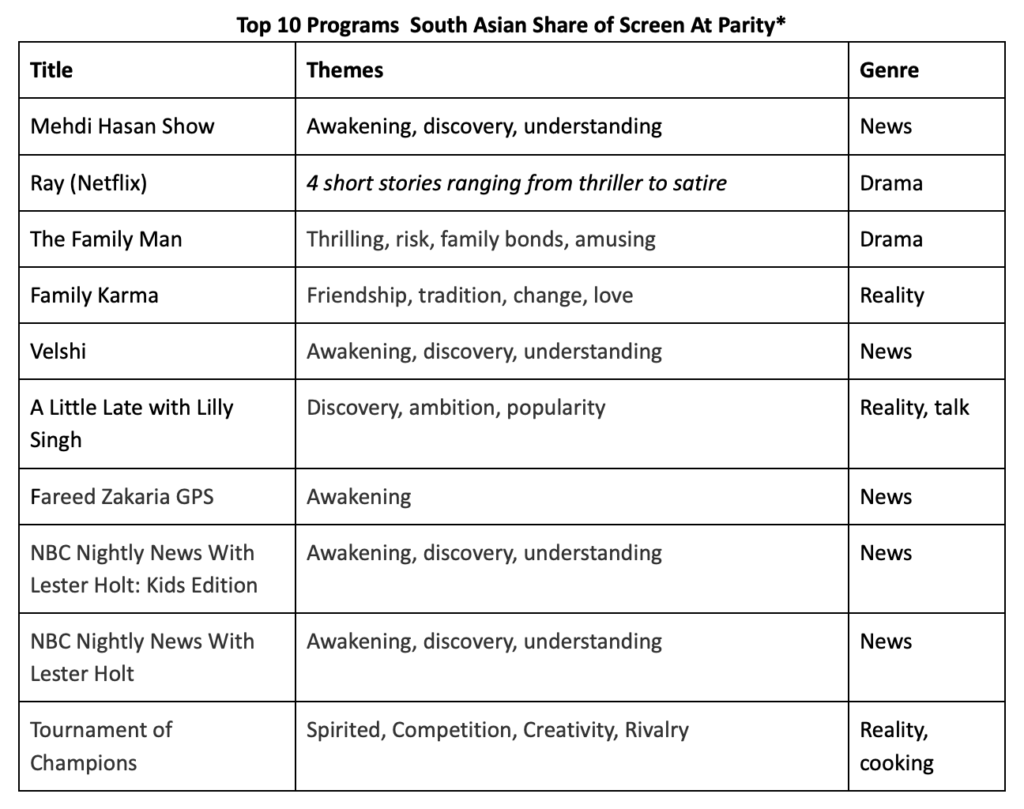 With half of the most representative programs coming from the news and reality genre, there is a clear need for more stories about everyday life, inspiring heroes or settings that break the stereotypes. Superhero Kingo, in Marvel's Eternals, who lives on earth as a Bollywood film star, is played by Pakistani-American actor Kumail Nanjiani. Still, the movie drew criticism from netizens for a Bollywood dance sequence seemingly from the '90s and featuring English lyrics. What can be done to close the representation gaps in South Asian characters and storylines?
Opening more doors to the talent behind the camera is one way to ensure that more of these stories are told with authenticity. Writer/director Urvashi Pathania, who won the 2021 APA Visionaries Shot Film Competition for her film Unmothered, said "I decided to make this film because I didn't want to play into the South Asian stereotypes. So often, South Asian diaspora films portraying India can veer on poverty porn and I didn't want to tell a story that didn't feel authentically mine."
Indeed there is no shortage of South Asian talent. So why not borrow from Bridgerton, where Black actors played characters from Regency England, and cast South Asians in non-South Asian content? In a recent interview, Keertana Sastry, host of the podcast "The Chaat Room," discussed how diversity and authenticity can be more easily and accurately portrayed. "You can make a "Manchester by the Sea" or a "Marriage Story," [use] that exact story but have South Asian/Asian/BIPOC people in them. You're adding a cultural lens without really having to bring it up. Automatically, you are telling a story that becomes universally relatable, because specificity is relatable."
For more details and insights, download Being Seen on Screen: The Importance of Quantity and Quality Representation on TV. Please visit nielsen.com/inclusionanalytics to learn more. Join the discussion on Facebook (Nielsen Community) and follow us on Twitter (@NielsenKnows).