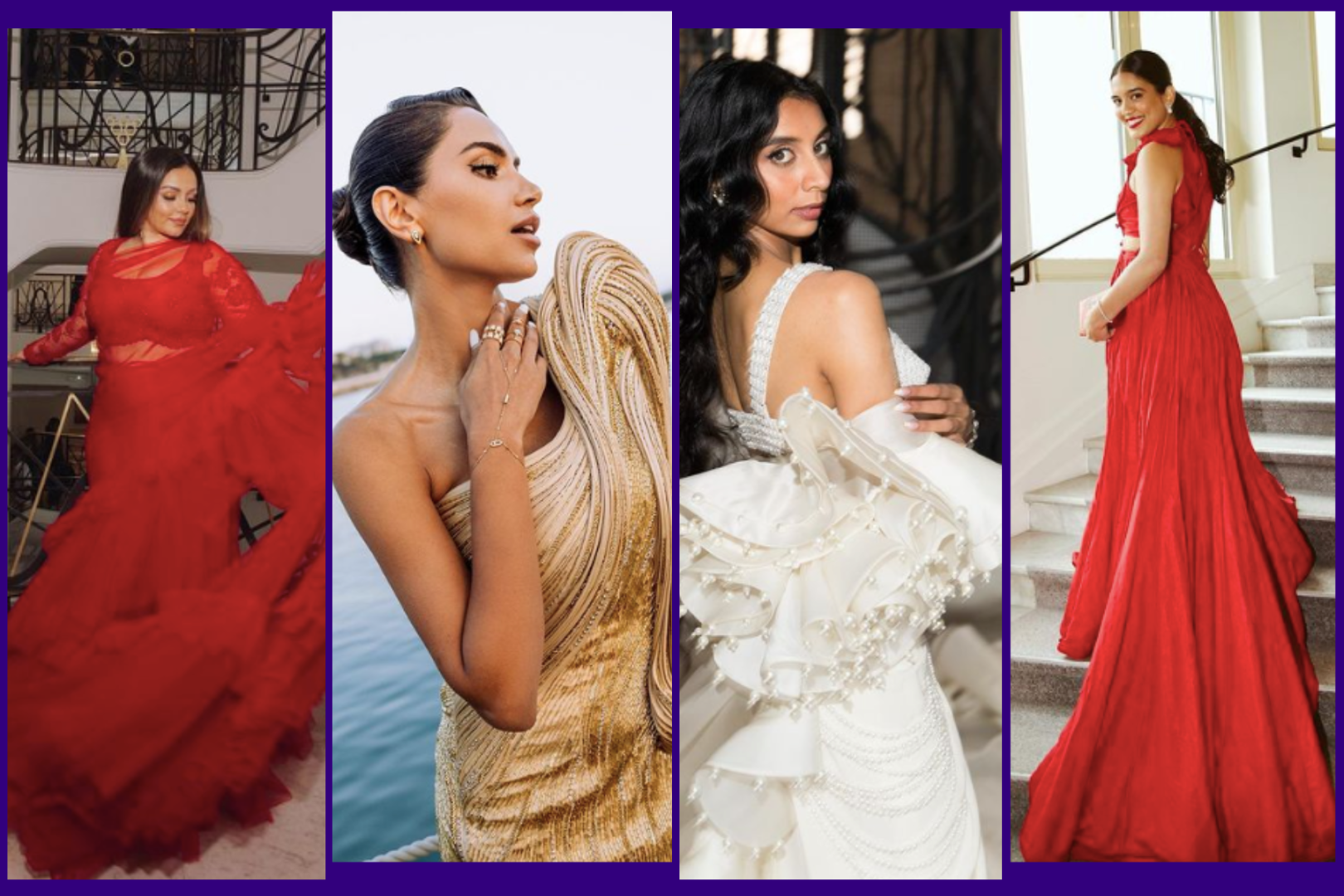 Ever since we can recall, the Cannes Film Festival has been a merger of movies and glamour. On one side, there are hand-picked films — ready to premiere and make their mark in the world of entertainment — and on the other, audiences and paparazzi alike are served epic moments in fashion.
The festival, aimed to preview upcoming films from all over the world, invites a wide variety of guests that span the film fraternity, of course, but more recently, has opened its doors to many digital content creators, including renowned South Asian creatives.
With a more vast guest list comes a more recent debate: Cannes is a film festival and not a fashion showcase. Kickstarting the debate this year was none other than ace Bollywood director, Nandita Das, who in an Instagram post shared:
Sometimes people seem to forget that it is a festival of films and not of clothes!
In short, Das wants Cannes' narrative to continue to focus on films.
But of course, there's been a paradigm shift in the guest list over the last few years; this shift has allowed talents from various industries — including lifestyle content creators, entrepreneurs, etc., who showcase their work in fashion and beauty like fine masterstrokes — to walk the carpet and represent their craft, making space for others in their industry.
Influential names like Dolly Singh, Kaushal, Diipa Buller-Khosla, and Shivani Bafna — all of whom made a raging impact on the red carpet this year — weigh in on the significance of representing South Asian artists/influencers on the red carpet, and how they feel they've been part of this paradigm shift at Cannes Film Festival.
Diipa Buller-Khosla
I believe that each step we take at events like Cannes sends a powerful message of diversity, cultural richness, and artistic excellence. Representation matters, and the presence of South Asian creators on the red carpet at Cannes helps broaden the narrative of beauty, talent, and creativity. It allows us to showcase our unique perspectives, narratives, and contributions, ultimately contributing to a more inclusive industry. By actively participating and making our presence felt, we help create more opportunities and spaces for South Asian creators, encouraging others to share their stories with the world.
View this post on Instagram
Kaushal
Since 2015, the first time I walked the red carpet, till this year I have always been invited by L'Oreal Paris, one of the main sponsors of the event. It has always been such an honor to be invited to the festival through the makeup brand that I have been using for almost two decades, and, before my social media career began. Personally, I feel a sense of acknowledgment from such a prestigious brand, and its head office teams that sponsor Cannes Film Festival, and value the work I have done and continue to do as a South Asian content creator within the beauty space. Makeup, hair, and beauty will always play a big role within the film industry and it's something I have always created my content around which is why I am proud to attend.
View this post on Instagram
Dolly Singh
This is a proud moment not just for me but also [for] my peers and the entire content creator ecosystem given that we have reached such new global stages and presence. Of course, as you said, such film festivals, once considered as an exclusive hub for a congregation of the finest acting talents have, in the last few years, opened their arms to more people from the entertainment industry.

This is not just a sudden phenomenon with a burst of Indian creators at the festival this year but there is increased participation from non-film and non-South Asian celebrities across various spectrums from different sides of the world. Along with the many filmmakers, actors, producers, etc I also met some amazing influencers and entrepreneurs from other sides of the world. It's amazing to represent India and celebrate and champion the advent of the digital ecosphere on such a prominent platform.

The confluence of actors and creators signified the amalgamation of traditional cinema and new-age digital influence, highlighting the transformative power of creative expression and how festivals like Cannes have become more forthcoming and progressive in their approach.

Cannes, like any other prominent festival, boasts of a red carpet that is synonymous with fashion and glitz, and I wanted to use this opportunity to represent all the amazing Indian fashion designers on the carpet besides, of course, attending the screenings. As someone who is just not an influencer but also an actress, I thoroughly enjoyed all the red-carpet screenings and meeting like-minded film talent from around the world at the event. At some point in the future, I would like to be attending Cannes for a film I've featured in.
View this post on Instagram
Shivani Bafna
Creators are often placed into boxes of where they belong and the rooms they can be a part of. Being on the red carpet dismantles the ideology that there's a cap on how far we, as creators and as a South Asian community, can go and what we can achieve.

The Cannes Film Festival has always been viewed as the epitome of a glamorous event — everyone who attends looks like they're living their best lives. I used the platform to share an authentic message of what the experience felt like for me. To represent all of us who doubt our potential, experience imposter syndrome, and are nervous to find their place, yet continue to push through to achieve their dreams!

As the first Indian American influencer to walk at Cannes, I hope I can inspire young women to confidently ask, 'Why not me?'
View this post on Instagram
There's no doubt that the Cannes Film Festival is centered around films, and continues to be a unique space for the global film fraternity to bring their art and showcase their aptitude. But, creators like Bafna, Singh, Buller-Khosla, and Kaushal — a special shoutout to Raja Kumari for being instrumental in paving the way as well — have their own set of responsibilities to fulfill upon their invitation to the prestigious event. Their will to represent their South Asian identities, celebrate their industries, and continue to hold space for their peers makes their presence at Cannes more than just clothes.
All images in the featured photo are from the influencers' Instagram feeds.