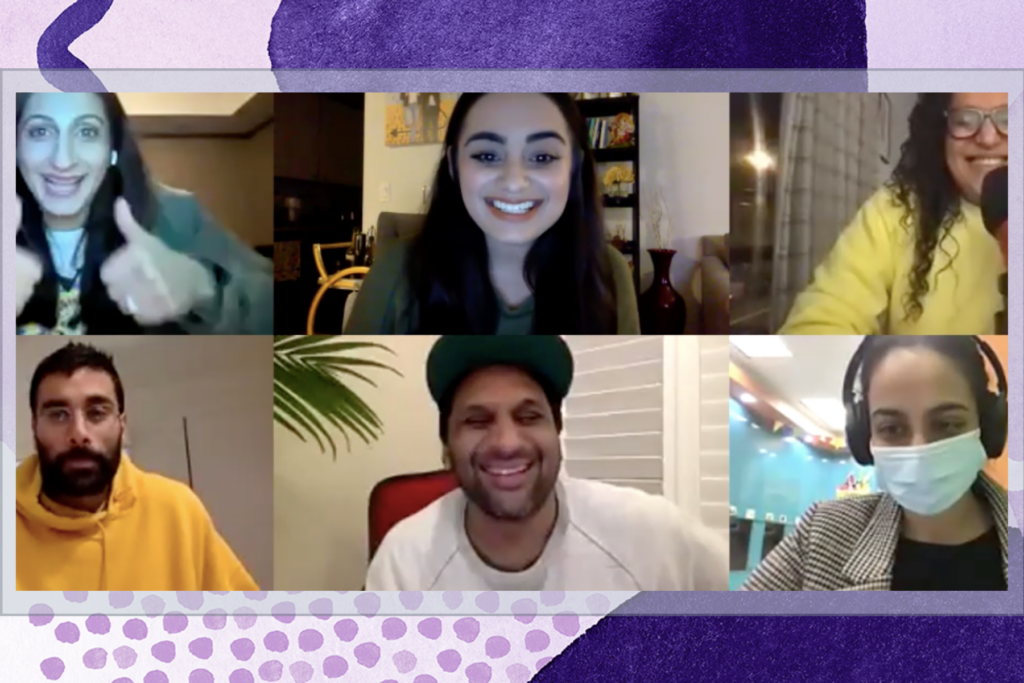 On Wednesday, January 13th, Raakhee Mirchandani, host of the newly launched podcast, "Brown Mom," hosted her first-ever live recording in partnership with Brown Girl Magazine. We joined her virtually as she interviewed Neel Shah and Ravi Patel, the co-creators of Netflix's "Bhaag Beanie Bhaag."
In case you missed it, "Bhaag Beanie Bhaag" is a new show on Netflix starring new-age Bollywood actress Swara Bhasker and Indian-American actor and documentarian Ravi Patel. The show is a romantic comedy about a young standup comedian, Beanie. It follows Beanie's (Swara) journey to becoming a full-time standup comedian and finding herself. "Bhaag Beanie Bhaag" leads with comedy, yet leaves plenty of room for dramatic and heartfelt moments. Especially at the end (*spoiler alert*), when Beanie takes the stage and truly embodies the stand-up comedian that she is. 
I stayed up far past my bedtime to binge the entire season and would have easily sat there until morning to polish off another season. Patel and Shah have created characters that we invest in so quickly and feel like we're right there with them. Even though we can all relate to Beanie on some level, it was a little more personal for me.
View this post on Instagram
I've always strived and yearned to see myself in movies, shows and books. I look forward to investing in a world where someone like me, a brown girl, is the main character. I grew up reading books and watching movies with mainly white protagonists. Once in a while, I would see a brown person as a side character. This was exciting, but it left me feeling like a side character in my own life. This craving for more stories that feature someone like myself is what led me to be a writer: to create the stories I yearn for. 
At 22, I was full of nerves and excitement as I performed my first standup comedy set at the Hollywood Improv and at 25, I walked away from it all. Unlike Beanie, I stopped pursuing a career in standup comedy to get married. I worked for years to perform at the top venues, but traditionally it was time for me to get married. I wanted both lives, but only one felt like the right thing to do. "Bhaag Beanie Bhaag" resonated deeply because the first episode reflected my own 'fork in the road.' Beanie left her fiancé for the chance to pursue her dream of being a stand up comic. I stood with her at that moment as she made the ultimate decision. Gratefully, I'm back to pursuing comedy again and not going anywhere this time.
View this post on Instagram
As for the live interview with Ravi and Neel, we learned more about the writers themselves and how the show came to be. Neel is a new father of a baby girl who he says "cracked open my heart a little in a way that I needed." Ravi, who was dealing with last-minute plumbing issues at his new rental in Nashville, humored us throughout the episode in clear, Ravi Patel fashion. 
View this post on Instagram
Even though many of us binge-watched the show in one weekend, "Bhaag Beanie Bhaag" took years to see the light of day. From the year of writing, rewriting and revising the pilot to filming in India, Ravi and Neel shared their journey of how the show came to life. A lot of viewers immediately compared "Bhaag Beanie Bhaag" to Amazon Prime's "Marvelous Ms. Maisel", purely because of the female comic element. However, we learned in the interview that "Bhaag Beanie Bhaag" was sold to Netflix before "Marvelous Ms. Maisel" was even on TV. It was inspiring and educational to hear about the process behind creating the show.
As for the show's location, Neel and Ravi chose to set the show in India because of the booming comedy industry. They also made the lead a woman to show how comedy in India is giving a voice to the previously voiceless. Neel and Ravi both shared how wonderful it was to work with Bhasker. They applauded her talent and ability to carry out so many tasks on and off set. Bhasker, most commonly known for her role in "Tanu Weds Manu," is candid and outspoken about the state of politics in India on Twitter and goes against the grain. Both the creators mentioned being intimidated by her at first but learned quickly how delightful and supportive she is.
Patel, who is just as insightful as he is funny, goes on to tell us how Hollywood is still very "white" in terms of casting. In Aziz Ansari's "Master Of None," there is a pivotal scene that plays into the idea of "having only one Indian guy on the stage or on a show at a time." Mirchandani asks Patel if this notion is still apparent in real Hollywood. To which he replied:
If there are two Black people in one show, then it's a Black show. If there are two lesbians, then it's a lesbian show.
It's unfortunate to hear this, yet it reminds us there is still so much room for us to grow. We have to continue to diversify the entertainment industry, one creator at a time.
The conversation then led to navigating the difficulty of making it as an entertainer while balancing out the joys. Hearing the perspective of people in the top one percent of the industry was motivating for someone, like myself, who is pursuing a career in the entertainment industry.
As Patel explains in the episode, it's not about the end goal of production or publication, but rather the process of creating. He even reminded his partner, Shah, how lucky they both are to have a job doing what they love. 
All in all, I was stoked to have joined this recording with the host of  "Brown Mom." Mirchandani is insightful, funny and possibly the best podcast host I've ever listened to. She, herself, is beyond inspirational and I'll forever be a fangirl of all three of them. Ravi and Neel, you know where to find me when writing season two. 
You can catch the full episode and all of season one of "Brown Mom" on all podcast platforms.