by Bicky Khosla
You've probably seen Poonam and Priyanka Shah, the double-trouble dancing twins on Season 9 of "Jhalak Dikhhla Jaa." Though they did not win the title, they did win hearts all over the world. These talented women have captivated a diverse audience with their Bollywood, hip-hop, and classical dance routines.
In the midst of their busy schedules, they shared with Brown Girl Magazine details about the show, their experiences so far, and the goals they want to accomplish in the future.
Without further ado, let's get to know Poonam and Priyanka on a more personal level.
All answers have been provided by and are attributed to both Poonam and Priyanka Shah.
What was it like competing in your first dance competition?
"We don't see ourselves as 'celebrities,' but it was exciting and humbling.  [We] considered ourselves as the underdogs in the competition. We were not as well-known and famous as the other contestants. Additionally, everyone had already been on some form of a reality or television show, and we were brand new to the whole entertainment industry. That was a lot of pressure always being around cameras and mics, and talking to the camera was something we were not used to. It was a learning experience."
As young Indian–Americans who grew up in Chicago, how did you feel about receiving the opportunity to reconnect with your roots, traveling to India?
"India was an unbelievable experience. The food in India is simply incredible, however,  it's hard to adjust when we go back now. Of course, the culture of India is something we have grown up in and appreciate immensely. We think the hardest [part] was not being able to Google everything and having to do things in a way we're not accustomed – by talking to people the old-fashioned way. It's amazing how much you take the convenience and internet-savviness of America for granted until you spend a few months just about anywhere else.

We did miss our family, good internet and our overall climate. It's crazy humid in Mumbai. We salute all the girls there that have good hair – that's not easy. It's good to be back home."
How did you girls mentally prepare yourselves for being on national television?
"By letting go of what you think you're supposed to look like and just performing to the best of your ability. Everyone cringes a little when they watch themselves on TV or in a video, and that never changes. You have to remember that only you know which moves you messed up or what was off, and the large majority of people don't notice. So, yup, the nerves will always be there, but you can't let them control you."
What was your favorite moment on the show?
"Unexpectedly getting a standing ovation from the studio audience and Jacqueline Fernandez for our first performance. We were so humbled to have gotten such a good response from not only the show but also from newspapers, media and the internet. When we put that performance on Facebook, it had over nine million total hits. It has been shared by artists that we respect and look up to in the hip-hop dance industry as well. Such an honor."
What inspires you both when it comes to your dance routine?
"Dance videos – the hip-hop dance scene is our favorite. The amount of talent in this scene is staggering, and we try to learn as much as we can. When you learn to dance, you can apply principles of movement to any style. We take what we learn and apply it back to our roots – Bharatnatyam and Bollywood. There are so many inspiring dancers and artists to learn from out there."
What was it like shooting your first commercial?
"That was entirely a surreal experience. The shoot was inspired by our homemade kitchen dance video, which became a South Indian commercial. Working with Tanjara Group was wonderful. They treated us like family for a week and really took care of us. The shoot was from 6 p.m. to nearly 6 a.m. It was crazy to see how much work it takes to do a 1-minute commercial. It got an awesome response from South India. It was the top ad in the region for a few months and recently won the Thomas Edison Advertisement Award – an international award."
If you both could collaborate with anyone, who would it be?
"A.R. Rahman is our favorite music composer, and Beyoncé because it's Beyoncé. Enough said."
"We want to continue posting dance content and start consistently posting videos on our Youtube channel. We are going to start posting videos about this crazy journey we're on. It just keeps getting better, and we'd love to share our experiences. We want to be a recognizable brand, like Mary-Kate and Ashley Olsen, but Poonam and Priyanka. The goal is the work hard, build a name and build an empire. Over everything else, we love to create. Whether it's creating choreography or creating a business empire, we'll still be creating, even ten years from now."
What advice do you have for young people trying to pursue their passions and make a living by following their dreams?
"Be grateful, and stay focused. It's not always easy living in ambiguity and not having a set path to follow. Sometimes you win, sometimes you lose, sometimes you get lost and that's okay. Just keep going because it's worth it. Be grateful for opportunities, advice and good people. There's always people that don't understand with pessimistic attitudes saying you have a limited chance of making it, but just listen and do what you want anyway. If you have something you're passionate about, see it through because nothing worth having comes easy. Work smart, and work hard. That's all."
Here at Brown Girl, we wish Poonam and Priyanka much deserved dancing success.
Be sure to follow them on their YouTube channel for breathtaking blends of choreography, or you can send them a business inquiry at poonamandpriyankashah@gmail.com.
---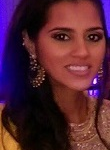 Bicky Khosla was born and raised in South Florida with two bachelor degrees from Florida Atlantic University. She enjoys traveling, spending time with her dog, and reading non-fiction. She is passionate about highlighting South Asian achievements, raising awareness about Sikhism and the importance of religious tolerance. Bicky currently works as a healthcare recruiter for a company that provides medical services for both adults and pediatrics.