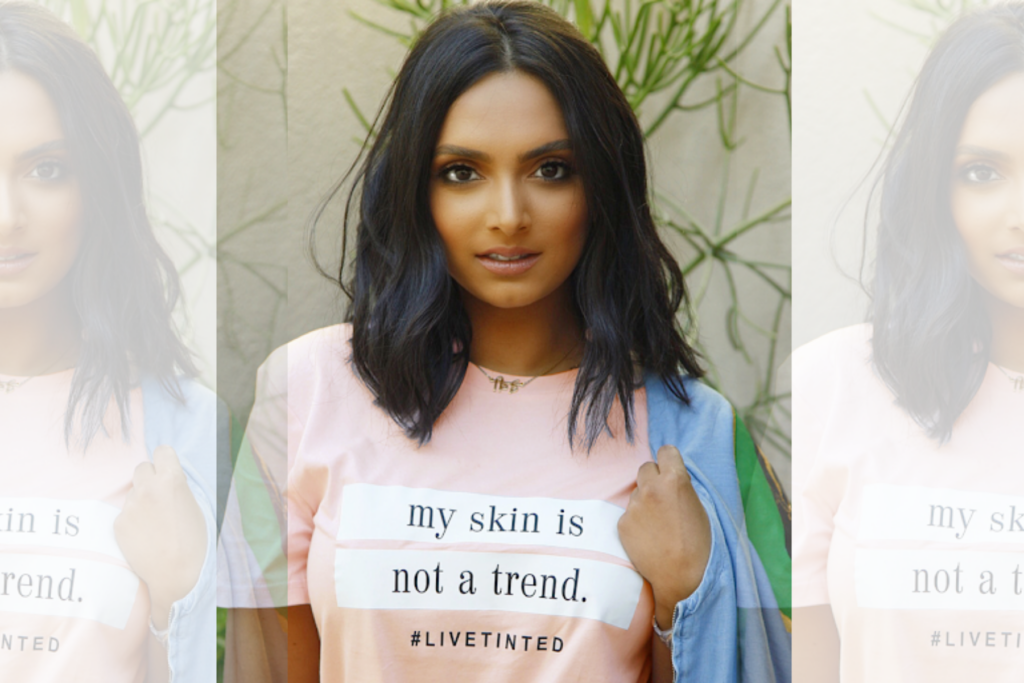 "Beta, when are you going to get married and have kids? You're not getting any younger."
If that is not the most common question posed to South Asian adults who are more than 25 years old, then we don't know what is.
Beauty expert and entrepreneur Deepica Mutyala is answering this question on her own terms. 
In 2015, her YouTube video "How to Cover Dark Under Eye circles" went viral with a whopping 10.9 million views to date. Since then, the influencer has founded her own beauty brand called Live Tinted and is cultivating a growing beauty community. 
Live Tinted goes beyond the realms of a typical makeup company. It's a movement that celebrates, pioneers and discusses diversity within the beauty industry. The makeup line offers a range of beauty products formulated for various skin tones. The best part? Many of Live Tinted's beauty products are multitasking, clean, vegan, cruelty-free and inclusive. The Huesticks, for instance, can be used for under-eye color correcting in addition to being an eyeshadow, lip and cheek pencil. We're also obsessing with their newest launch, the Rays Copper eye-masks — biodegradable hydrogel masks are designed to target dark circles, puffiness, and the appearance of fine lines.
View this post on Instagram
Like many of us, when the 2020 pandemic hit, Deepica found herself with time to reflect. She also welcomed a new bundle of joy into her life, her nephew Jayden.  
"A huge reason why [wanting children] hit me, was that between the pandemic and just having more time to reflect, was having my nephew, Jayden. My sister had a baby and I always knew I loved kids. I love babies and wanted my own. But that's when it really hit me, like I want this and I will have this, I need to have this. I realize it's never going to be the right time and I just had to make the call and make it happen."
Creating, scaling and launching an innovative brand takes time and effort. So how does a super busy, Forbes-featured CEO find the time to start a family?
Egg freezing.
View this post on Instagram
I had the opportunity to have an in-depth Q&A session with Deepica about egg freezing.
The following answers have been condensed for clarity.
Thanks for taking the time to talk to Brown Girl Magazine about such a personal life decision. Talk to us about your egg-freezing journey. When did you first consider freezing your eggs and why?
A few years now, I have had a few friends who are entrepreneurs, but also working women who've told me they regretted not doing it and to be honest I feel like I'm down a trajectory of not having kids anytime soon, with my focus being on my job right now. Yes, I want to focus on dating, and I am dating now, but I don't want any pressure and I feel this is a great way to have some sort of insurance policy for myself. I know I want to have a family one day and I know I can't focus on that right now, so it just felt like a good decision for me.
Is your family supportive of your decision? 
My family is supportive of the decision. I'm very grateful. Part of it is: 'great, whatever gets me a grandkid' (laughs). But they've also really come around and recognize that I've never done anything conventionally and I'm going to do what I think is best for me. They are really incredible and support me in everything I've ever done in my life — both personal and professional. 
What would you say to women who come from families that are not supportive of egg freezing?
This is the same advice I would give to women who want to do anything in their life that don't have the support of their families. You have to live your life for you. This is your life and you only have one life to live. At the end of the day it's really tough, I know. I love my family so much. It's hard to do things without family support but there are other groups out there. I think it's good to reach out and find them and I hope me sharing my journey makes other people realize they can do this and that they are not alone.
Do you think South Asian culture views women who choose to freeze their eggs differently than women who have kids at a younger age? 
I do. I think there's a lot of intergenerational, cultural taboos associated with anything that doesn't involve having your kids at a young age. It's not just egg freezing, but adoption or using a surrogate. Any type of fertility situation that means not giving birth vaginally at a young age is considered taboo. There's a lot of intergenerational issues with this and I don't think we're ever going to be able to solve it until more people open up and talk about the realities of what they're going through. I know it's not easy but I believe anyone can have a voice to help make this change happen and people with a platform have a responsibility to change this narrative for the next generation.
What about romantic partners? Do you think South Asian men view women who freeze their eggs differently?
You know I wish I was concerned about that, but I'm not. Whether it's South Asian men or men in general, if they have a problem with it, that's their problem. They are clearly narrow-minded and not the right person for you or me. [Their problem] is not my concern and it's time people open up their minds. It blows my mind that anyone would be so narrow-minded to things like this. 
What kind of research did you do before making the decision?
I talked to friends who have gone through the IVF process. I've talked to friends who are entrepreneurs on all different career paths who did it. Everyone's body had a different reaction to it. The best research is going to a clinic and talking to the doctor directly.
When would you like to have kids? 
Wow, these are personal questions [laughs]. I don't know, but that's why I did egg freezing. It was to give myself the courtesy, time and insurance policy to make that decision when it's right for me. I know that time isn't right now,  it will be one day and I've kind of taken that control to be able to dictate that narrative.
Many women struggle with choosing between being at the top of their careers and taking a step back to consider starting a family. What would your advice be to them?
My advice would be, I truly believe you can have it all but you can't have it all at once. That is kind of how I live my life. There are seasons and periods in life for a reason and my whole 20s have been focused on my career. Now I want to start trickling in my personal life, but there's still so much I want to do for my profession. Focusing on all of it is just not realistic. I had to give everything in me in my 20s to get my career to where it is. I have no regrets about that. It's my journey and it's gotten me to where I am today. But at the same time, I ask, what's the point of all of this if I don't have anyone to enjoy it with?
View this post on Instagram
If there is one piece of advice you could give women who feel marital pressures and cultural pressures to have kids by a certain age, what would that be?
That's a big one, a heavy one. It's easier said than done. The first thing that comes to me is you're stronger than you think. I don't mean that in a condescending way. I mean that sometimes we're conditioned to think that we have to do what we're meant to do. It's going to take a whole generation of people and women who change that narrative and be strong in what they believe is right for them, to really make change happen. It's not going to be just one person, but it takes just one person to speak up. It takes a collective, and the more of us that use our voices to share our stories are gonna help others feel comfortable going through their  journey. I think that's important. 
Like Deepica, many of us are busy full-time professionals and some have Slashie side hustles. As an Indo-Caribbean woman, I believe the stigmatization of not being married in your twenties or taboos against egg freezing, adoption and surrogacy must be challenged. As a woman in my early 30s considering egg freezing, I find women like Deepica a refreshing reminder that South Asian women do not have to do what previous generations did.
We have different choices we can make. As Deepica says,
"Just remember you're stronger than you think, you got this and this is your life to live, no one else's."
To learn more about Deepica's egg-freezing journey, check out her YouTube channel. To learn more about egg freezing, consult with your gynecologist.