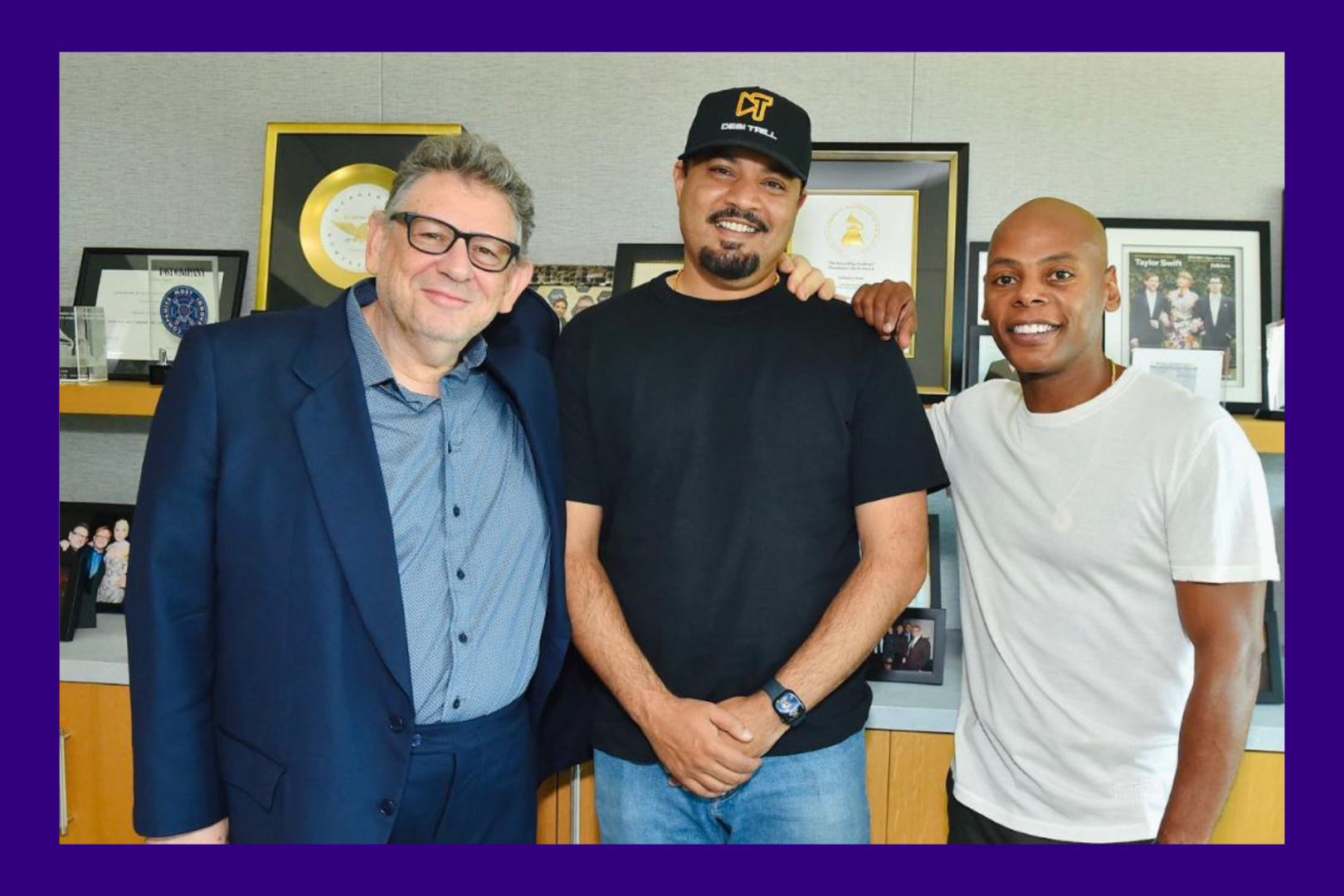 As a music label, Desi Trill is paving the way for an entirely new genre of music — one that combines elements of Hip-Hop, R&B and South Asian music, from across different regions, to form an original sound.
Shabz, an A&R executive at Roc Nation and also a part of the So Solid Crew, was eager to create something new for the South Asian community. It led him to partner with Roc Nation co-founder Ty-Ty Smith to bring Desi Trill to life. Above all else though, Desi Trill, which is distributed by Universal Music Group globally, aims to be a cultural educator. We sat down with Shabz and Ty-Ty Smith to learn more about their passion project and what they hope to achieve through it.
How did you two meet and come together to form Desi Trill?
Shabz: We met just over 20 years ago in London. Ty-Ty was there on business and I've always been a fan of him and all his work in general. I was introduced to Ty-Ty and ever since then we've been locked in.

Ty-Ty: Yeah, we met in London and this is not just something that popped up. Shabz and I have been very close friends for 20 years now.
View this post on Instagram
When I first heard of Desi Trill, it reminded me of the story of Jay-Z hearing the track "Mundian To Bach Ke" by Panjabi MC in a club, in Switzerland, getting in touch with Panjabi MC to produce a remix and sending a rap of the lyrics over a voicemail. Did that, in any way, influence the making of Desi Trill?
Ty-Ty: I don't think it was that song that made us form the label. Shabz came to me with an idea and was asking for my guidance. He started telling me what he was wanted to do. I stopped him quickly in a conversation. I said, 'Man, I'm not going to guide you in this. I'm going to partner with you. I'm going to be your partner in this. And that's what happened.'

It didn't have anything to do with that, even though what happened between Panjabi MC and Jay-Z was always at the back of my mind. It was because of the way that thing took off and how digestible it was for everyone. I said it back then when we first heard that song from Panjabi MC that it didn't matter where he was from. We didn't understand the language, but we just knew that shit was hot! That's what music should be. Music shouldn't have any borders right? So right from that moment, and seeing Panjabi MC on Hot 97, one of the biggest hip-hop stations back then, left a little thought in my mind. But I didn't know that it would lead to this.

Shabz: Again, just to piggyback off that. Hip-hop raised me, right? So when I came with this whole concept of Desi Trill and us breaking boundaries, there was no one else better for me to lean on than Ty-Ty; kicking those doors down. He's been there. He's done that on a great scale. So when I went to Ty and explained to him, we want to do this for the brown folks now, for the South Asians globally. He immediately, obviously, got it. That was an incredible thing to hear and since then we've been rocking.
Do you feel the blending of cultures and musical genres, and cross-cultural collaborations between artists — such as those between A.R. Rahman and U2, Nusrat Fateh Ali Khan and Peter Gabriel, and more — propels music for everyone?
Shabz: Desi Trill, to me and Ty, is bigger than just putting two artists together. Kudos to everyone who has done it before because it's incredible, but for us, it starts as a sound. It's been three years of us creating a sound versus just collaborations. We totally believe that the world is more ready than ever before for cultural education.

Ty-Ty: When Shabz came to me, I said, we have to find a sound. It can't just be something that's been done before. It has to work in today's time. It has to be a whole new sound, because Desi Trill is not just the name of the company; it's a whole new genre of music. So it took us two and a half, almost three years, just to create the sound. We have all these songs and tracks, without any artists, from when we first started, because it's a movement. Whether you're white, black, Indian, Puerto Rican, we jammed it all into the same music, which was Desi Trill. That's what we were listening to in the studio; that's the vibe. That's the feeling that it gets. So we really took our time to make it about the actual sound more than anything else.
View this post on Instagram
Lastly, how would you describe the sound and what is the future of this new genre in music?
Ty-Ty: I always say Shabz is 'Desi,' I'm 'Trill.' That's where the name comes from and that's just what it is. That's when I tell you that the sound matches that to the T and to the core. It doesn't matter, it's right down the line and smack in the middle of what Desi Trill is. That's what it truly stands for. When you hear the music and when the audience starts hearing the record, and understanding how that name came about, it's going to make all the sense in the world. It's just dope; just very digestible.

I was telling Shabz, like, we do this, for people that sing man! They gotta sing in the mother tongue. They shouldn't just be coming out singing in English, it should be really pure. True to what it is and who they are, where they come from. I'm saying, where brown people come from, they should be proud, be happy, like, let's go, you know?

I look at it, like, what hip-hop was, when it started. It was a fight all the way up the ladder. We were proud! Now look at that, look what happens for us to put these two things together. Now, it's going to be around forever. This is legacy for us. This is not just music. We really are creating a new genre of music called Desi Trill.

You're going to start seeing Desi Trill on playlists, on all these streaming services from now on and in 2, 3, 4 years from now, you're going to be able to walk anywhere in the world and hear the Desi Trill sound in different spaces everywhere. You're going to go into a club and be like, 'Wow, I'm hearing like 12 records, that has South Asian sound in them' and it's going to be a regular thing. And on all the radio stations. It's going to happen without question in our mind because of how much care we've put into this, and how much thought we've put into this. So we're ready!
Desi Trill's first single is set to release on October 20th and we're excited to see the magic unfold!