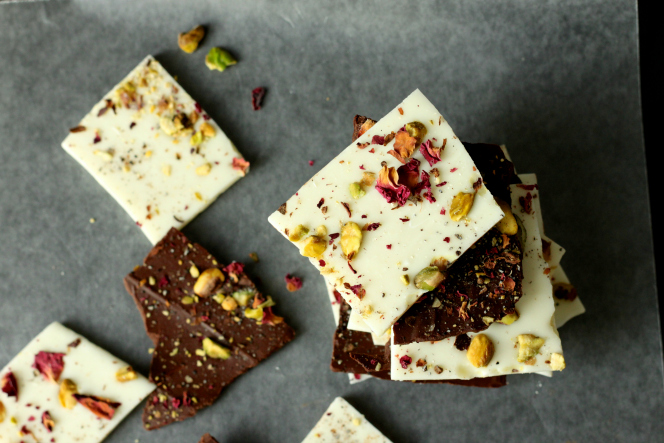 Decadent chocolate bark sprinkled with roasted pistachios, crushed rose petals and cardamom dust.
Who can resist something sweet? Especially chocolate! This holiday season, instead of the same old desserts, why not surprise your loved ones with some homemade chocolate bark that tastes just a good as it looks? Take your chocolate of choice (I chose dark and white) and melt it down, top with roasted nutty pistachios, sweet rose petals, fragrant cardamom dust and finish with a pinch of pink sea salt. It's a treat too tempting to pass up.
The recipe is easily adjustable by changing up the toppings. I'm planning to try walnuts with dark chocolate next and dried cranberries and almonds with white chocolate. 
Gifting this chocolate bark? Just cut the chocolate into shards, squares or your favorite shape once it's set and pack it in parchment paper. There you have it, a beautiful homemade edible gift.
Ingredients
4 cups chocolate chips (dark, milk or white)
4 tablespoons roasted, chopped pistachios
2 tablespoons crushed rose petals
½ teaspoon pink sea salt
½ teaspoon cardamom dust
Method
Line a large baking sheet with parchment paper or wax paper.
Melt the chocolate chips in a double boiler or in the microwave, stirring until smooth.
Pour the chocolate onto the parchment paper, and using a spatula, spread it into an even layer about ¼-inch thick.
Sprinkle the pistachios, crushed rose petals, cardamom dust and sea salt on top of the chocolate then place the baking sheet in the refrigerator to chill for about 30 minutes until the chocolate has fully hardened.
Remove the bark from the refrigerator and carefully slide it onto a cutting board.
Cut or break the bark into similarly shaped pieces.
Serve it immediately or store it in an air-tight container in a cool place.
This recipe was originally posted on lovelaughmirch and posted here with permission.