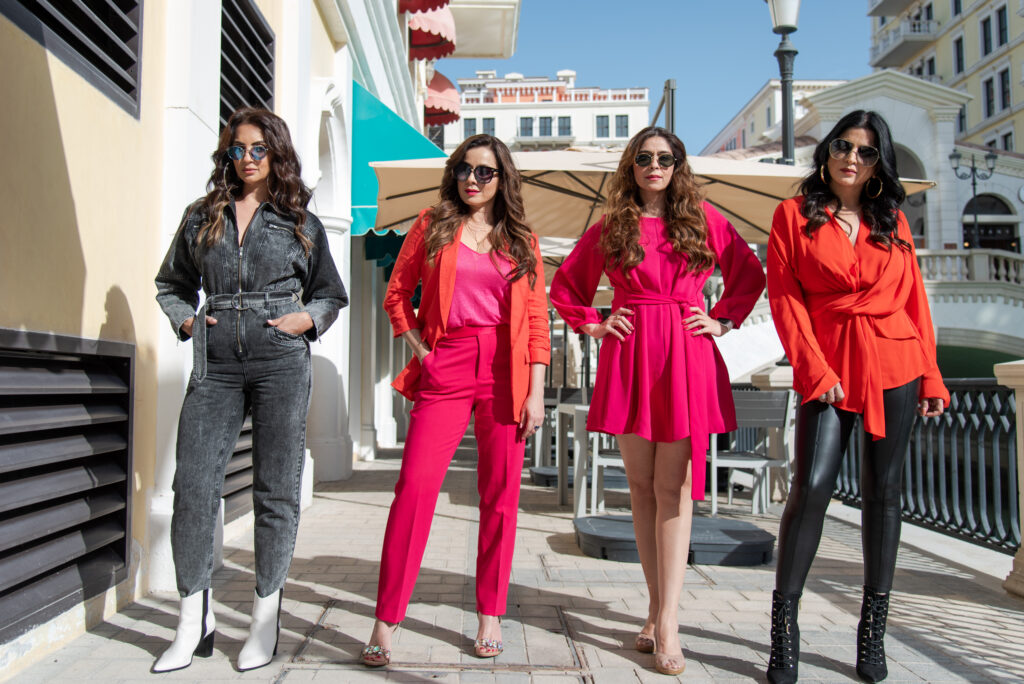 'Fabulous Lives of Bollywood Wives' (FLBW) premiered on Netflix last month, with a champagne-bottle-opening bang. It was met with mixed social media reactions and some rave reviews, coming from both inside and outside the Bollywood community. The new reality show, produced by Aneesha Baig and Karan Johar, follows the glamourous lives of four friends, Neelam Kothari Soni (yes, that Neelam), Seema Khan, Maheep Kapoor, and Bhavana Pandey, as they bond over matters of career, life, and motherhood. The four women are all the wives of Bollywood actors with different levels of fame: Sameer Soni, Sohail Khan, Sanjay Kapoor, and Chunky Panday respectively. The eight-part series features star-studded cameos by the likes of Raveena Tandon, Arjun Kapoor, Jacqueline Fernandez, and Shah Rukh Khan, whilst focusing on the busy personal lives and businesses of the leading ladies.
So, in true reality tv-show obsessed fashion, I put away my cringe-reflex and watched all eight episodes over the weekend. Although I didn't have any Maheep-approved wine or 'Ministry of Crab' food, I had my low-budget snacks, Google on standby (to somehow figure out the Kapoor family tree), and my mom right beside me.
"Fabulous Lives of Bollywood Wives" is punctuated by a flurry of F-bombs. No, seriously, they do use "fab" an incredible number of times. Each woman brings their own eclectic style and personality, as we see them interact and organise meetups. There are memorable moments—a trash clean-up at Mahim beach, Neelam's potential stalker in Doha, spiritual face-lifts—and funny catchphrases, although many of them just curse words. As the season progresses, we naturally get closer to the complexities of their lives, and the lives of their kids, who, to no surprise, are equally as glamourous.
Maheep Kapoor
Without reducing Kapoor to a single archetype by my Gen Z lens, she gives me BIG "I'm not like other moms" energy, à la Kris Jenner. Maheep is self-assured, outspoken, and not afraid to tell it how it is, even if it's about herself, as on a glitzy shopping trip to Doha, she calls herself "vain as f*ck." Self-awareness is key. If not a cool mom to kids Shanaya and Jahaan, Kapoor is a self-confessed cool aunt, claiming she's the favourite aunt of both Arjun Kapoor and Sonam Kapoor.
Neelam Kothari Soni
Neelam has all the glamour and calm sensibility of an old-school movie star, which makes sense because she is. She channels all the grace we saw in Aag Hi Aag or Ghar Ka Chiraag to be one of the most 'relatable' wives on the show. Throughout the show, she expresses honest self-doubt and concerns about aging, whilst tackling the unique journey of re-entering the acting world.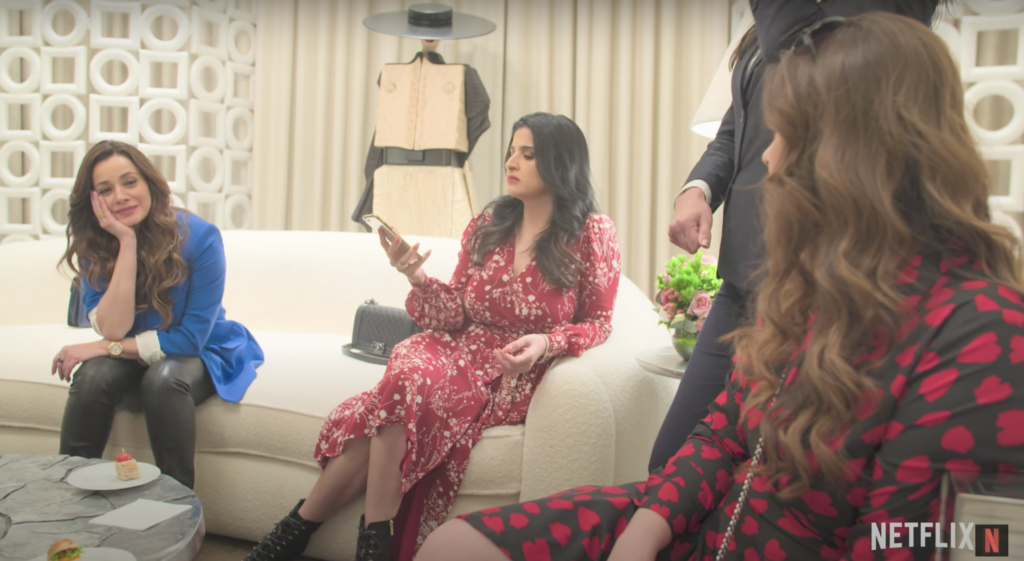 Seema Khan
Seema is fashion-forward, funny, and again, a teeny bit relatable to viewers as she tackles her fear of heights in Doha or chides her son Nirvaan to spend more time with her over his university break. She owns her own fashion label and often dresses her friends (sometimes to their amusement) in sparkly sequin outfits.
Bhavana Pandey
I feel like Bhavana is an avid Poosh-reader and knows everything there is to know about spiritual skincare. Although she's often the butt of many jokes (about her Reiki face-lifts or general superstitious-ness), it's undeniable that she's headstrong and determined to stay neutral during conflicts. Oh, also, she's super proud of her daughter, Ananya's Filmfare award, and doesn't want you to forget it.
Karan Johar: producer, friend, fellow brunch companion. His frequent appearances were clearly explained by his close friendship with all four women, yet mid-season on the Doha trip, he becomes a makeshift Andy Cohen, sitting in the centre of two warring couches of housewives. Except, instead of resolving any fights or animosity (there wasn't a whole lot, to begin with), he anticipates the criticism of the show even before its release, hilariously asking "why should I watch a show about four women who don't have jobs?"
Sir, you made this show, why don't you tell us?
View this post on Instagram
The not-so-subtle nods to other popular franchises that focus on strong female friendships ("Sex and the City", "Real Housewives") are glaringly obvious in later episodes when we watch their organised lunch dates and 'girl's trip' to Doha. The cinematic parallels between their luxurious trip to Qatar and the iconic Sex and the City 2 Abu Dhabi trip did not go unnoticed.
It's clear "The Fabulous Lives of Bollywood Wives" encourages an emotional investment into both the leading women and their respective families. However, it is painfully obvious that relatability is not the takeaway message of the show. It never will be. We laugh at all their outrageous antics, but then leave feeling an even larger divide between our lives, and those of the rich and the famous. But maybe, that's the point. FLBW exists in the same realm of celebrity shows that depict unattainable lifestyles and lavish homes.
Critics have called it the "lovechild of Keeping Up With the Kardashians and Real Housewives of Beverly Hills," and it's clear to see why. We are given more performance than reality, and an unapologetic display of wealth and privilege, which reminds viewers that if they wanted to watch something that resembled their own 'normal lives', they could just go talk to their friends. The show's very purpose is to give us glamour, high fashion, and luxury to the point of excess. It invites us to marvel and gawk at French balls, fashion boutiques, and Gauri Khan parties. At the same time, we are expected to laugh with (more often, at) them, as they face fashion fiascos and cosmetic surgery procedures. Ishita Sengupta put it best when she summarised in The Indian Express,
"It is almost like being added to their WhatsApp groups or being a fly on the wall in their living space."
The very purpose of a show like this exists as a form of escapism, where viewers get to see a carefully-crafted display of what life appears to be like for a 'Bollywood' wife. It certainly isn't to everyone's taste, and whilst it's admittedly easy to brush FLBW aside as yet another reality show that provides little to no substance, I challenged myself to find features I liked, moments I admired, and even some parts that looked like progress.
Whilst the focus on a career is definitely a constant advertisement for their individual businesses and brands, I appreciate how the four women actively reject the idea that a wife of a famous person has to live in their shadow. From Neelam's jewelry business to Bhavana's new affordable clothing line, the women are shown to be invested and passionate about their creative ventures, alongside their love of shopping and attending parties.
The very premise of the show is female friendship. It was surprising to know that their girl group (apart from Neelam who got close later), has been together for over 25 years, surviving inevitable ups & downs, marriages, babies, and more. The show succeeds in conveying the supportive bond between them, which extends to their businesses, husbands, and kids. The final episode shows us a sentimental sit-down with Gauri and Shah Rukh Khan where SRK recounts fond stories of babysitting Ananya and Shanaya, partying with the group, and being starstruck by Neelam early in his career.
It's clear "The Fabulous Lives of Bollywood Wives" wants us to take away a resounding message of friendship — a friendship that can exist and thrive within a cutthroat industry that often pits women in competition with each other. Bollywood, like many other media industries, profits from creating a false sense of 'drama' or competition between popular actresses, assuming that there's a limited stage, and only the best can be on it. Watching the various personalities and actresses in the series gave me the impression that the stage can and must be bigger. Successful women can thrive in the same industry without unnecessary comparison and falsified competition. I'd like to think this show promotes the idea that Bollywood, despite all its flaws, does have room for many stars to shine simultaneously.
View this post on Instagram
They are shown as doting mothers, with tight-knit families that may resemble our own. However, they have access to things that can only be considered as "abnormal" solutions to maternal worries. Case in point, Maheep's casual comment:
"I never have to worry about where my kids are or what they're doing, as they always get papped."
Imagine if our parents could conduct paparazzi-aided investigations into our social lives and whereabouts (although, texting our friends does kind of count).
Again, it is small details like these that emphasize the glamorous gulf between 'normal life' and the life of the Bollywood glitterati. Through the emphasis on motherhood, we gain insight into the lives of star-kids– Ananya, Jahnvi, Shanaya – who's very position in the film industry is constantly criticised for being an 'easy-way-in.' With the recent increase in dialogue surrounding the damaging effects of nepotism and family friend-based hiring in the arts industries, I assumed the show would have provided a more humbling angle on the lives of star-kids. Rather, we see a blatant defense in early episodes, in a conversation with Maheep and Arjun where she passionately defends her daughter Shanaya for "taking advantage of her privilege and contacts." The sentiment is also echoed by Sanjay Kapoor who insists that solely hard work and talent have gotten him to where he is. Eye roll.
In summary, if you are looking for a show that attempts to critique or radically dismantle issues prevalent in the Bollywood industry, like colourism and nepotism, you don't need me to tell you that "The Fabulous Lives of Bollywood Wives" is not that. Since its first announcement in early November, it was obvious from the title itself that this would be a show intended to give viewers an intimate peek into Bollywood's inner circle, and perhaps to come away more tolerant or sympathetic (even if that's not consistently achieved).
They join the greater league of Kardashians, Jenners, and Van der Pumps to create a show that is as glitzy as it is humorous. although, it's understandable why we would find it unbearably obnoxious – especially in the face of a global pandemic. This show is very much a guilty pleasure, whilst reminding us to hold those in this industry accountable when they *conveniently* forget about the immense privilege they actually possess.