"My story begins with an arranged marriage. My dad was 20 years old. My mom was ten years old. This blows my mind. How does a child agree—or does she?"
This is the opening narrative to Arp Laszlo's Fried Cheese Balls, a memoir-style South Asian webcomic. Upon reading these first few lines, I voraciously searched for the "Next" button to see how he answered the question he left the reader—and himself—with. Each comic is accompanied by a short blog, inviting the reader inside Laszlo's creative process or intelligent footnotes.
Laszlo writes and illustrates organically; he has no agenda except to create something meaningful and relatable. As I kept clicking through, I found a story that vigilantly explores the various aspects of the Indian-American identity. If it were mapped out, one could imagine the collective Indian-American experience in a kaleidoscopic assortment of Venn-diagrams: diverging and overlapping, all at once.
The complexity of the collective is one that many in the diaspora are aware of, but may not see reflected in mainstream media. South Asian artists and storytellers like Laszlo are changing that. Growing up as a second-generation Indian-American who split time between India and the U.S., Laszlo recognizes the multidimensionality of himself and his readers; and he employs this understanding in a thoughtfully crafted story woven with warmth and humor.
Laszlo layers candid personal reflections, as well as those of his characters, to create deeper dialogue around race, identity, family structures, and ancestral histories. To explore his identity, Laszlo starts with his parents. His mother's background is inspected with the care of a scholar buried in old, treasured library books—with wild delight, child-like curiosity, and a wise, critical eye. It's Laszlo's refreshing cheekiness that allows him to explore topics like his parents' arranged marriage with an astuteness that opens readers' minds and invites them to experience topics both familiar and unfamiliar.
In this Fast Five interview, Laszlo discusses his creative process, how the comic began, and what impact he hopes to leave. As for why he chose the name "Fried Cheese Balls," he said that's something we have to stay tuned for—and that he's in the process of revealing it.
How did the idea for Fried Cheese Balls start?
The general idea has been around for a while because I've always wanted to make comics. When I was a kid, I wanted to make comics but I got guided away from it. Coming from an Indian family, there was the, "You should do something practical." I got back into comics around 2009. I hadn't read one in at least 20 years, since high school. But I wanted to make one, and I really enjoy reading comics about different cultures. Two years ago, I saw Gene Yang's "American Born Chinese" in the library. I read it and was blown away. Other good stuff I've read is "March: Book One" by John Lewis, Andrew Aydin, and Nate Powell, a comic involved with the civil rights movement. Also, "Vietnamerica" by Gia-Bao Tran was really revealing—it's about a family that had left Vietnam and came to the U.S. (Comics are) good mediums for sharing information because they're not boring. I think comics are better mediums (for non-fiction topics) like that, besides the fact that I just love comics as it is.

When I was a kid, I would go back to India for six months a year. That happened until I was ten. I didn't speak English until I was five. I felt more Indian than American. I remember things clearly, yet I know that things there have also changed a lot. I'm married and have kids now, and we have not had the opportunity to go back to India as a family, yet. I know that when we go back, it's not going to be the time period (I grew up in).

I'd like to have these memories down in some way that my kids could enjoy in an interesting format, (as opposed to) writing a diary.
Why did you choose to write the comic the way you did?
The comic is about me and my memories. I wanted to explore the whole concept of memory and how some things crystallize and some things appear to evolve differently over time.

A big concern I have is making some self-serving autobiographical nonsense. I thought, if it's going to be about me, how did I get here? For example, I grew up in New York City in the 70s, so asking myself how I got to that point gave me a narrative that involves my parents, and that seemed to be logical.
What comics influenced you as a kid? Which ones influence you now?
As I kid, Batman was my favorite superhero and The Phantom. The Phantom is more common in India. You don't really see it in the United States anymore. In India, I saw them in the newspapers as pages converted into scripts, which is one of the reasons I first decided to go with the script format for Fried Cheese Balls.

(I also read) the Amar Chitra Katha comics. There wasn't much of (his work) in the United States that I could find. So, whenever I'd be in India, I'd be picking up anything I could get my hands on. I learned a lot of my folktales and mythology from the (Amar Chitra Katha comics).

Later influences included Scott McCloud's "Making Comics." He's brilliant and explains why comics work the way they do. For years, I had given up on comics, thinking it's a kids' thing and it's bought into standard mind-think. But, after reading "Making Comics," I realized what a deep medium (comics can be).
How are different parts of your identity reflected in the comic?
It depends on what the subject is at the time. When I was a senior in high school, if people at that time would ask me if I was Indian or American, I would insist that I was Indian.  I might be living here, I might be born here, but I'm Indian, I would insist that. At some point in the next fifteen years, I actually came to the realization that I'm more American than I am Indian. That evolved over time. I don't think what I would do is take my viewpoint of identity right now and force it upon the memories of the past. I think memories are distinct and I have to stay in the mindset of what I was like at that time.
What kind of impact do you hope the comic leaves?
I hope there are things that people can relate to. That is where I hope discussion comes from. I'm curious to know what our shared experience is. Obviously, we are all unique. We live in different places and our parents come from different places. They may have emigrated at different times, some of them might have been born here, some of them might have moved here when they were young, and so forth. But there's got to be some things that are common to us and I am hoping that those aspects bring people together.
---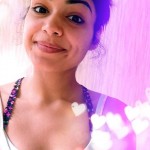 Jasleena Grewal is from Seattle, WA. Her beautiful Pacific Northwest home has taught her to see stars in cars, little amoebas in raindrop reflections against the quivering dashboard. Aside from what her parents have to say (about anything), she only lets the sky rule her moods.