I've always found solace in writing, especially when a life-changing event occurs. It's my way of dealing with situations good, bad and ugly, particularly where emotions cannot be expressed verbally.
I'd never truly dealt with the concept of loss within the family before. My paternal grandfather was a great man, but he left the world when I was extremely young, leaving behind fleeting memories embedded into my naive mind. But last week, I lost my beloved nana, the most brilliant person I'd ever known. The news was broken to me over the phone, reaching my ears like a dull blow. Initially, it instilled feelings of alarm and disbelief, sharply and quickly followed by aching grief and unexplainable sorrow.
My mom always said,  everything in life is fine or will be okay, as long as we're healthy and the people we love are keeping well. I don't think I ever understood the magnitude of that sentence, until now. For somebody who lost three young siblings to tragic deaths (before my birth), my mom and the maternal side of my family know exactly what they're talking about. They firmly believe, and for good reason, that every other problem compared to such life-altering misfortunes is trivial and not earth-shattering.
Daddy, my nana, was an integral part of our household. He was a quiet, down-to-earth man who worked hard in the course of his lifetime and provided the best for his wife and children. I've always prided myself in being surrounded by unconditionally loving and caring men who lift their women up, supporting them through thick and thin—and nana definitely was, and will always remain, on top of that list.
Most, if not all, of my school holidays were spent with my grandparents during carefree childhood days. We filled hours flying kites and binge eating mangoes in the sweltering heat of Lahore, Pakistan. We traveled through the country and the world together. I always had somebody to read my articles and essays to. I always had plans for summer holidays. I always had somebody to help me with my homework. We always, without fail, celebrated Eid together. I've spent countless weekends lounging around their house catching up with delicious biryani. And when I moved to a different continent, they were the most upset. Basically, my grandparents took my name in its most literal sense and forever treated me like their little queen. My adorable nani still does.
I always heard people say that grandparents' love for their immediate offspring's child is far greater than their own. As a grandchild myself, I didn't realize how true that was until I saw my own parents transform into wonderfully doting grandparents following my nephew's arrival. My granddad wasn't the most easy-to-read man, but he laughed heartily, joked around, sat at the head of the table, had a soft corner for political shows and was always present to offer great advice. Now that he's gone, it's an empty, hollow irreplaceable void.
Kids need their parents every step of the way. We might have a thousand disagreements with our mom and dad, but nobody can or ever will love us like them–that form of pure, unconditional love only exists between families, and especially parents and their children. Blood will always remain thicker than water.
I think as our grandparent's age, we see the inevitable approaching but either choose to ignore it or never really consider it happening to us. They are an enormous blessing, people who love us unreservedly and spoil us rotten. Death is the reality of life, but that does not make the grieving process any easier. However, a tiny part of my heart finds solace in the fact that he lived long and happy, instilling the same calming feeling in others despite going through catastrophic tragedies himself. I will forever be thankful that he lived a healthy life to see his kids, grandchildren and great-grandchildren grow up and continue to miss him immensely. My family does feel incomplete without him.
---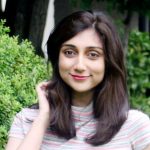 Exploring and writing her way through life, Queenie Shaikh is a biryani addict, latte-art admirer, women's rights advocate, fitness enthusiast, Harry Potter fanatic and a perpetual nomad, amongst many other things.