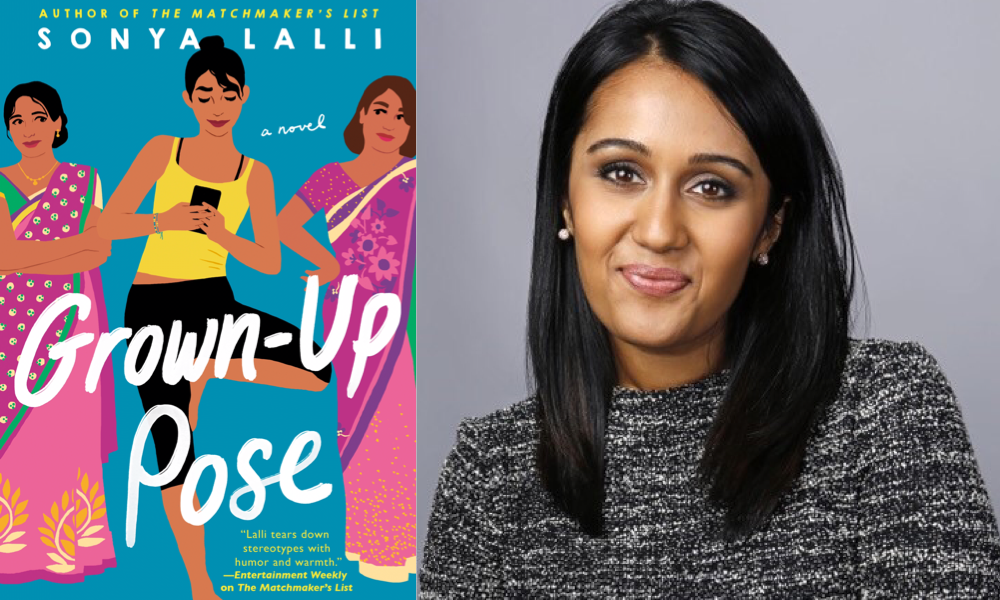 In "Grown-Up Pose," Anusha Desai is perfect by traditional South Asian standards. She has always done "the right thing" to make her parents proud and appease her community's expectations: She married her first boyfriend, Neil, at 22, she pursued a job in the medical field, and when she became a mother, she traded in her scrubs to take care of her daughter. Now in her thirties, Anusha must confront the fact that life is not as perfect as it seems.
In search of her own happiness, Anusha takes life into her own hands, but it affects everyone around her as she separates from her husband and finally lives the youth she always thought she missed out on.
For Indo-Canadian author Sonya Lalli, it was a life that could've been that sparked the idea for her second novel, "Grown-Up Pose," which came out last week.
I'm almost 31, and I was thinking about how much I've changed since the first year of university when I was 18, how different I am, and how much what I want out of life is different," she said. "I had my very first boyfriend when I was 18 and thought I was going to marry him…but I changed so much, so I thought about what would have happened if I had actually married him and also gone through the last 13 years of my life.
This reflection, Lalli said, compelled her to explore what happens when a young couple who've had to grow up together begin to grow apart. While "Grown-Up Pose" revolves around Anusha's relationship with her husband, it is ultimately a story about self-love and self-fulfillment.
Whether she stays with Neil or doesn't, she has to find happiness from herself, and she can't rely on her husband, child, family, friends or job to do that," the author said. "A huge part of her happiness does come from that, but it has to come from within too, otherwise all these external things aren't going to fill the gap.
The Saskatoon, Saskatchewan native found some of that fulfillment for herself when she departed from a traditional career path to chase her passion, much like Anusha. Since leaving the law profession, she has become a rights manager for a publishing company, where she works during the week while writing her novels on the weekends. The main difference between Anusha's experience and her own is the support Lalli received from her parents, who she said both are "tough" but "very progressive." Nevertheless, she revealed that she could relate to the pressure Anusha feels to be perfect for everyone in her life.
Anusha really works in labels," she said. "She thinks, 'Okay, I'm a good wife, a good mother, a good Indian girl.' Her struggle with trying to break free of those labels and saying I'm just me, I can be imperfect and I'm going to face up to my parents and have them know I'm not perfect, I really identified with that, and that came from a very true place for me.
https://www.instagram.com/p/B99TA-QAbgU/?utm_source=ig_web_copy_link
Similarly, the author recalled that she wrote her debut novel, "The Matchmaker's List," during a period of major transition when she felt many of the same emotions as the protagonist, Raina. According to Lalli, her experiences as a South Asian woman helps to give her stories an authenticity that was lacking when she previously experimented with ethnically ambiguous characters.
I write [South Asian] characters because that's all I know," Lalli said. "I can't write a rom com about dating and falling in love without having that character [consider] what her parents think about it because our respect for our parents, our elders and our community is of such paramount importance that I think almost any brown girl would feel those things.
However, writing South Asian characters comes with challenges of its own. While the publishing industry has embraced diverse narratives over the last several years, the representation of girls and women of color are still in high demand. For Lalli, she said there is a desire to have every brown girl see themselves in her characters, but it's a battle she knows she cannot win.
I'm from a very particular community, raised a particular way, and my experiences are not one of all brown girls, but of a section of us," Lalli said. "And so, I think that it's hard to feel like you want everyone to identify with you because it's not going to happen. The good thing is that there are so many more South Asian rom coms, last year and especially this year, that are coming out. That's going to represent even more of us.
In her novels, she also explores issues within the community that sometimes overlap with stereotypes perpetuated in mainstream media. For the author, the balance between addressing topics that can show the community in a somewhat unflattering light while not feeding into stereotypes comes down to approach.
There's a stereotype that Indian girls are pressured to get married, but I can't not write about that just because it is a stereotype," she said. "I think it's really important, if you are writing something that could be perceived as a stereotype, to really think about what you're writing, why you're writing it and how you're portraying it.
Lalli credits her parents' tolerant and accepting mindset by allowing her the freedom to tackle these issues in an honest way. Ultimately, it is this authenticity that makes characters like Anusha in "Grown-Up Pose" instantly relatable, as they traverse obstacles common within the diaspora today. Lalli's protagonists attempt to break through the expectations still placed on South Asian women and find their own happiness, while tuning out the age-old question, "Log kya kahenge?"