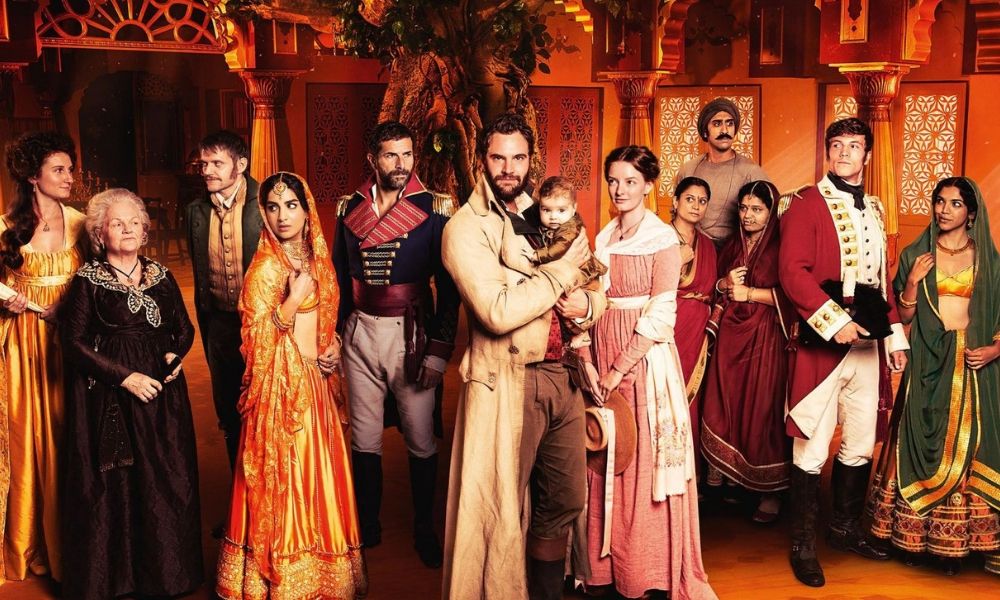 U.K. television's ITV makes a change in its latest star-studded upstairs-downstairs period drama, "Beecham House" travelling far from the typical old houses on the Yorkshire moors and landing us somewhere far different — hot and dusty 1795 Delhi. Directed by the legendary British Asian filmmaker Gurinder Chadha, and with a huge ensemble cast of both British and Asian household names, "Beecham House" has naturally been eagerly anticipated, particularly by British Asians keen to see more accurate historical representations of Indians on mainstream television. As the progenitor of game-changers like "Bend it Like Beckham" and the evergreen "Bhaji on the Beach," Chadha practically pioneered a genre of South Asian diasporic film and television. Hence, I like many others, had high hopes that this new period drama would be similarly revolutionary, representing for the first time, non-white characters and themes, and a greater variety of stories and experiences.
The cast of "Beecham House" is packed full of stars for both British and Indian audiences, making it a real must-watch out of pure intrigue as to how they interact and come together. Alongside period drama veteran John Bateman as Tom Beecham, for "Downton Abbey" fans, Mrs. Patmore takes a trip upstairs as Lesley Nicols enters the scene as Beecham's mother. "Mr. Selfridge" star also goes from American to French as Gregory Fitoussi plays the rival Frenchman General Castillon. Dakota Blue Richards, Bessie Carter and Leo Suter all make notable appearances. The South Asian interest is perhaps even stronger — particularly exciting is Miss Universe and Bollywood star Lara Dutta's role as real-life military woman Begum Samru. You might be able to spot BBC "Citizen Khan" actor Adil Ray, as Murad Beg under a new beard, as well as Roshan Seth, Shriya Pilgaonkar and Pallavi Sharda to name a few. Following from Channel 4's 2015 series "Indian Summers" with a similar colonial premise, this is one of the most significant interventions in terms of widening representation in period dramas. 
https://www.instagram.com/p/BykvUK0n4j_/
The first episode sets up the story of John Beecham, a rebellious wannabe trader who has separated from the East India Company in protest against its despotic ways. He does not return to England though, but remains in India, moving into a grand palace in Delhi. Our mysterious and brooding protagonist arrives at his new home, Beecham House, and for a peaceful life as a prosperous trader and entrepreneur. Secrets abound — an unexplained, motherless half Indian baby, a rebellious evil brother, and a love triangle (or quadrangle) in the making. The Indian staff flutter about, eager to please and serve their new Sahib, gossiping and speculating about him out of earshot, but markedly and disappointingly lacking any storylines of their own.
The story is set in 1795 at a turning point in Indian history, a period largely unexplored in popular television. The Mughal Empire is rapidly going into decline, but the Indian subcontinent is still divided up into various princely states ruled by either Islamic or Hindu rulers, often at war with one another. The European presence is still comparatively minimal, the British Raj is yet nonexistent.
Its predecessor, the East India Company, was a private trading bloc that gradually began to acquire political power. Not only were the British in competition with the Mughals and various other Indian kingdoms, but they were also threatened by other European powers trying to stake out a claim to India, namely the French and Portuguese. "Beecham House" shows how the subcontinent was an extended European battleground; they did not immediately hold the whip hand. For many years, the British were still at the mercy of the more powerful Mughals, who they had to desperately pander to in order to even obtain a trading license. This kind of Wild West, land grabbing spirit is played up with Bateman as our perfect cowboy. 
Chadha is right when she claims she wants to present a different side of Indian history, as this more complicated picture of fragmented power is rarely shown, but beyond this, what is really different about this new apparently 'radical' depiction of India? Given Chadha's incredible contributions to the community, I was sure the Indian characters in this series would be portrayed respectfully and tastefully, and above all, humanly. Shockingly, I was wrong — there is absolutely nothing new about "Beecham House."
The Delhi of "Beecham House" is still as two-dimensionally exoticised as it has always been, still presented in a way that will appeal to a white audience's desire to see colonial riches. Everything is sanitary, suitably exotic but not uncomfortably foreign. Even the Indian dust is clean and tidy; all is draped in a strange golden haze of delusion (and a literal orange filter that has been applied indiscriminately to every scene).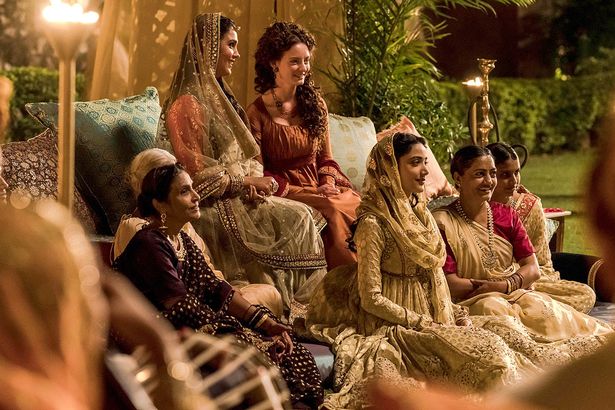 The series is supposed to be one that smashes stereotypes, but the caricatured Frenchman, General Castillon (Fitoussi) plays right into current anti-European sentiment and is the clearest example of how the creators of "Beecham House" have no interest in getting into the heads of real human beings. Some took to Twitter to complain about how English and French subtitles were provided, but the Indian languages were disrespectfully dubbed with "Speaks Own Language." So much effort put into knowledge about India for a series set in India! An ideal version of India is presented, with a distinct lack of interest, in reality, it might seem. 
John Beecham, as others pointed out on Twitter, literally looked like Jesus in the opening scene. If that doesn't scream white saviour narrative, I don't know what does. Because having good intentions and a 'love for India' in mind (as were are continuously reminded. Have you forgotten? John Beecham is not like other colonisers!) when he obtains his trading license and plunders native resources to fund his lavish lifestyle, makes it all okay! Of course though, when he finds out the East India Company is on its way to attack Delhi, his only concern is to protect his financial prospects.
According to Shahrukh Hussain, writer and co-creator, speaking in an interview with the Sunday Mirror, the figure of John Beecham is based upon her husband's ancestor Thomas Metcalfe, apparently, a 'good' colonial who adored India. Forgive me for my sarcasm, but Hussain's assertion that Metcalfe's residence in India for forty years proves that he loved the country and was thus a good man, cannot seriously be a reflection of his morality. He remained in India for 40 years because he benefited from it, likely made his fortune there.
Such romantic beliefs in a larger evil colonial project but the existence of individual good men are really problematic, and not good history. History is not about casting back an eye and judging people's morals, but we do get to choose whose stories we tell and give air time to. We could have chosen to focus the series on the direct experiences of the servants themselves, rather than yet another dreary saga of an elite white man and his petty dreams. Do we really need to try and show that some colonialists were, in fact, good, when Brexit shows a lot of people still haven't been convinced that empire was bad to start with?