by Rishma Johal 
At a time when the world is facing chaos and turmoil when restlessness abounds and people feel cheated and humankind appears to lose its sense of kinsmanship, we celebrate the birth of a guru who advocated for peace and humanity.  Today, we rejoice in the birth of the first Sikh guru—Sri Guru Nanak Devji.
Religion is strange. Many of us believe in some vague, omnipotent, invisible power which has the ability to influence our lives. A man, woman or genderless light in the sky, that will somehow punish us for our sins or reward us for our good deeds. While many of us are reluctant to believe in just about anything these days, the persuasiveness about this entity's existence still enthralls us. We may have our doubts, concerns, and skepticism, but we often ritualistically accept the religion our parents pass down to us as our own. We sometimes follow the traditions and cultural practices without knowing their meaning.
The interesting idea about religion is that the lessons and philosophies often dissipated by the initial founders and leaders can become lost among current day issues, practices and institutions–but the ideas they instill have a truly universal appeal. Going back to these philosophies teaches us a lot more than simply believing in a vague power, it actually teaches us to be good human beings and neighbors. In Sikhi, these ideas teach you to look beyond labels, accept others and eliminate discrimination. A case in point is the teachings of Sri Guru Nanak Devji.
The sage established Three Pillars of belief in Sikhism: Naam Japna, Vand Chhakna and Sachi Kirat Karni. These beliefs translate into the simple life lessons: Meditate in the name of God, share all that you have with one another and be truthful in all the work you do to make a living.
Baba Nanak was a visionary who saw practicality as an imperative aspect of his spirituality. He challenged ideas that perpetuated fear among the populace and denounced superstitious-ness. Guru Nanak Devji recognized how fear was used by the elite to mislead the other classes. (Sound familiar?) Therefore, he spent much of his life traveling from place to place and spreading the word of enlightenment.
Perhaps one of the greatest accomplishments of the Sikhi  Baba Nanak his humanity. He spoke against casteism, classism, gender discrimination and all kinds of other injustices. He did not establish a specific institutionalized religion, rather, he taught people to value each other without first analyzing their societally branded labels and worth.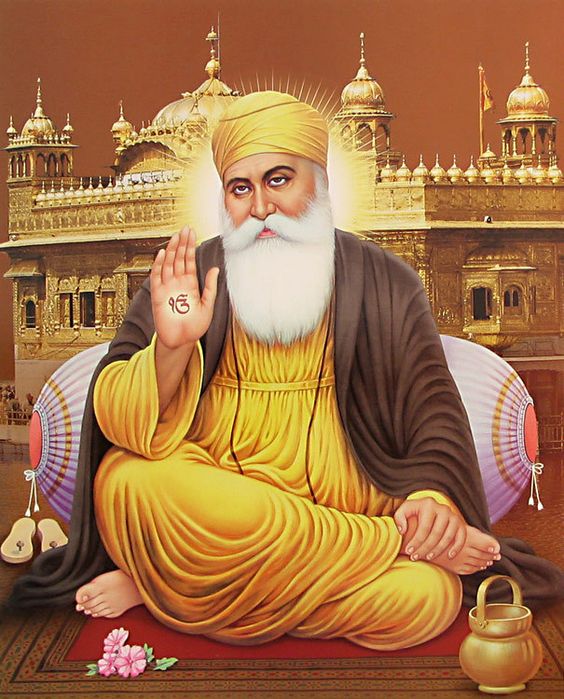 [2016 marks Guru Nanak Devji's 547th birthday/Photo courtesy: Pinterest.]
His main circle consisted of Bhai Mardana Ji and Bhai Bala Ji who were Muslim and Hindu by birth. They were basically his closest associates but he never asked them to convert because like his followers, no one was expected to change their religion. In fact, this is the reason that even now, some of his followers include Muslims and Hindus who consider Guruji a Peer or saint. In India, this level of camaraderie hasn't always been seen between people of these three religions, but I would argue that the animosity stems from a lack of understanding and willingness to accept each other's differences counter to what Guruji had tried to initiate.
The point about humanity went hand in hand with equality. The langar (giving of free food) was initiated to help those in need, but it was also a place where everyone would sit together in one area and have the same food. This was a place where your caste or creed did not matter and you had to sit with the poor and needy even if you were a king or a queen.
It is said that when Baba Nanak was born "mithi dhund jagg channan hoiya," which literally means that in a world of darkness (a metaphor for everything bad) came an influx of light (a metaphor for everything good). The sad part is that Baba Nanak tried to eliminate distinctions between people centuries ago as we celebrate his 547th birthday, yet, here we are fighting the same issues that he tried to resolve.
All of his teachings are incredibly applicable today, regardless of their religious undertones. Baba Nanak was revolutionary in his own peaceful way and it wouldn't hurt us to take some of these teachings into consideration.
As a child, my Naniji consistently told me stories about Baba Nanak, which inspired me to take on issues of social justice and raise my voice against injustice. These teachings taught me to be open-minded, they taught me to never look down upon anyone based on their religion or dislike them based on any form of perceived difference.
And for that, I am forever thankful to my Naniji because I don't think I would have had those ideas and this fire inside of me would have never ignited. Here's hoping that sharing some of these ideas with others will also ignite a similar fire and encourage a greater sense of humanity.
Happy Gurpurab!
---
Rishma Johal graduated from Simon Fraser University with an M.A. in Gender, Sexuality and Women's Studies, and B.A. in History. Rishma is an anti-racist feminist as well as an advocate for intersectionality and social justice. Her research is aimed at enacting social change as is her photography and video work. Rishma has also hosted television programs, radio shows, live events, and presented at numerous conferences. She loves dancing, has a knack for acting and is a complete Bollywood fanatic!