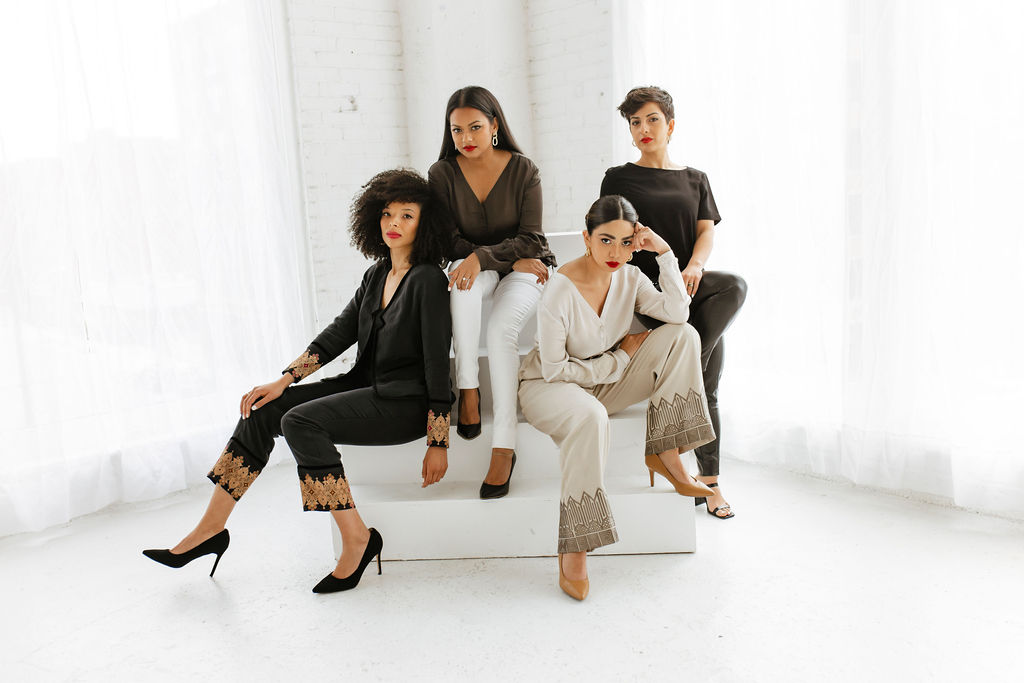 South Asian fashion is nearly always associated with color, glitz, and ornate designs. From embellished bridal wear, weighing as much as the bride herself, to brightly colored sarees, Indian craft and hand embroidery is hard to miss — except when it's showing up in non-Indian clothing.
Did you know that Jennifer Lopez's famous green, jungle-print Versace dress from the 2000 Grammy Awards was hand-embroidered in India? Or that top luxury brands, including Gucci, Dior, and Saint Laurent, have quietly outsourced much of their embroidery to South Asia for over three decades now? As brands cross borders to connect and innovate through fashion, South Asia has come to the forefront of global fashion as the go-to region for hand embroidery. In 2019, India's embroidery exports exceeded $230 million, which was a 500 percent increase from the 1990s. This isn't simply because of the affordable labor and extra cushion for the bottom line — it's a testament to the unmatched skill of South Asian artisans.
South Asian artisans, also known as 'karigars,' are the unnamed force behind a designer's vision. They often reside in rural parts of the Subcontinent and have gathered skill, creativity, and knowledge over generations. During my travels this year, for the launch of my fashion brand Chaa Latte, I witnessed artisans train from as young as seven years old, mastering embroidery techniques by the time they're in their teens. Crouched over a table in a dimly-lit room, these artisans work tirelessly to adorn yards of fabric with beautiful beads and sequins, or weave glistening gold yarn into silk and cotton with sometimes nothing more than their memory to guide the motif. Some of them have little to no education and have never stepped outside of their village. Yet, hand them thread and a needle and they are among the best embroiderers in the world.
View this post on Instagram
Is Indian hand embroidery as prolific as French lace? I would argue yes, and maybe even more, but without the fame. Established brands and their collections have stood on the craft of these rural artisans for decades but have rarely given credit. Only few Western designers, such as Dries Van Noten and Isabel Marant, proudly celebrate their relationship with Indian craftspeople. Perhaps because of this nearly silent partnership, a label that says "Made in India" or "Made in Bangladesh" does not equate to beautiful, luxurious work — rather, the complete opposite. Fast fashion may be one output, but the true strength of South Asia lies in centuries of incredibly intricate, slow, and artisanal processes.
In a Times of India article, David Abraham of Abraham & Thakore — a well-regarded Indian label — eloquently says that we must recognize the fact that India is one of the very few countries left that can still produce small lot, labor intensive, highly-skilled craft and textiles.
He adds, "And that is the true luxury in a world of growing mass consumerism and an antidote to the very real threats of environmental pollution, global warming and a growing understanding that we need to buy less, pay more for fashion that is more timeless, classic and responsible."
South Asia's fashion identity is at a crossroads, and it's up to designers, especially the younger generation, to build brands that showcase the luxury and painstaking craft of South Asian embroidery, weaving, and the various other hand techniques mastered over centuries. I launched my fashion brand, Chaa Latte, late last year because I believe the true beauty of South Asian fashion is in the subtle, intricate craft and this simply isn't accessible to North Americans in a way that fits their lifestyle seamlessly. I was set on designing modern pieces for people of all backgrounds, who have a love for art in the form of fashion and have an eye for unique detail.
View this post on Instagram
My first collection encompasses some of my favorite techniques and textiles from India and Bangladesh, including mirror work and silk handloom sarees. The detailing is balanced with simple silhouettes and a neutral color palette. I am now working on my second collection, which will be released in Spring/Summer of 2023. 
Like me, many young designers are tapping into their unique heritage to draw inspiration and bring attention to the Western world. I had the pleasure of speaking to two fellow South Asian designers who are making a mark on the US fashion industry, while highlighting their love for South Asian craft. When asked about the role of traditional textiles and techniques in their work, Niharika of Tega Collective responds:
With each collection our designs are co-created with a specific indigenous community highlighting their traditional colors, patterns and natural symbols. Every region in the world has incredible biodiversity so we focus on championing native fibers in South Asia like Khadi (indigenous cotton) and Eri (peace) silk originating from Assam, India.
In a separate conversation with designer Sana Khan Patel, from Aara by Sana, she tells us how she was inspired to start her line:
When a family wedding took me back to my hometown of Lahore, Pakistan, after a long 18 years, I was blown away by the level of skill I saw in the gullys (streets) of Lahore. From fabric dyeing to intricate beading to the quality of tailoring, they did it all so effortlessly and with so much pride. I quickly realized that the artisans simply want to create art but unfortunately, in most cases they are overworked, underpaid and treated extremely poorly. I immediately knew that I wanted to work with and learn from these OG's as much as I wanted to put them in a position of providing for their families.
It's the hope that this recognition from up-and-coming brands, like Chaa Latte, will shed light into how much South Asia is truly lending to global luxury fashion and the rich history that makes these art forms unique to our countries.
View this post on Instagram
For more information on Chaa Latte, please visit our website and follow our journey on Instagram.
Feature Image: Hannah Schweiss Photography