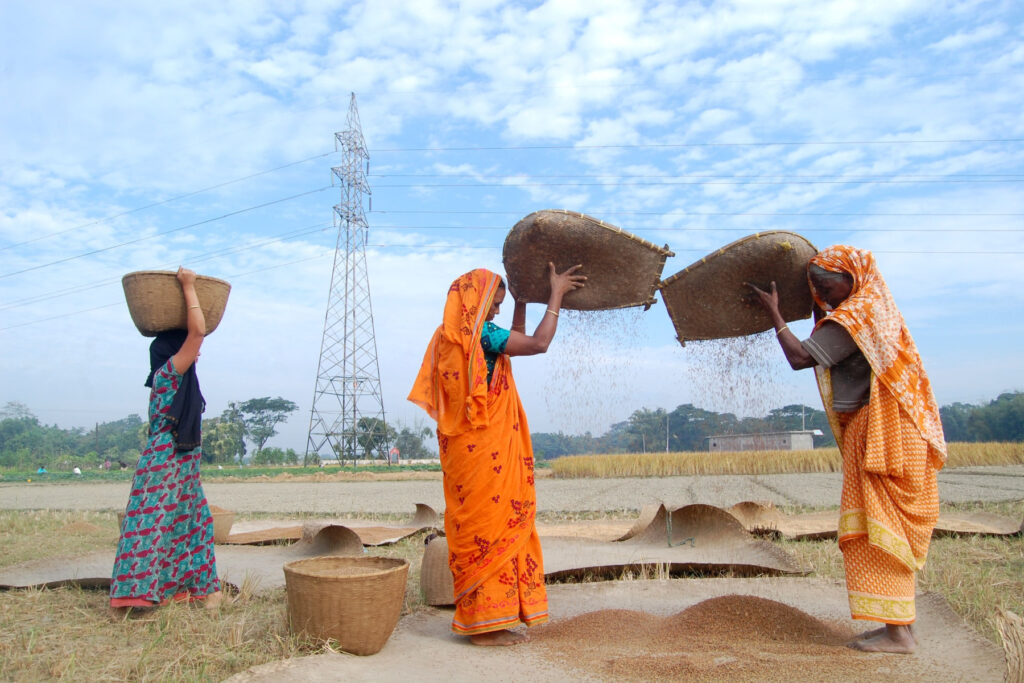 A distillation of the most intrinsic parts of my Bangladeshi identity, "Rice" is centered on the three kinds of language I was taught growing up: Bangla, mathematics, and the generational tradition of rice agriculture. From a young age, my parents drilled me in mathematics after I came home from school. An aptitude for math has been associated with historically rice farming communities. After all, my father recounted his own childhood working in the rice paddies.
"Rice" weaves my personal memories with major moments from Bangladeshi history, including the Bangladesh Liberation War and the atrocities of the 1971 genocide committed by the Pakistani military. Many elders in my family fought in the war and my parents grew up in a nation rebuilding itself after independence. Decades earlier, the Bengal Famine of 1943 had killed more than 2 million people in the Bengal region. The famine arose not out of drought, but due to wartime policies imposed by the British colonial rule upon the region. "Rice" remembers these devastating events. It's an ode to my ancestors whose persistence and fortitude allowed them to survive through deadly injustices.
Rice
I was taught this language by my father who
tended these fields as did his parents before him, taught
that this backbreaking labor day after day
is what feeds a newly born country through war and
genocide (that Pakistan wrought). Perfect long white grains
fall into a bowl, glistening multitudes like the
multiplication tables my mother made me memorize at six
Just like my parents did as did their parents before them.
Because with the grain that gave my ancestors sustenance
through the famine (that the British caused), came
the need for careful calculations of impartial portions
and so embedded within the genes they passed down to me
is a binding obligation that I never fail a math test.
Rice, painstakingly multiplied and cautiously divided,
is what has kept us alive.
Almost three years later, and here we are, proud to present a piece that converges at the crossroads of who we are: children of immigrants, women in STEM, Muslim. From the scents of a bustling street market in India to the warmth of stories rooted in Venezuela, the poetry in this book features an ache for grounds no longer walked upon. Our Ancestors Did Not Breathe This Air is a bold and unfiltered collection recounting moments, tears, and dreams that have been generations in the making.
Grab your copy of Our Ancestors Did Not Breathe This Air from Barnes & Noble or Amazon.
---
The opinions expressed by the guest writer/blogger and those providing comments are theirs alone and do not necessarily reflect the opinions of Brown Girl Magazine, Inc., or any employee thereof. Brown Girl Magazine is not responsible for the accuracy of any of the information supplied by the guest writer/bloggers. This work is the opinion of the blogger. It is not the intention of Brown Girl Magazine to malign any religion, ethnic group, club, organization, company, or individual. If you'd like to submit a guest post, please follow the guidelines we've set forth here.