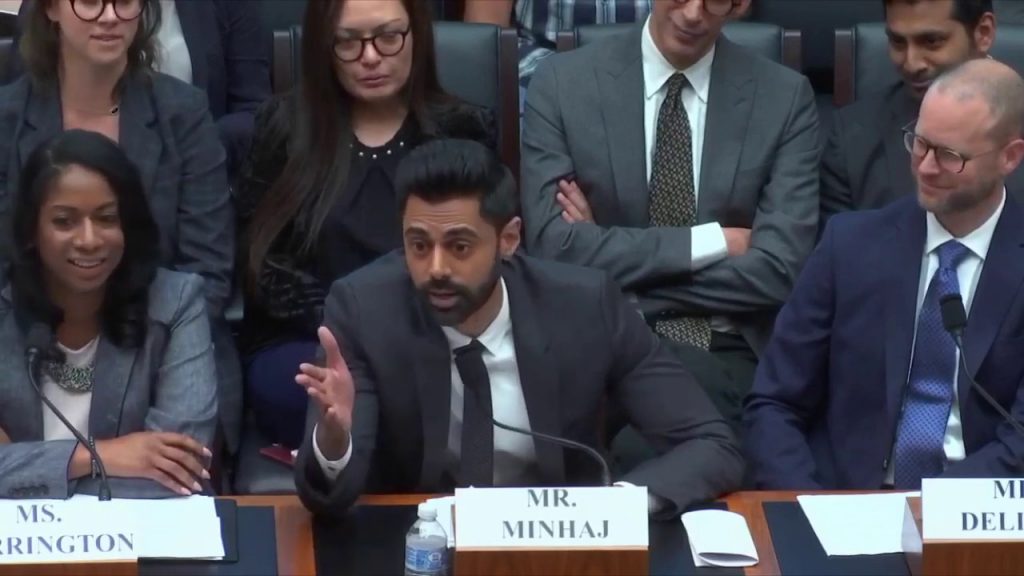 What do Hasan Minhaj, Capitol Hill, and student loans have in common? They all come bearing receipts. For an important cause, of course.
In alignment with the episode, "Student Loans," on his Netflix show, "Patriot Act," comedian Hasan Minhaj came bearing receipts to Congress on Capitol Hill on how student loans hold back millions of Americans from getting ahead. One of Minhaj's many reasons for taking his message beyond his Netflix platform? His "crippling 'emotional debt,'" over the fact that he has no debt due to careful planning by his strategic immigrant parents. However, as he points out, millions of Americans are not that lucky.
Forty-four million Americans owe more than 1.5 trillion dollars of student loan debt. In Minhaj's Netflix episode taping alone, in an audience survey of about 200 people, the overall debt was estimated at more than six million dollars. The prominent issue is that borrowers do not get to choose their loan servicer. The U.S. Department of Education chooses for the borrower so there is no competition for companies to provide better service. Under-regulated loan servicing companies, i.e. Navient, as documented in Minhaj's show, are exploiting borrowers with predatory business practices.
His message for action is simple:
Going bankrupt should not be the result of pursuing higher education for so many Americans. The government is capable of stepping in during a financial crisis.
The government needs to enforce regulations on loan-servicing companies that protect the borrower. Referencing the inflated cost of higher education today, Minhaj pointed out that this wasn't the case when members of Congress present in the room were in school. Today's generation pays more than three times the cost in tuition and interest rates than their parents. He reiterated,
The government has put their future in the hands of predatory, for-profit loan servicing companies.
Furthermore, the problem isn't solely with loan-servicing companies. Government regulation within the Trump Administration is questionable when it comes to borrower protection.
Secretary of Education, Betsy Devos, reportedly has financial ties as an investor, to the debt collections agencies, Windham Professionals and Performant Financial Corp. Performant Financial Corp. was chosen in 2016 as one of seven firms by the Dept. of Education to collect student loans. Both Windham and Performant have marginal to satisfactory ratings. Despite this, the Dept. of Education stated that Performant and Windham's proposals were "the most advantageous to the government."
https://twitter.com/hasanminhaj/status/1172200060983087104
Minhaj's grey suit was about the only thing that blended in with the audience. His comedic tone and style of message delivery were both provoking and direct. Scrolling through social media, there is public debate over Minhaj's approach. Should he have more spoken directly? Did his jokes take the emphasis off his main message that the government needs to better protect American borrowers from predatory loan servicing companies? His analogies, rooted in the class Hasan Minhaj comedic approach, while light-hearted, were distracting. But does this make him any less credible?
High-level policymakers have yet to embrace the new wave of communication rooted in youth-centric social media messaging. Minhaj is a disruptor in the political comedy area. And his influence is credible enough (thanks to his research team at Patriot Act) to inform the public on issues as widespread as student debt.
Are Minhaj's analogies rooted in youth-centric banter? Absolutely. In fact, this approach may be more effective than the regular boring "I am speaking to Congress" approach. He did troll Congress members a bit, and his interruptions towards the end were un-welcomed. Congress members had to have known that Minhaj is a comedian (especially if they did their homework and watched "Patriot Act").
But then again, why would United States Congress members do their research on an Indian American Muslim comedian coming to testify on the student loan crisis, right?