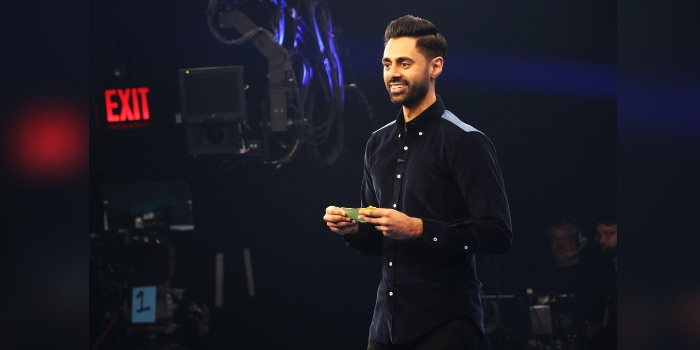 Hasan Minhaj is a household name within our South Asian and diasporic community, from his work on "The Daily Show" to his groundbreaking Netflix special "Homecoming King" he stands at the critical intersection of cultural representation and cultural competency.
His latest project, a Netflix series called "Patriot Act," is a unique combination of political satire and social commentary that is unapologetically brown—each episode explains one topic in great detail, from controversial deep dives into the Saudi Arabian regime (which has since been removed after Netflix received a complaint from the kingdom's Communications and Information Technology Commission, claiming that it violated Saudi anti-cybercrime laws) to the inner workings of brands like Supreme.
Yet, we ask, why is this so important? Haven't we seen a million comedians take on politics?
Minhaj's "Patriot Act" is so much more than an attempt to be the Indian John Oliver. In a chat with 92Y in New York City, he spoke about the components that make this show different, specifically his method of fusing journalism with visual storytelling.
View this post on Instagram
This journalism technique, and by no means does he identify as a journalist, has become a widely influential way in which many people receive and digest news—from the high energy and rally-cry theme song (inspired by Kanye West's "Power") to the interactive screens which Minhaj often compares to a "Drake concert"—the show is created to dynamically engage your eyes and ears.
Minhaj has bravely taken on the role of talking about and stimulating difficult conversations on a macro and micro level. The show takes complex issues that can be talked about for hours, condenses the issues into digestible and relevant content, and also manages to vocalize why the issues should matter to our country and to the desi community.
Think of it this way, we all know that "American Idol" and "Indian Idol" may be airing at the same time, but our parents will switch to Zee TV without hesitation because they are gravitating to relatable content for them. "Patriot Act" has now made politics, current events, social disparities and inconsistencies in our cultural community into relatable content for millennials and non-millennials alike to understand the deeper issue and questions each topic offers humanity.
As our rates for media consumption are now higher than ever our attention-span for content is shrinking. The real magic of this show is that it is a perfect balance between the two, it has found a formula that not only has core components of comedy and credible content but sums it up in a reasonable amount of time without losing your interest.
But "Patriot Act" doesn't stop there, what makes this show all the more meaningful is that in a time when the integrity of media is being constantly questioned, we have someone on a platform as large as Netflix putting out content for our generation.
This means that a lot of work goes into crafting content and comedy that is relevant, cited, backed up by facts and statistics, and is mindful of people who may now be taking a chance to learn. Some are critical of his jabs at the Asian-American community arguing that it may reinforce stereotypes, but "Patriot Act" is not baselessly criticizing discrepancies in our community, it's calling them out and forcing us to talk about it—whether it's comfortable or not.
View this post on Instagram
Some question what this interesting relationship between comedy and current events means for journalism. While everyone at "Patriot Act" is well aware that Minhaj is not a journalist, the content is centralized around one question, "What larger question are we answering?" This translates into a discussion of meritocracy and why we aren't reassessing topics we have normalized, Minhaj believes that "interesting comedy lives in that space."
The staff room at "Patriot Act" is diverse, from legal experts to journalists who ensure that the stories being told are backed up every step of the way. The prioritization of credibility highlights the shows tasteful approach and execution.
So what makes Minhaj's aka "brown Jesus" aka "melanin messiah" show worth your time?
The show transcends the desi community and has invited other cultures to sit at our table and listen to the conversations we've had over dinner for years, forcing audiences to see where our similarities lie. Minhaj has taken his lived experiences as a brown, Muslim, American man and created a show where that perspective can be shared, dissected and questioned.
It successfully exemplifies intersectionality and the importance of inclusivity. Minhaj said that "the art that [he] loved made [him] feel like [he] was in the room." "Patriot Act" has scooched over on the couch, spread an old sheet on the floor and made room for everyone to join. The fact that an unapologetically brown man is the forefront of inclusive political satire at a time when every part of this sentence is under scrutiny, is what makes Minhaj's work the most critical form of patriotism. "Patriot Act" is the show first-generation kids can put on the television for their parents and make them a part of the conversation and part of the political discourse in this country.
Most importantly, it shattered the illusion that being patriotic, American, politically concerned and being brown, Muslim, or an immigrant are not mutually exclusive. Those identities coexist to feed into a lived experience we can all relate to, and one that still has a lot of work to be done.