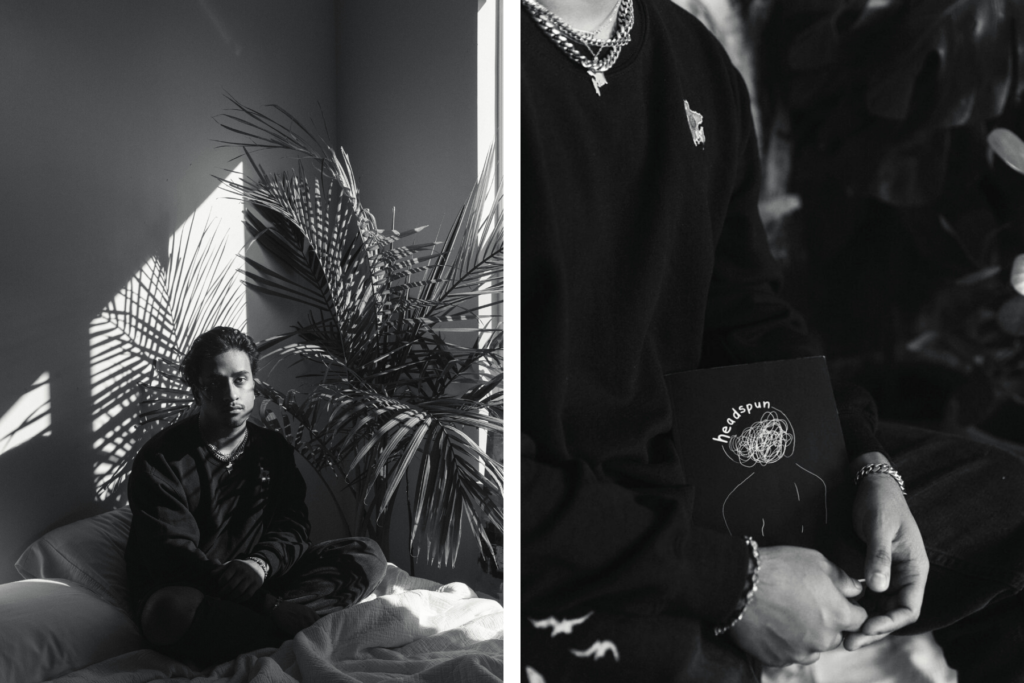 'headspun' amplifies the voice of a deprived, yet faithful brown-skinned boy searching for peace and prosperity in a world of unrest. Kept by many, this voice, though roaring, goes unheard. The inability to articulate its radical ideas into phrases for others to understand keeps it mute. I wrote these poems to offer the reader a bridge, an ear, not only to its world, but to the conflict and complexities deeply woven in its path, to the blaring crossfires of its environment.
'headspun' is a collection of poetry is separated into 3 segments. Though held in their own respective realms, they flow through one another, all connected, all seamless, all compliant. The 3 themes illustrated are low-income community politics, a longing for faith clashing with ceaseless sinning and broken family ties. I've struggled with conceptualizing these battling ideas my whole life. Maneuvering through realms of grief, desperation and paranoia, we are all compliant to serve the highest forms of self, and to unravel the darkest ideas spinning circles in our heads.
It is about finding, building, and cherishing the blocks for a space greater than the one you're existing in, and unraveling all of what is in that space that has been waiting patiently for your arrival. This space houses a universe to discover, and we all begin our pilgrimage the moment we accept our calling. 'headspun' is my pilgrimage. Not guided by a compass or by the placement of the stars, but by the morality and paranoia laced inside me simultaneously searching for its way out, spoken in phrases I've been spending years to pronounce. The voyage towards self discovery is uncertain. It doesn't lead to light, but it leads to peace.
"it is to me, about complexity. the complexity of life, faith, poverty, the come-up. the class analysis comes through in all of them and its interactions with your faith, with your parent-wounds, with your internal struggles. I was resonating with and picking up the most about… the ebbs and flows of hardship, the ebbs and flows of faith through hardship. the guilt that is taught/internalized through the way we learn about islam too. and of course there is so much range in all of the pieces. where each piece flows after the other – i learn more about you the further i read; you are building a narrative. of yourself and your internal world." — sharmain siddiqui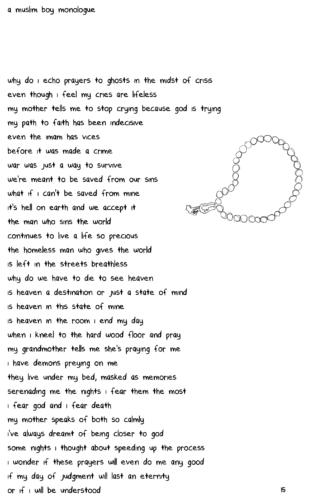 You can purchase 'headspun' on Amazon. You can also find Mashnun on Instagram and you can listen to his podcast, Difficultish, on Apple Podcasts, Spotify and Anchor.fm.
---
The opinions expressed by the guest writer/blogger and those providing comments are theirs alone and do not necessarily reflect the opinions of Brown Girl Magazine, Inc., or any employee thereof. Brown Girl Magazine is not responsible for the accuracy of any of the information supplied by the guest writer/bloggers. This work is the opinion of the blogger. It is not the intention of Brown Girl Magazine to malign any religion, ethnic group, club, organization, company, or individual. If you'd like to submit a guest post, please follow the guidelines we've set forth here.