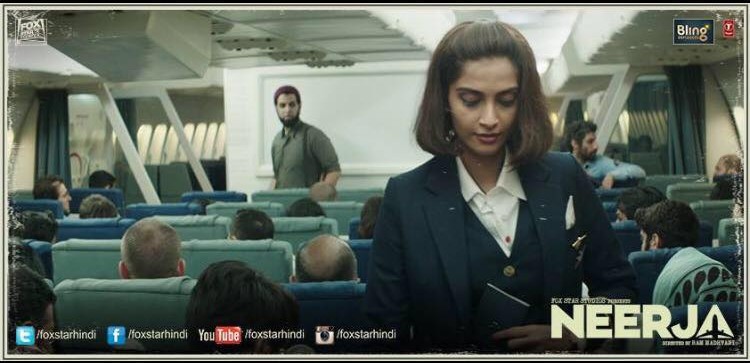 by Kanika Monga
February 19, 2016 marked a very special day in the life of model Abrar Zahoor's life. He made his much-awaited debut in the biopic "Neerja," which revolves around the true story of the Pan Am Flight 73 hijack in September of 1986.
The Kashmir native, one of Bollywood's most promising newcomers, wants to be known for his skill in acting. His dimples and boy-next-door looks seemed far from the avatar of Safrini that he played in  the film. We wanted to bring you a personal one-on-one interview with the hijacker of the hour,
Read on to learn more about  Zahoor in our special "Fast Five" interview series, which introduces budding artists, activists and entrepreneurs to the Brown Girl community.
1.  What made you pick up the passion for acting?
Well, I wasn't very good looking during my childhood, especially compared to Kashmiri kids, like my brother. I was always fascinated by actors, and was impressed that they were household names to people who had not even met them. I've also always been a good observer. I liked to see how different people talk, how they walk, and how they behave. It was very interesting to me. I would practice what I would observe when I was alone. I was too shy to perform in front of people. I was really self-conscious while growing up, and I thought that people would think I was crazy. I let go of my shell while growing up, and now I love performing. It really gives me peace. The most important thing I learned is that acting is about pure skill, it actually does not have have a correlation with 'good looks.' It has been humbling and such a dream to receive compliments on my portrayal of Safrini.
2. You are probably the best looking hijacker in the world. How did you bank the role of Safrini and how did you prepare for it?
The fact that Safrini's avatar is so different from mine is what made the role exciting for me. As an actor, you must have the art to transform yourself to get into character so that it is hard to differentiate you from your role. It's like letting your body run with a different current.  Getting to play the negative lead in such a powerful movie like 'Neerja' has been a dream. Actually, a lesser known fact is that auditioning for the part of Safrini was my first audition ever. When I left my house to go to the audition, I knew I had to put in my best. I still can't describe the feeling of being auditioned by Kanika, and finalized by Vinod.

In order to prepare, I did not trim my facial hair for three months, haha! On a serious note, I did a lot to prepare. The toughest part of preparing was to learn how to be 'stone-hearted.' Terrorists aren't your boys next door. Getting into character involved understanding how to be brutal. In real life, I'm completely different from the role. Other things I did to prepare included learning Arabic, physical training, and gun training. There was a lot, actually, because it was mandatory that I make Safrini a believable character on screen.
3. What do you have in store for us for the upcoming year?
2016 started with a bang! I have actually already signed another movie. This time though, I won't be playing the role of a villain. I have to start preparing for that film and prepare by June. My goal is to do fewer projects, but do very productive ones. I'm not here to become a 'star,' I am here to be known as a good artist.
4. From Aamir Khan to Vidya Balan, you've been getting lots of praise from the industry. Do you have a special message for your fans?
I went numb when I met Aamir Khan and Vidya Balan. I'm from a very small place from Srinagar. There are not many from there that have reached where I am today. Hearing everyone in Bollywood praise me, really helps the scars of my struggle vanish slowly.

For all my fans out there. Thank you, thank you so much for loving my performance. I appreciate each and everyone who saw, understood, and appreciated all the performances in 'Neerja.' Please keep the messages coming! They are making me stronger. Thank you for hating Safrini, and loving me in 'Neerja.'
5. We know Safrini- the Hijacker, please tell us about Abrar Zahoor.
Abrar is just like anyone. I'm no different. I chose this profession for my true passion for acting! I adore and love my family, and just like any other guy, I probably don't tell them that enough. I love bikes, mountaineering, cooking, and I'm actually a passionate photographer.
Follow Zahoor on Twitter, Instagram, and Facebook to keep up with his latest updates.
Also, don't miss Kanika Monga's episode of Dil Ki Baat which reviews 'Neerja.' This review got the attention of two of the lead terrorists from the movie, Jim Sarbh and Abrar Zahoor!