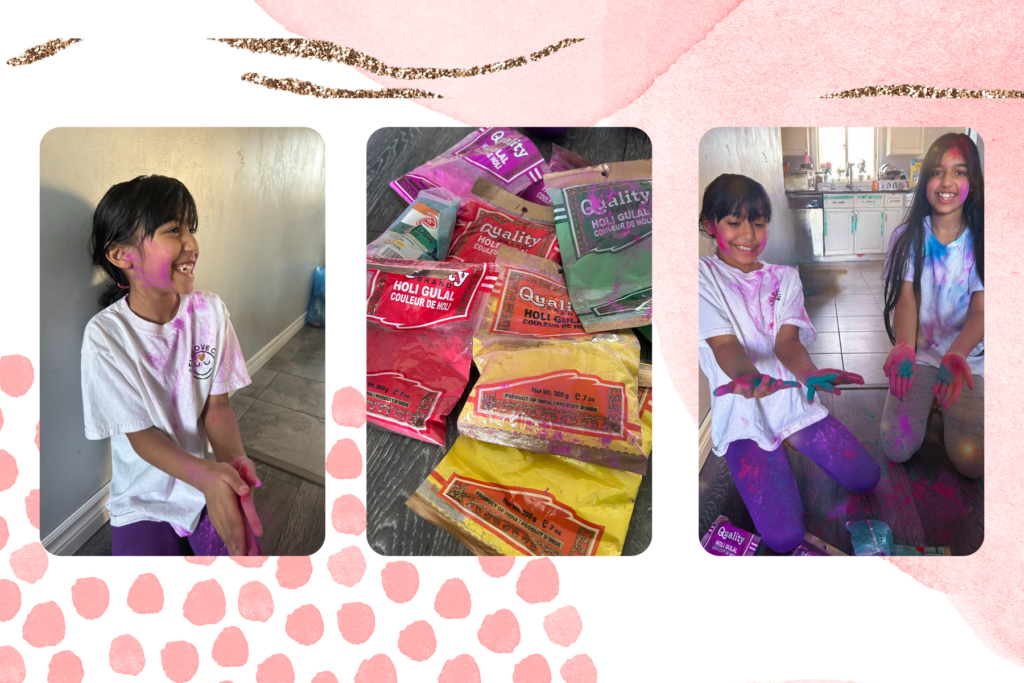 Holi is a Hindu festival that celebrates the coming of spring and is observed near the end of winter. It's also referred to as the festival of colors or the festival of love. Although my daughters and I are not Hindus, (we are Sikhs) we still celebrate Holi. Our Holi celebrations always include reading about this festival, making colorful art, playing with the colorful powders, and making some delicious, traditional sweets. This is always such a great occasion to discuss the diversity of Indian culture with my daughters. I use this opportunity to teach them about inclusivity and respect for different cultures around the world. All across India, different states celebrate this festival in their own meaningful ways.
My first experience celebrating this beautiful festival was in university. My roommates, friends and international students put together a lovely day of Holi celebrations outside. We were completely covered in variety of colors — pinks, purples, and blues. There was music, laughter, dancing, and an overall joyous atmosphere (including bhang, which is essentially a cannabis milkshake). It was particularly heartwarming to see so many Indian students coming together as a community, so far from home, to connect with such a beloved tradition.
For those of us, brought up in Canada, such celebrations were amazing opportunities to genuinely experience the true spirit of Holi. Similar to how it is done in India, everyone became one – there were no small groups or cliques doing their own thing; class lines and caste systems, predominant across India, disappeared. Everyone joined together; our skin tones hidden under the bright colours of the Holi powders. It surely was an unforgettable time.
As a child, I got to experience Holi only through Indian Cinema. Bollywood films like "Silsila," "Darr," and "Mohabbatein" stand out in my memory. The actors are dressed completely in white at the beginning of the song, enjoying Holi celebrations, and are then painted from head to toe, in various bright colours, by the end of the song. Since then, I've learned that certain colours hold meaning and significance. Red symbolizes love, fertility, and matrimony; blue represents the Lord Krishna; and green stands for new beginnings.
Now, as a mother, I don't want my children to experience our culture through a screen. So we bring these Holi traditions into our home in our own creative ways. We certainly tend to get creative since around March there is still ample snow on the ground outside and a chill in the air!
The activities we have fun doing are:
Making rangoli designs using coloured powders (this is a helpful site we've used)
Making paper flowers to decorate the house with (like the ones here)
Making tie-dye shirts (we've got a kit for this because the girls love it)
Baking a traditional Indian snack, like gujiya (we bake them because I get paranoid about the girls being around hot oil).
Some of the books we enjoy reading are:
"Let's Celebrate Holi!" by Ajanta Chakraborty and Vivek Kumar (for three to seven-year-olds)
"Festival of Colors" by Surishtha Seghal and Kabir Seghal (for two to eight-year-olds)
"Why Do We Celebrate Holi" by Anitha Rathod (for eight years old and above)
This year, Holi falls on the same date as International Women's Day! To combine the two celebrations, my daughters and I plan on sketching South Asian females we look up to the most, and then adding bright colours using different types of paint. For another element of texture, we might add the paper flowers to these as well. I'm thinking these are going to be frame-worthy pieces of art!