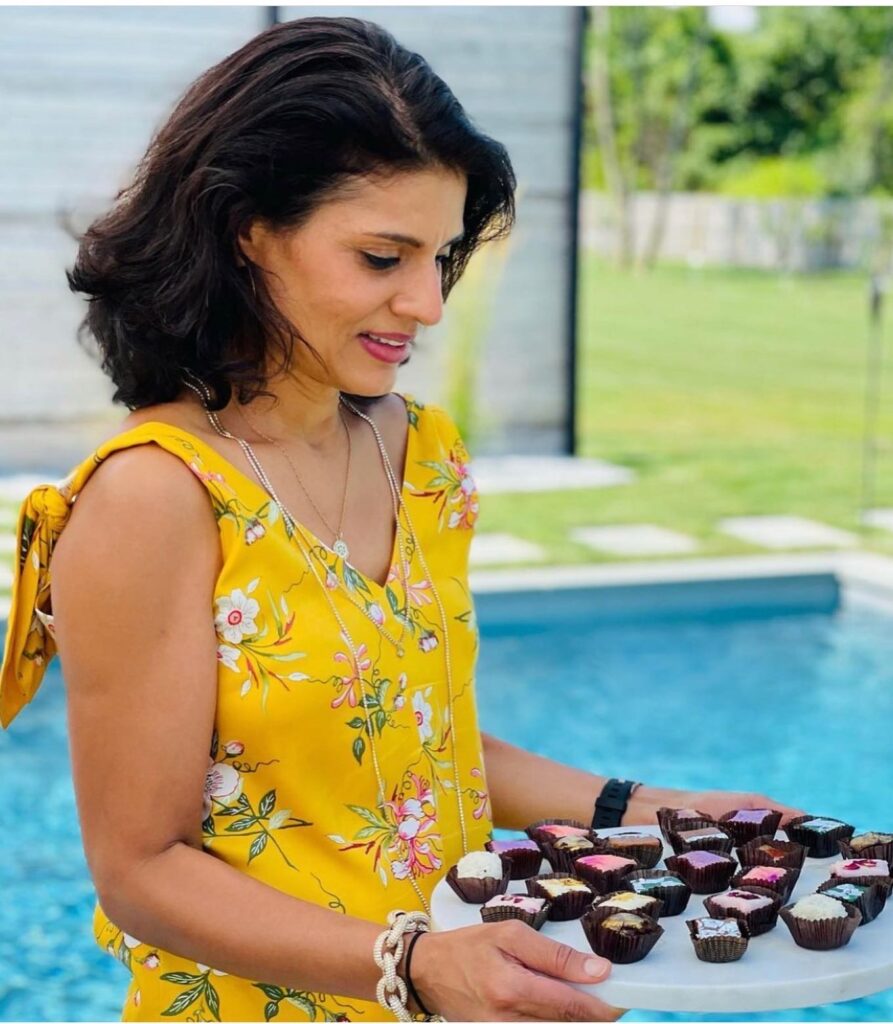 Growing up in north India, eating mithai (pronounced as mee-thaie) was an integral part of my childhood. A plethora of religious and seasonal festivals, such as Holi, Eid and Diwali along with a never-ending stream of wedding invitations meant there were umpteen flavors and types of mithai to try. The cherry on the cake – or should I say the rabdi on the gulab jamun – was that growing up in an inter-religious household, with an OB/GYN mother, may have afforded me even more opportunities to relish different kinds of mithai.
My mother's all-night efforts delivering babies were followed by the delivery of boxes of burfi (the classic white squares of milk solids topped with waraq or silver foil) in the morning. My sisters and I would devour a box just for breakfast. It was not uncommon for us to scrape the bottom of the cardboard boxes for crumbs after all the delicious chunks of burfi had vanished in our stomachs. Those were the best breakfasts!
Besides the staple year-round selection of mithai (such as milk burfi, motichoor ke laddoo, and gulabjamun), each festival showcased other sweets based on the seasonality of the ingredients and the need to warm or cool the body depending on the weather. For the winter harvest festival of Lohri, we would gather with friends around a bonfire and eat jaggery-based brittles with warming spices and nuts such as chikki and gajak. 
When spring ushered colors in nature, we would  celebrate Holi – the festival of colors – with gulal (color powder to douse each other with) and consume foods with spices and ingredients that symbolized renewal, festivity and the end of a cold winter. Weeks before the festival, home kitchens would be bustling with preparations of traditional delicacies of Holi: Gujiya, Puran Poli, Malpua and Thandai.
While the festival of Diwali trumpeted the perfection of store-bought and ornately packaged mithai, Holi revealed delights of homemade and folksy sweets. We would feast on gujiya – half-moon-shaped crispy dumplings stuffed with a mix of nuts, spices, coconut and khoya – and malpua – syrup or honey-soaked semolina pancakes with fennel, milk and yogurt. We would wash these treats down with cooling thandai – an earthy milkshake with almonds, fennel, saffron, cardamom and other spices – that were cooling and therapeutic, though still extremely delicious.
For the national celebration of Republic Day on January 26th, we would rise early to participate in community events where families would sing the national anthem and then feast on crispy, hot jalebis served by the halwai (or mithai chef) frying them in a large metal wok.  
Then there were the special mithai that accompanied different religious festivals. The celebration of Eid, after a month-long dawn-to-sunset fasting for Ramadan, would culminate with an array of sweets in our home. For Eid, we would have a constant stream of visitors bringing homemade meethi saviyan (soft strands of vermicelli cooked in ghee and sugar, and topped with crunchy assortment of nuts) and phirni (a silky smooth pudding made with milk and crushed rice, and scented with rose water). These treats came in steel tiffins or glass containers. But my favorite was eating phirni set in individual size clay bowls – these earth-scented bowls gave a special sweetness to the contents. 
While Eid offered a discrete selection of sweets, Diwali was an all-out frenzy of mithai. As this winter festival of lights approached, the mithai shops would spill onto the sidewalks to showcase the mounds of colorful sweets. It took utter self-restraint to not swipe a plump ladoo or a hearty coconut burfi from the bulging displays as one walked by them. About a month before Diwali, I would accompany my mother to one of the most popular mithai shops in my hometown. The mithai wala (mithai vendor) would have us sample all kinds of mithai, from the traditional to the trendy. After tasting some 8 or 10 types of mithai (yes, someone had to do it!), we would select an assortment of sweets as well as a festive dabba or box to gift these treats. Then a couple of weeks before Diwali, we would collect these colorful dabbas and drive from one house to another distributing mithai to our friends. As is customary, no one would let us leave their home without offering a thali full of their mithai selection. You might call this a surfeit of sweets, but for us, it was just Diwali.
Mithai has always been a way to share joy, celebrate milestones and auspicious occasions, and symbolizes richness and abundance. In Hindi, mithai literally means "something that is sweet." For me, mithai evokes a celebration of life that is shared in equal abundance with others. Who can not be awed by the golden radiance of a warm, syrup-soaked gulab jamun or the silvery cool of sweetly scented discs of ras malai or the upcoming phirni for Eid? 
---
The opinions expressed by the writer of this piece, and those providing comments thereon (collectively, the "Writers"), are theirs alone and do not necessarily reflect the opinions of Brown Girl Magazine, Inc., or any of its employees, directors, officers, affiliates, or assigns (collectively, "BGM"). BGM is not responsible for the accuracy of any of the information supplied by the Writers. It is not the intention of Brown Girl Magazine to malign any religion, ethnic group, club, organization, company, or individual. If you have a complaint about this content, please email us at hello@browngirlmagazine.com. This post is subject to our Terms of Use and Privacy Policy. If you'd like to submit a guest post, please follow the guidelines we've set forth here.