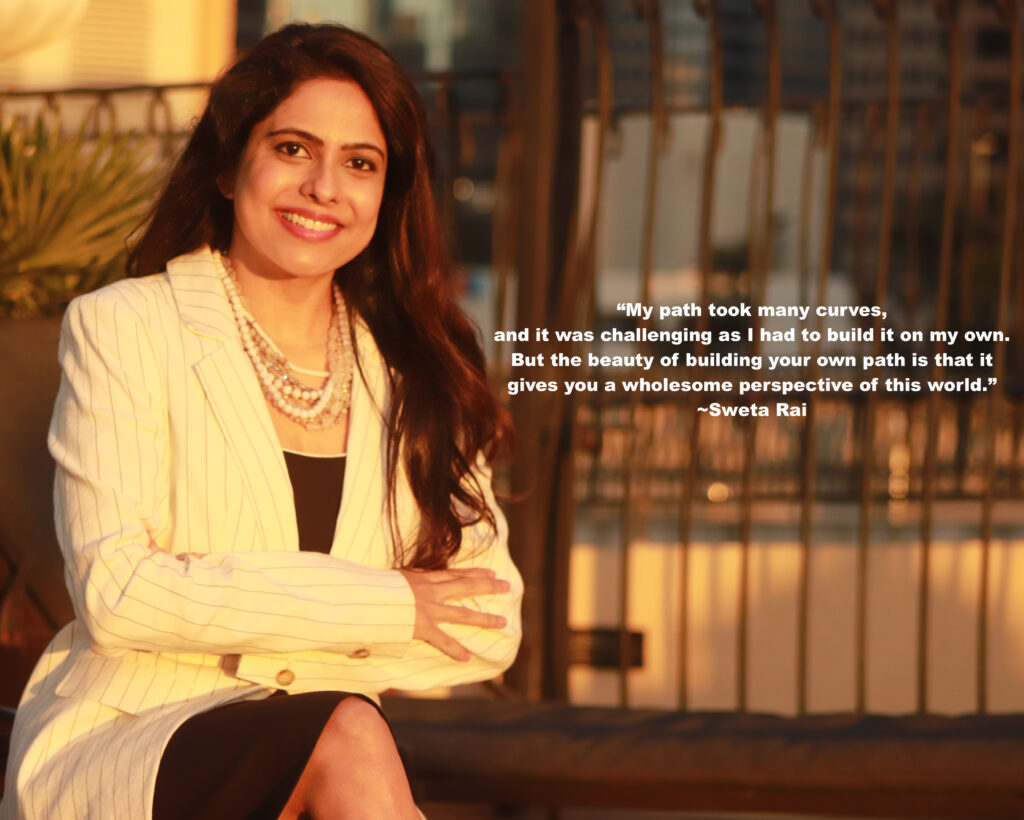 Hailing from a small town in India, Sweta Rai is creating underrepresented stories for worldwide screens through her production company Indo Holly Films in Los Angeles. Her latest full feature-length documentary, "A Pandemic: Away from the Motherland," she directed and produced, from an apartment in downtown Los Angeles during the lockdown, and released it worldwide. Currently streaming on Apple TV, iTunes, Google Play, YouTube Movies, Vudu, she is one of the first few filmmakers who shot an entire movie during a strict lockdown and probably the only one to have directed and produced a one-hour film from an apartment. Her technique of filmmaking is now being taught at film schools in Los Angeles.
Ahead of moving to the United States, where Rai received her master's degree from a prestigious college like American Film Institute (AFI) in Los Angeles, she worked for the Discovery Channel Singapore. Her feature films like "Orphan Horse," "Surviving the Wild," "JL Family Ranch: The Wedding Gift" are available on streaming platforms including Amazon Prime, Apple TV, Hulu, Showtime, the Hallmark Channel, and other leading networks in the USA.
We had a chance to virtually connect and chat with Rai about her past experiences, present successes, and plans moving forward in this industry.
Can you tell us a bit about your background?
I grew up in a small town in India, where my parents were professors. My mother, a columnist of some leading Hindi newspapers in the '80s, also worked in All India Radio as an anchor who would recite her own short stories. Despite them in the creative field, they knew that I should be either a doctor or an engineer for me to have a secure future. I left a software engineering degree to follow my passion for the arts. I then worked as a TV newscaster for the national news channels in New Delhi, produced TV shows in Mumbai before moving to Singapore, where I worked for the Discovery Channel. I represented India in Singapore and became the face of their campaigns for the Ministry of Defense, and Singapore Inter-Racial and Religious Confidence Circle.
View this post on Instagram
Tell us more about Indo Holly Films? 
After producing 25 Hollywood films (feature and shorts), I knew there was a need for a dedicated platform to voice South Asian stories. A platform that would bridge the gap between Asian cinema, Bollywood, and Hollywood. As the name suggests, Indo Holly Films (IHF) aims to bring underrepresented stories to the global platform. I have a team of Hollywood experts who are on board with building this company, some of whom are my mentors from the industry and veteran Hollywood filmmakers. Some of the crew members who have worked on IHF projects so far have credits on movies like Once Upon a Time in Hollywood, and X-men Origins: Wolverine, to name a few.
How did you decide to make a pandemic documentary on Indian doctors? How has your journey been during the pandemic?
The pandemic has hit everyone hard; I remember traveling to New York from L.A. in the initial days. Suddenly, there was a lockdown. For months we were locked in our homes, except the frontline workers. Nobody knew much about this virus and how lethal it was. That's when I decided to make this documentary. As filmmakers, we were also trying to adapt to the "new normal." We did not have many examples of filmmakers filming during the lockdown that too shooting a full-length feature from home was not even considered by many. I took the plunge and became one of the first few filmmakers (probably the first) to shoot (direct and produce) a full-length documentary feature from my apartment. It was challenging as I had to ask the doctors to self-tape most of the time. And few other times I sent a two-person crew, it was hard to direct over Zoom/WhatsApp calls. My mother, Anita Rai, who is also the associate producer of the documentary, played a vital role in the production as she managed the shoot in India remotely. She also found one of the featured doctors about whom she read in the Indian newspapers. This was while I was managing the shoot from the U.S.
View this post on Instagram
What were the challenges you faced with this documentary considering it was made during a strict lockdown?
The most challenging part was the editing. We had footage from all sorts of devices—iPhones, Androids, DigiCam, etc. We had to edit it in a way that it all looks professional for the platforms like Apple TV. Even though it was challenging, I made a cinematic choice to keep it more realistic and leave some bumpy shots the way the doctors shot it. That is the beauty of this film's originality. The first-hand information we received from these doctors gives the audience a peek into their day-to-day lives. This unfiltered content right from the early days of the pandemic is something audiences haven't seen so far.
What do you want audiences to take away from this movie?
This movie carries an emotional message of the warriors of this COVID-19 pandemic — the healthcare workers. Amid all the political turmoil that our country is facing, I want audiences not to forget the contribution of the real heroes. As I was shooting the documentary, and the story was unfolding, I could see the reality of this crisis from healthcare workers' eyes. The documentary is about the emotional connection, the bonding between the families. We recorded the Mother's Day celebration footage back in May with two doctors, one of whom contracted COVID from her patient, recovered, and resumed her work. It was a second life blessing for her, and hence the Mother's Day was special.
What are your upcoming projects? How do you plan to bring South Asian stories to the international platform?
I have some women-oriented stories in the pipeline, and I am currently shooting a documentary called "Shades." This project talks about skin complexion biases that women face in different parts of the world. Our first announcement has already made waves, and I've been shooting it as the Black Lives Matter campaign is progressing worldwide.

My next feature film is called from "Bollywood to Hollywood," based on the story of an Indian dancer and a drama TV show based on South Asian dating in America. All my stories have Indo-Holly elements, and I am hopeful it will give both employment and a platform to artists from both parts of the world.
Rai's "A Pandemic: Away from the Motherland" is out now and available on all digital and on-demand platforms. 
Visit Rai's IMDb page, her website, on Instagram @swetarai, Facebook @swetaraiproducer, Twitter @SwetaRaiFilms.