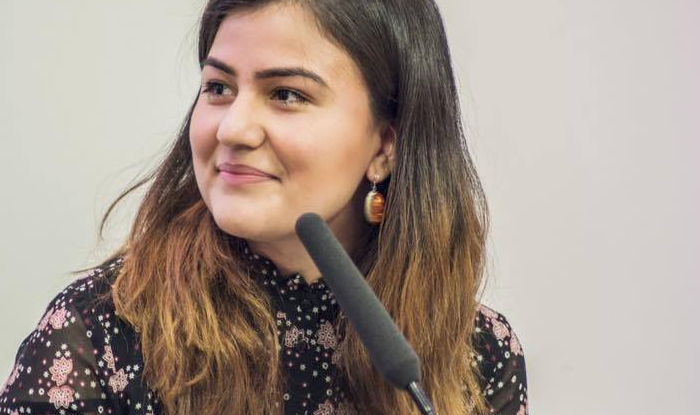 by Jaspreet Singh – Follow @jaspreetk92
Rabia Nasimi escaped the Taliban regime at the age of five in Afghanistan with her family and arrived in the U.K., unaware of what would be awaiting them when they set foot in their new home. Her parents made the month-long journey across Europe with their three children in tow, hoping that what lay across the waters would give their family a better future.
Nasimi's parents, both well-educated individuals who had studied in Ukraine prior to living in Afghanistan, settled in London after their arrival in the U.K. and created a life for themselves. Having experienced how tough life as a refugee in the U.K. could be, Nasimi's father, Dr. Nooralhaq Nasimi, went on to establish the Afghanistan and Central Asian Association (ACAA) in 2001 — a charity that provides both education and support to refugees and migrants that have recently come to the U.K.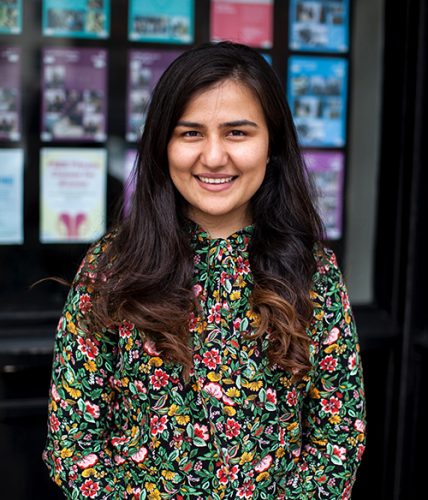 Now, Nasimi is in her first year as a Ph.D. student at Lucy Cavendish College at Cambridge — and with her comes a long list of academic and extracurricular accomplishments. She continues to work as a volunteer at ACAA, and through her personal experiences as well as her research, hopes to improve the lives of many refugees who continue to struggle with integration and immigration with a particular focus on Afghan women.
While many media outlets had already relayed her journey of being a refugee to being accepted to Cambridge to the public, I wanted to know more about her struggles of not only shedding the refugee label but also empowering herself as a woman and doing so for countless others through the organization she volunteers for. I caught up with Nasimi recently to ask her a few questions about her journey, as well as her opinion on what she believes would help women that come to the U.K. as refugees.
Do you believe that coming to the U.K. at such a young age has given you an advantage at integrating into British life versus someone much older?
"Regardless of your age, there are many opportunities that are available. The foundations of the British Society are set on providing equal opportunities to all. However, arriving in the UK at a younger age does have its benefits. It is easier to pick up a new language and understand a new system as a child than it is as an adult. Education is, of course, compulsory when you are younger, this gives you the chance to make friends, learn and advance within British society when you are older the opportunities are still available but the obstacles in your way may be far larger."
As a woman do you believe you have faced more challenges in proving yourself both in terms of your education and in integrating yourself into British society?
"I haven't felt like my gender has affected my educational opportunities whilst at school college or later at university. My family have been my support, and they have encouraged me at every step of my education. However, there are many women, especially ones that are older that may not have the same support system when it comes to education and integration. They may face a backlash from their families or when they attempt to further their education or look for opportunities to empower themselves."
What do you believe is the largest factor holding back women who come to the UK as refugees?
"I believe that the largest factor that may be holding back women is knowledge. Many women that arrive in the UK as refugees do not realize a number of resources that are available to give them the skills to integrate themselves into society here.  Often many do not have the support of family or friends to continue work or to pursue new avenues. Not understanding the culture and the system is also a big challenge. Refugees seek refuge to build a better life for themselves, to get a good education and some form of employment. Not being able to understand how to navigate the system is a significant impediment, and grassroots organisations play a key role in filling the gap by providing help and support. This is why the organization my father created is so important to me because not only do we provide assistance for refugees, but we also give women the chance to become more, to give them resources and new opportunities to pursue things that they would not otherwise have considered."
Afghanistan and Central Asian Association, which is the organization that Nasimi's father established and Nasimi currently volunteers with, has in recent years initiated what is known as the Zanan Project, or Women's Project. The Women's Project aims to give Muslim women not only a stronger voice to take on issues in their community (such as radicalization, mental health, and child protection), but also equip them with skills that will be beneficial to them later on, which include improving their English speaking and writing skills.
The project also allows women to pursue their interests, and there are many activities ranging from art therapy to music that offers them freedom of expression. This is carried out through one on one sessions with professional mentors, as well as what is known as the Women's Tea Corner — a weekly meeting that women can come together to in order to discuss the subjects most important to them.
The aim for the ACAA when they created this project was to tailor it in a way that would allow women to gain the knowledge and skills needed to become more active participants in not only their homes and communities but also society in general. Not only is it giving them a voice, but also the strength to make a better life for themselves while settling in a new country. By participating in weekly workshops and discussing matters that are important to them, ACAA has given them the tools that will help these women have something that they might not have had otherwise —hope. The hope to obtain happiness, the hope for improvement, and the hope to achieve success.
Nasimi's journey to the U.K. is reflective of many women who come to the ACAA for help, and it is her story from the back of a lorry to the hallowed halls of Cambridge University that give many the hope of integrating successfully into British society. For Nasimi and her family, it is also the hope of continuing their work that keeps them going, as well as the success that they see in many of the refugees they assist. When asked about her future, as well as that of the ACAA, she had this to say:
"As a refugee myself, supporting refugees in the U.K. and supporting Afghans in Afghanistan is a great accomplishment for my family and I, and I couldn't be more proud. In the U.K., as the ACAA we aim to be a leader in the support, development and integration of immigrant communities, including newly-arrived refugees. I want to continue my education so that I can continue the work of the ACAA, and help the people of Afghanistan and Central Asia. Afghanistan is continually improving and developing, but it is a slow process, and nothing is going to happen very quickly. But the international support, especially from the U.K., shows the international community are still aware Afghanistan need support. We want to be at the head of that support."
---
Jaspreet Singh is a photographer and writer who is always looking for the next challenge and adventure. When she's not chasing her wanderlust addiction or taking pictures, she is studying politics and international conflict in the hopes of working in security and defense one day. Currently residing in London, but always an NC girl at heart, she loves a good plate of chaat or English breakfast as much as Southern-style biscuits!