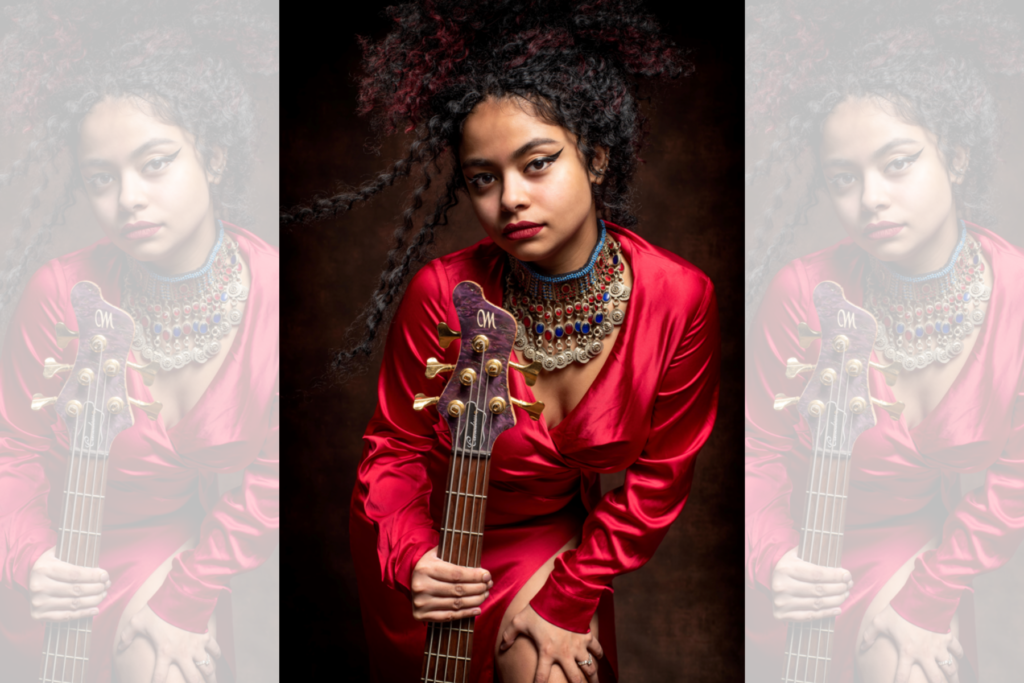 Mohini Dey comes from a family of musicians and started playing music professionally at the age of 9 years old. As her father is an electric bass player and her mother is a singer, Dey's life revolved around music from birth. Dey has recorded music for more than 100 movies and has collaborated with artists such as A.R. Rahman, Zakir Hussain, Sivamani, and more. I got the incredible opportunity to interview her about her philosophy towards music and her overall musical journey.
We started at the beginning of Dey's musical journey and how she initially did not want to become a musician.
My father always had this dream of having two kids, one being a drummer and one being an electric bassist. No matter how late it was when he would come home after his gigs, and would be sure to give me lessons. I wanted to become a fashion designer.
Music and fashion have a lot of similarities as you need a creative eye for both. I decided to get to the bottom of Mohini's other creative pursuits. Dey dug deeper into her childhood and explained her love for fashion.
I was always doing a lot of designing and playing with a lot of colors. I was playing with a lot of waste fabric, playing with a lot of my mom's sarees, or let's just say ruining her sarees. I would tie them up and make outfits out of them. I'd wear them outside on the streets, to festivals, and really any occasion.
Dey continued to talk me through her decision of picking between her three golden opportunities at the end of her senior year of high school.
The first was I got selected in a fashion college because I applied for one. The second was I got offered a full scholarship by Berklee College of Music. Lastly I got offered a position in A.R. Rahman's band.
Dey eventually ended up picking the third option of being a part of the legendary A.R. Rahman's band as she believed she could pursue her dreams of fashion on the side. The third option ended up being the best option as this opened more doors for Dey and individuals all over the world started noticing her craft through websites such as YouTube. 
We moved on to talking about how the electric bass has historically been seen as a background instrument with exception of Jaco Pastorius Victor Wooten, Flea from the Red Hot Chili Peppers, and more. Dey defies these norms with her creative techniques by breaking the conventional stereotype of the instrument.
There are a lot of people who say men can only wear this or women can only wear this. There are also claims that bass can only do this and guitar should only do this. I believe that we have come a long way as humans and that we should continue to stay open-minded, breaking down these stereotypes. Ultimately, if you give meaning to something, then people will see that.
As I love seeing Dey shred a bass solo on stage I wanted to get insights into what is going through such a talented musician's mind. Is it all muscle memory or is there a deeper connection with the music going on, on the stage that we are not aware of? Dey provides insight into muscle memory.
If everything is muscle memory, then you lose out on a lot of the possible conversations that you can have on stage. You need to be in tune with people and listen to all of the different types of critique.
The beauty of the electric bass is that it can act as a melodic section of a piece and a rhythmic section of a piece. Mohini's multi-talents of using the bass by drumming and tapping impressed A.R. Rahman so much that he decided to create a project full of all vocalists and just Dey on bass. 
Dey met with A.R. Rahman for the first time through Coke Studio as she was already playing for their house band. She appeared in many episodes for Coke studio and was a part of many legendary performances. There are many different stories about how A.R. Rahman found Mohini's work. Many people believe that one of A.R. Rahman's close friends showed YouTube clips of the talented Dey when she just started out.  recalls a fun moment while working with the legendary A.R. Rahman. 
I remember there was this one moment when we were making the song Zariya, for Coke Dtudio. Everybody was silent and stuck at one point. A.R. Rahman was thinking of how we can start the song. I had this idea in my mind but I just wasn't able to say it. I just started playing, and then A.R. Rahman being a mature person that he is as well as a father noticed. He could tell that I was trying to say something and when he heard what I played he said  "let's go with that."
Dey and A.R. Rahman connected on a deeper level through music. Dey was able to provide exactly what Rahman needed for his piece which built a sense of trust between the two musicians. 
We switched gears to talking about Dey's move to Los Angeles. Dey has observed what the musician casting process is like in Los Angeles. She drops insights into what she has seen and ultimately who she would love to play bass for in their band.
I learned that there are specific requirements for being cast. For specific bands, if you want to play with bigger pop stars they look for characteristics of a lean guy, or a girl with big hair. I always thought talent and quality would come first. I always wanted to play with Bruno Mars but if those are the requirements then I'm out because I don't really support that.
I had the pleasure and honor of interviewing the legendary bassist Dey, who is the epitome of experimentation and improvisation and has played many different musical styles from playing in metal bands, fusion bands, Carnatic bands using Bass and Konnakol, as well as other bands. Through her musical experiences, you can clearly see that she is open to new challenges in the form of collaborations as long as these projects excite her. She has a new album coming out with 10 songs. Make sure to look out for it!