International Dancer Zaman is no stranger when it comes to making waves in the West Indian community in New York City. As a rising public figure constantly in demand at various cultural events and family functions, he is a strong advocate and voice for LGBTQ+ people who have historically been and continue to be marginalized in West Indian and Indo-Caribbean spaces. This Pride Month, Zaman has been at the center of many PRIDE events representing the Caribbean in the hopes of sharing the Caribbean culture with other communities and promoting acceptance and respect for the LGBTQ+ community.
A Guyanese-born entertainer, Zaman's journey can only be described as revolutionary and historic. He is the only openly gay Indo-Caribbean dancer, choreographer and drag performer in a community and culture where LGBTQ+ members have very little visibility and struggle to find acceptance. Through his work, Zaman fuses his art with activism and helps to raise the profile of the queer community and the issues near and dear to his heart, serving as a representative for those who belong to the West Indian LGBTQ+ community.
In his groundbreaking efforts, Zaman has represented the Caribbean Equality Project with his unique performances at the iconic Stonewall Inn, Citi Field Stadium, and at this year's recent Queens Pride Parade. His showcases, such as Sundari – The Indian Goddess, are unlike any seen before, where Bollywood, Chutney, and Drag are often combined to create a vibrant spectacle celebrating dance and life. Of particular note, Sundari debuted as the first drag queen to perform on the main stage this year at the 30th Annual Queens Phagwah Parade and Cultural Festival for the first time since its inception, a remarkable moment in history for both the parade and personally for Zaman.
https://www.instagram.com/p/BhpHjk2FCQH/
In further service to his community, Zaman also volunteers his time at the Make-A-Wish Foundation, granting wishes and making dreams come true for his admirers, and performing at senior centers for elderly audiences in Queens. At the core of it all, his performances are captivating, full of life, and always come with an important message – one of joy, love, acceptance and pride.
Brown Girl was fortunate enough to speak with Zaman about his personal journey, his work, and his hopes for the future.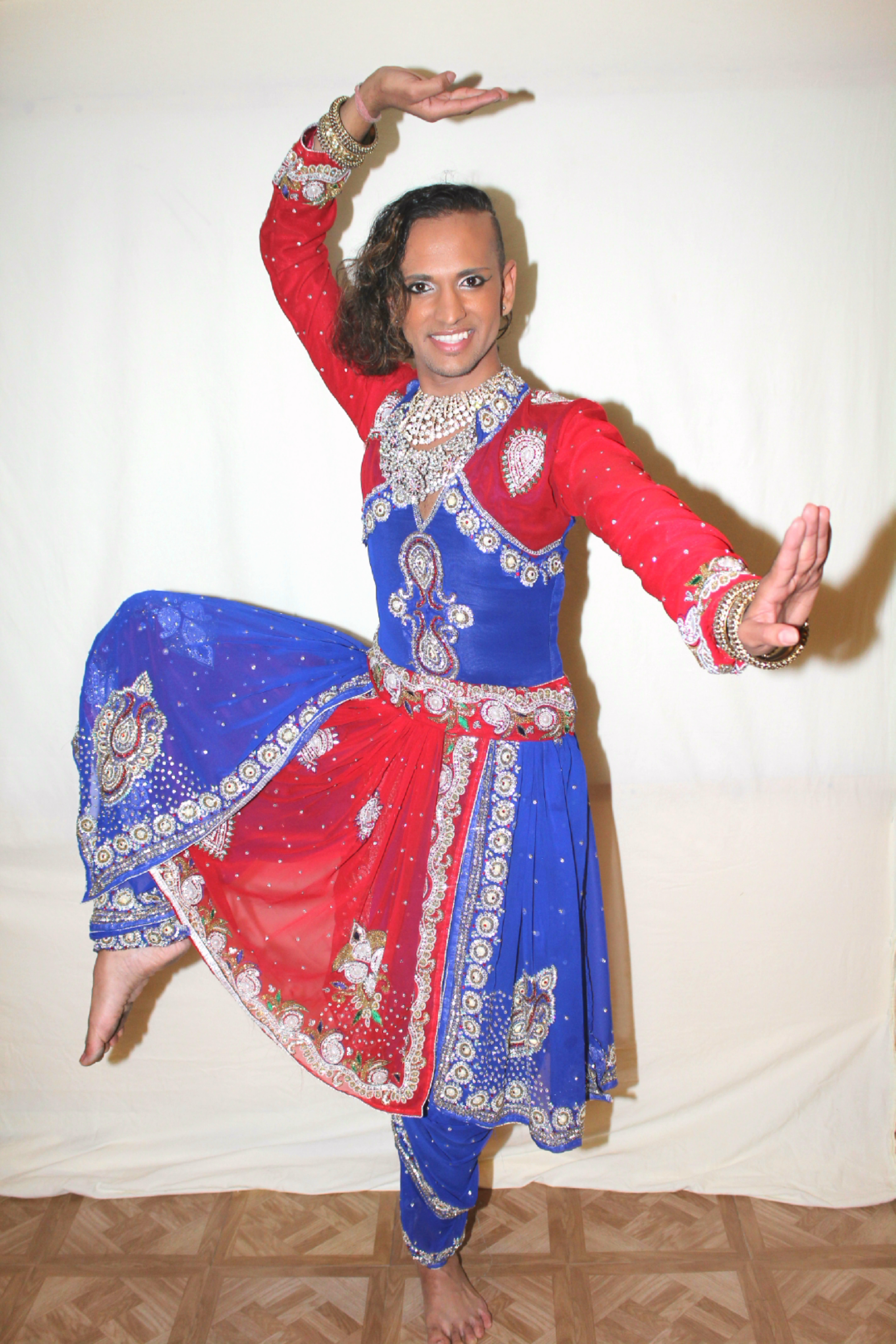 1. What sparked your interest in dancing, choreographing and entertaining, and what is your favorite part of this work?
Ever since I was a young boy growing up in Guyana, I always had a passion for dancing. After I migrated to Queens, New York, I started performing in musical dance drama which lit the fire for me to start taking dance classes. Seeing the joy, smiles on the audience's faces gave me energy. I found my passion 10 years after being outed (being gay) to my family, a burning desire to use performing arts to showcase unity between our Caribbean communities. Currently, as International Dancer Zaman, I am the only openly gay Bollywood, Kathak, Chutney, Soca, & Contemporary trained dancer in our community in Queens, NY.
2. You are often breaking new ground and pursuing that which has not been done before among Indo-Caribbeans – for example, your performances as Sundari – The Indian Goddess at the legendary Stonewall Inn and other venues are one of a kind. What has this experience been like for you?
Sundari – The Indian Goddess is a Caribbean drag entertainer who uses performing arts to promote the Guyanese and Caribbean culture, and influence LGBTQ+ acceptance and equality throughout the New York area. Sundari is the only Guyanese-born drag queen living in Queens, NY. My experience as a drag queen has been incredible so far. Over the past five years, I have seen a tremendous amount of progress within our communities toward acceptance of the LGBTQ+ community, understanding gender identity, and combating Caribbean hate speech. There is still a lot more education and development to be done.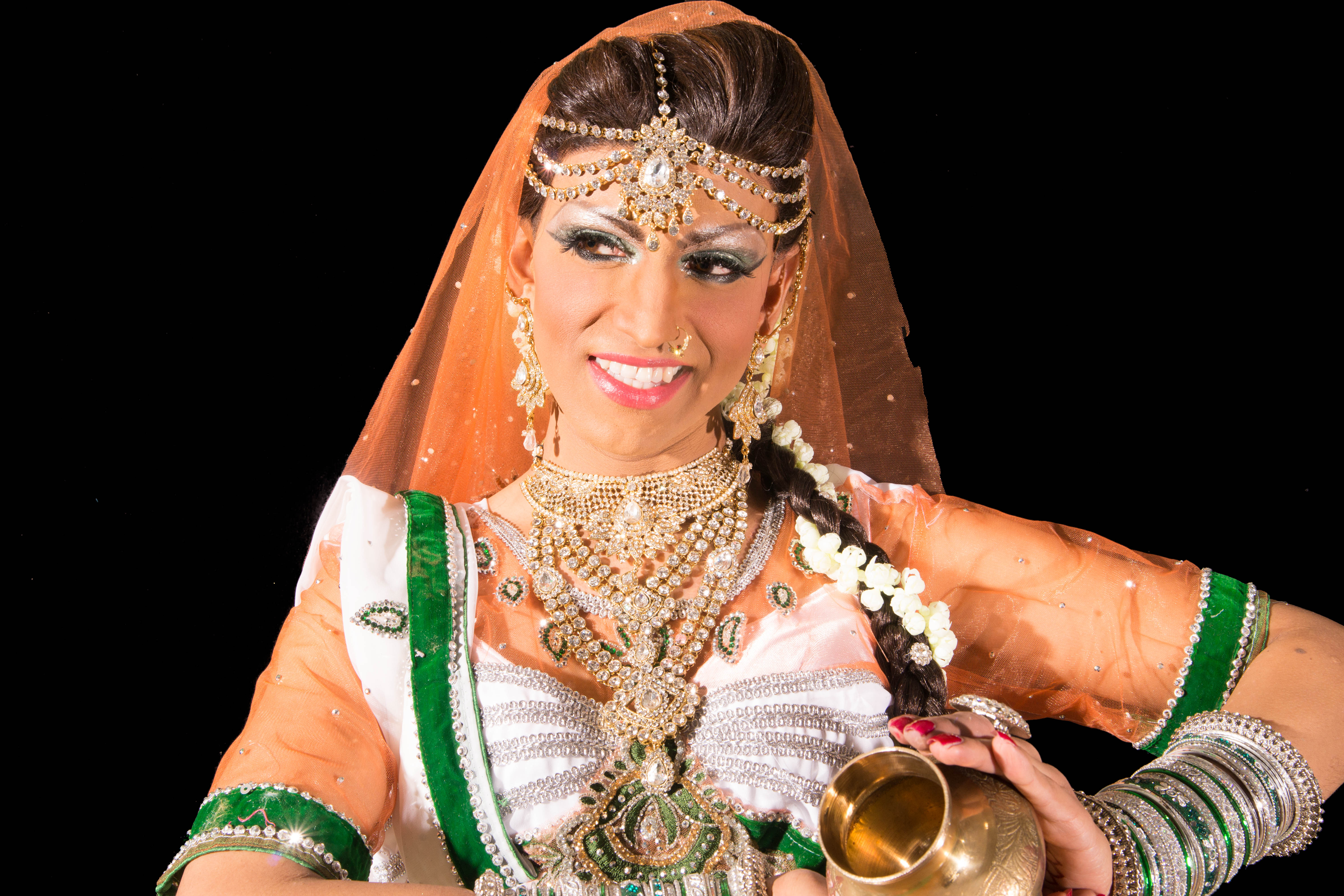 3. How would you like to build and expand on the work you are creating in the future?
My hope is to continue being visible, working with other community leaders, organizations, religious institutions, and allies of the LGBTQ+ community to bring education, awareness and respect, and changing the conversations in our households about LGBTQ+ individuals in a progressive direction.
4. In the West Indian community, LGBTQ+ issues are severely overlooked and not discussed as much as they need to be. How have you been able to overcome this and other obstacles that have presented themselves in your journey?
I completely agree our West Indian community oftentimes omits our LGBTQ+ voices at the roundtable at religious, cultural and community events. For more than 10 years, I have donated countless performances to mandirs, community event, and non-LGBTQ+ organizations fundraisers. My hope is that the leaders will open their doors respectfully to my fellow LGBTQ+ people.

Accepting myself as a gay male was my first step in overcoming obstacles, fear, hate, and judgment. Once I did that, many doors of support opened. Each day I am more grateful for organizations like the Caribbean Equality Project which I am a volunteer of, and my supportive family, friends, and allies who continue to give me strength and courage to keep going. I believe in building relationships—it is a key component in my journey—and staying true to who I am, creating visibility and taking a stand against homophobia within my own circle and our communities.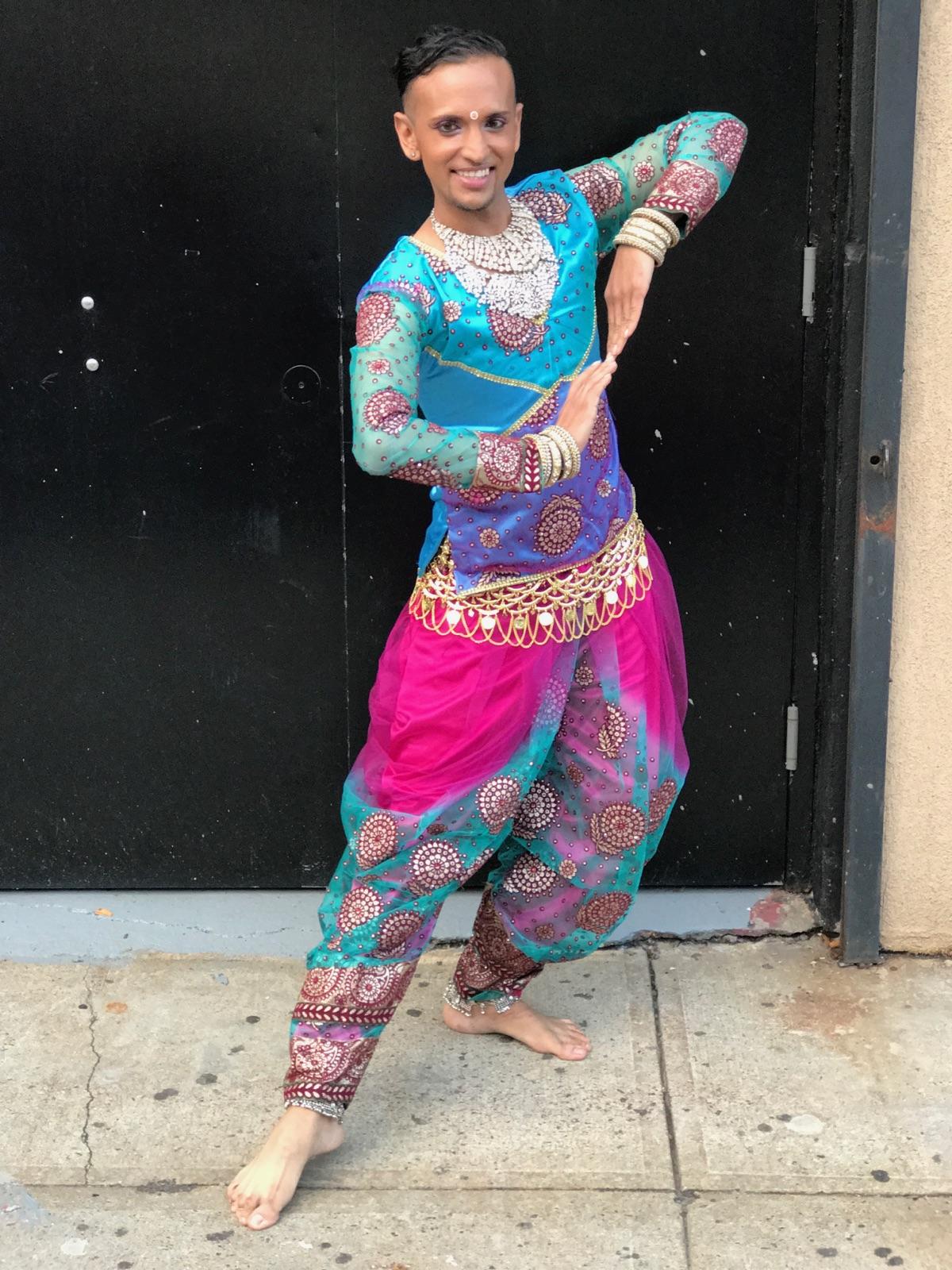 5. Trinidad and Tobago recently had a major victory when colonial-era laws that banned homosexuality were ruled unconstitutional, which is historic for the West Indies where LGBTQ+ people still experience high levels of discrimination and injustice. What does this victory mean to you and what are your hopes for the rest of the Caribbean, including your homeland Guyana, where outdated and harmful laws are still in effect?
For me this means we matter, they see us as human beings, and it's a step in the right direction for my fellow LGBTQ+ people. I hope other Caribbean countries & islands will see LGBTQ+ people as deserving of the same rights as the next human being, especially my homeland Guyana. Guyana had their first Gay Pride parade this year, joy filled my heart seeing this and hope for our people back home who are still being killed, living in fear and committing suicide.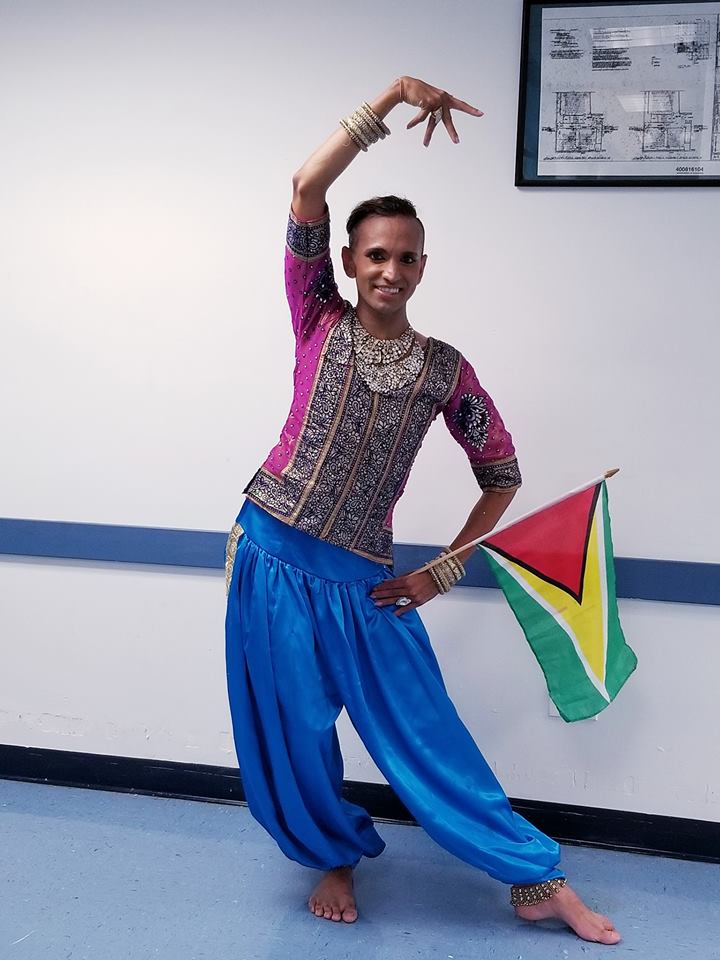 As a true pioneer and trailblazer for LGBTQ+ people, International Dancer Zaman is one to watch as he rocks the boat, challenges the status quo and changes the world through his art. For LGBTQ+ youth in West Indian communities here in the U.S. and abroad who might be struggling and seeking acceptance, Zaman's shares this heartfelt message:
YOU ARE NOT ALONE, YOU MATTER, and I SEE YOU. There is support, and resources available for you. In Guyana there is SASOD, in Jamaica there is JFlag and in the U.S. there is the Caribbean Equality Project; reach out to any one of those organizations, they will give you the resources and support you need. Remember you matter, your story matters and it can help another one of our brothers and sisters to accept themselves. As difficult it is for others to respect you for being LGBTQ+, I encourage you to respect yourself, accept yourself for who you are and be proud of your identity.