"I'm just really excited for people to see the movie because people seem to like this character, and I'm protective of it. I am excited for everyone to see him be a badass."
After becoming a fan favorite in 2016's superhero film "Deadpool," Karan Soni returns as the enthusiastic cab driver, Dopinder, this Friday in "Deadpool 2." This time, though… we see him actually leave the cab.
"I love playing parts where you come in, do your job and leave. You leave people wanting more."
Dopinder stole the hearts of many when he made his debut as a taxi driver in New York City for contract killer and superhero Deadpool. While driving Deadpool to his destination, Dopinder shared the struggles of his love life, which marked the beginning of Deadpool and his relationship. Although he had limited screen time, Dopinder instantly became a fan favorite.
Born in Delhi, Soni is an American actor known for his roles in "Safety Not Guaranteed" and "Deadpool." We, at Brown Girl Magazine, had the opportunity to speak with the 29-year-old on playing the character of Dopinder. Soni told us about his character's "evolution" in the "Deadpool" sequel, and spoke of his experience of being Dopinder.
"Essentially in the first movie, I see it as a journey… more like a set up for the character in the world. For the second, it was more than I did the first time, but I leave it at a good time," Soni told us. "Hopefully we get to do more, and they'll be more and more of the character that comes out in each movie."
Dopinder went from an everyday city cab driver to becoming Deadpool's "friend," increasing his role and appearance in the film. "Deadpool 2" takes place two years after the original film and begins with Dopinder reflecting on being hired as Deadpool's official getaway driver full time.
"In the second movie, without spilling anything, my character gets to do stuff I did not get to do in the first movie, so I feel really excited that I got to evolve," Soni said.

"When I read the script I was like, 'oh great, this guy is getting so much more responsibility and stuff to do,' which is what I'm so excited about, and I hope that's because I did a decent enough job the first time."
The film depicts Dopinder exclaiming he is ready for more than being a driver for Deadpool — he is ready to be a contract killer. Deadpool, however, is unsure if Dopinder is ready to risk his life, so Dopinder tries to prove him wrong.
According to Soni, Dopinder's biggest contribution is making Deadpool look good. Soni describes Deadpool as crass and sometimes "pretty awful," but he's friendly towards his character, Dopinder.
"When I saw my character, what I really liked about him was that, on paper you would think Deadpool would have every reason to make fun of me because I'm not understanding what he's saying…because I don't come from the world that he comes from… but instead his gut reaction is to be kind to me and be almost like a father figure," Soni said.

"It's all from a place of love. I really loved that about the script and now even going into the second movie, he takes that relationship even further, so that's what I grasped onto and really liked, and hopefully thats what people liked about it too."
Soni defines the relationship Dopinder and Deadpool have as "very unique." Through his character of Dopinder he was trying to create "an everyday person in a world with people filled with super powers" in order for audiences to relate to him.
"In the first movie, this was recognized by all sorts of people as they all connected to the character. People related to Dopinder because they feel, 'that's how I would be in a superhero world.'"
When asked about how he thought Dopinder portrayed South Asians in the mainstream media, Soni replied "very positively." He emphasized that he would not take any job that depicted them in a negative light.
"As a brown performer, I'm going to do parts where I have an Indian accent because it's part of my heritage. To me as an actor, not just as a performer, everything comes down to the script and the story. For me it all depends on what the character is, what the project is, and what the purpose of that character is to the story," Soni said.
"When I read the script, I loved the relationship between my character and the lead. It was something I had never seen in a movie of this scale ever before, and that's what got me really excited to play the part."
Soni acknowledged that some may see the role as a stereotypical Indian man, with his character being a cab driver who listens to Bollywood music, however, mentions that his character was meant to be an everyday person, not a stereotype.
"To me, it's important what his purpose in the story is. We shot both films in Vancouver, where there was a big Indian population. I had never been there before and there was no Uber or Lyft. So when I was working there for both the movies — four months between both movies — I took a lot of cabs just because I had too.

And I'm not joking, every time I had an Indian driver."
Through this experience, Soni said he tried to adapt and observe different qualities to incorporate into his character of an everyday driver.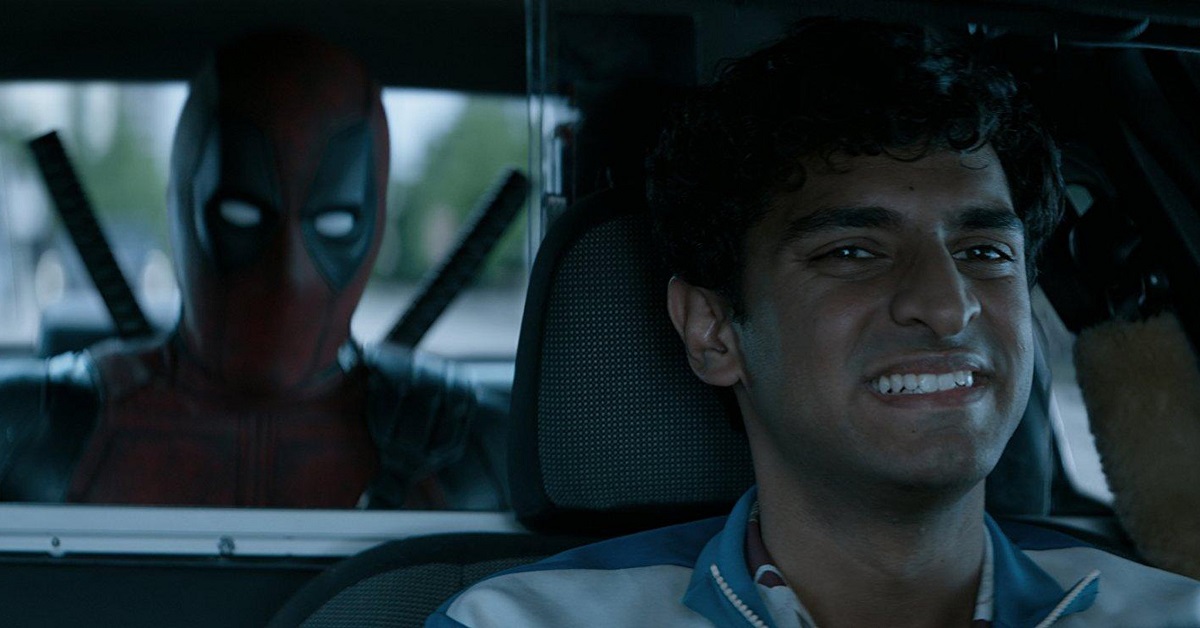 "So what it is coming down to for me basically, is that to anyone who just takes the general brush of like any Indian actor or anyone of a certain ethnicity is playing into maybe what could be a stereotype, it all is coming from a place of truth. So as a brown actor, I'm not going to turn my back on every role that is kind of like that."

"Am I saying that I'm gonna play this kind of part in every movie thats offered to me? No, because I'm not gonna do it in everything," Soni said.

"It depends again on what's in the script, it really is about the context of what is happening. It's hard to have perspective when you're in it yourself."
Soni said, he was a little nervous to hear what people would say after the first movie and to see whether he would get a lot of offers to play the same part, but fortunately he didn't.
"I've got zero offers to play the same part. Instead between the first and second movie I've maybe done seven movies and a TV show and in each of those things, I've played something completely different, so to me from my perspective and where I stand, when I read the script, what appealed to me is hopefully what I portrayed — which is a character and not a stereotype."
Prior to auditioning, Soni did not even know what role he was auditioning for.
"It was really secretive," he told us. "I didn't even know if it was a superhero movie or that Ryan Reynolds was in it. I just knew it was a FOX movie."
According to Soni, landing the role was pure luck. He didn't know what to expect from his character or how involved he would be.
"I didn't get to read the script until the day before we started filming, so I kind of had all these preconceptions of what I was going to get to do in the movie, but never in any of those situations did I think it would be what my story line ended up being."
When asked about his favorite part of filming "Deadpool 2," Soni immediately had an answer. He referred to an end scene in the third act of the movie when the X-Force heroes do a candid walk together.
"This is gonna sound simple, but in the third act, there's a slow motion walk," Soni paused, "That was my FAVORITE thing to film because it was so different from anything I've ever done."

"I've mainly done comedy, so I'm used to doing days where there is a lot of dialogue and just talking, so for me to do that — we shot that for a whole day and they played music in real life — but to stand next to Ryan Reynolds and Josh Brolin and Zazie Beetz… like just be a badass, to me was so fun. I got to have the time of my life."
Twentieth Century Fox's first "Deadpool" proved to be a surprise hit, setting records for the biggest opening weekend for an R-rated film. "Deadpool 2″ is expected to end the three-week reign held by "Infinity War," with an estimated release between $130 million and $150 million on over 4,000 screens in North America, and potentially beat its own first record.
"Deadpool 2" is in theaters now.