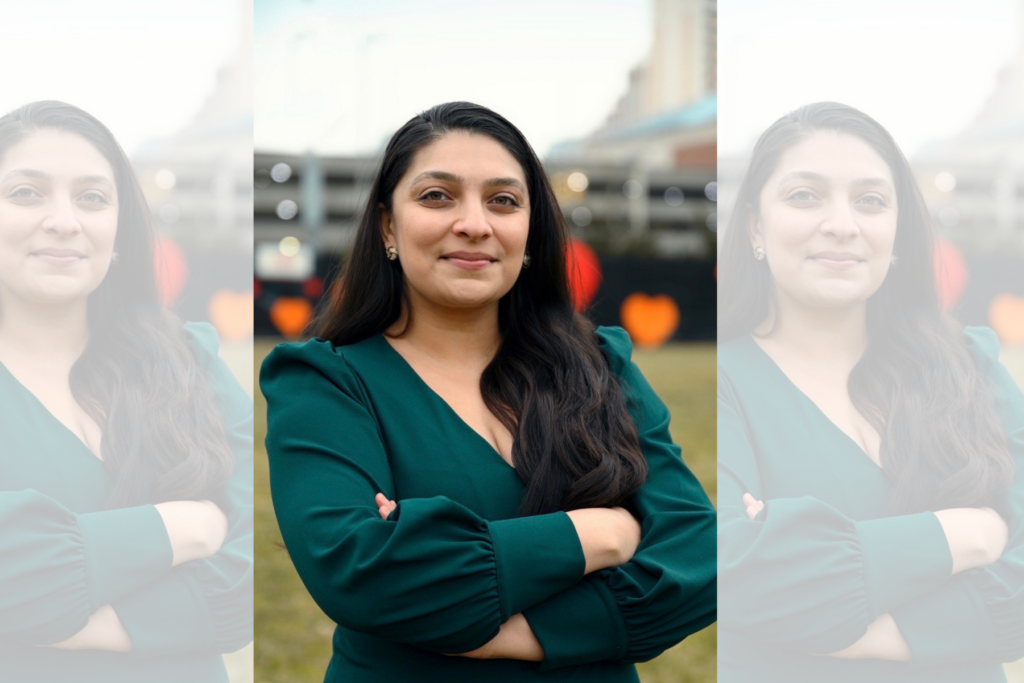 Karishma Mehta is a 29-year-old preschool teacher, community organizer and daughter of South Asian immigrants, seeking to represent the people of Virginia's 49th House District. Her working-class background and upbringing influence much of what she is fighting for in her campaign. Mehta spent her preschool years in India before she arrived in the United States and split her childhood between Chattanooga, TN and later, Pittsburgh, PA.
Growing up, she experienced xenophobia, discrimination and lack of a culturally responsive and historically accurate curriculum at school—a reality all too familiar for immigrant children. Her parents worked for a big corporation—Dunkin Donuts—and she recalls sleeping in the back of their car on a makeshift mattress while they got up for their 3 a.m. shifts and then being woken up for school. After graduating high school, she attended George Washington University in Washington, DC and said she inherited a lot of her parent's struggles:
"I faced food insecurity after graduating college. I worked a lot of low wage jobs-sometimes 60 hours a week-to pay down my direct loans that I owed GW. They withheld my diploma so I couldn't apply to any teaching jobs until I could get my transcripts and diploma from them."
From a young age, seeing how various systems of inequity—whether it's the cost of tuition for higher education or struggling to put food on the table due to low wages—thwart her and her families' upward mobility, she began to question the status quo. Her disappointment toward the current economic systems arises from recognizing the ways in which capitalism is intertwined with anti-blackness, white supremacy, and worker exploitation.
Mehta views Democratic Socialism as a way for many young working-class Black and brown people to have their interests represented within the Democratic party, which has often alienated them. She believes it's because the Democratic party is often beholden to corporations, special interests, and those that are wealthy. Although she is running as a Democrat, she thinks that there is a place for Democratic Socialists within the party and aims to push the party forward. According to a 2019 YouGov/Victims of communism poll, her positive views toward socialism are shared by other Millennials and Gen Z, 70% and 64% respectively, who say that they would be somewhat or extremely likely to vote for a socialist, compared to only 36% in the Baby Boomer generation. This is also seen in the large youth support for other popular Democratic socialists like Bernie Sanders and Alexandria Ocasio Cortez.
"In identifying as a socialist and running as a Democrat, we are changing the future of the Democratic party and we are fighting for those who feel left out. We are the very best of what our community deserves and that is representation of working people like us."
We would not be here on the verge of victory without the radical love that has been POURED into this campaign. We believe in a better world because we are courageous enough to build it together. I'm so proud of y'all.

"nothing worthwhile is done without others."
-mariame kaba pic.twitter.com/EBzhlIt4zf

— Karishma Mehta for Virginia House of Delegates?? (@karishma4va) June 6, 2021
Standing Up to Corporations and Strengthening Communities through Mutual Aid
Mehta believes that corporations and corporate money do not belong in politics; however, she states that our current system has allowed capitalism which has bolstered corporate power, to spill over into the legislature. These blurred lines between politics and corporate interests can be seen in the rise of "Model Legislation" or pre-made "copy-paste" legislation often written by special interest groups to achieve their political goals. Mehta rejects this kind of encroachment into governance and plans to stand up to corporate interests to ensure that legislation is written in the interest of the people it is serving.
"I have Amazon HQ2 coming to my district. A really important stance politicians need to take is by saying that we need corporations to pay their taxes, we need people to adhere to labor standards and labor laws and not exploit their workers, and we need them to stay out of government. That's not their place. If they want to enter the economy, they need to follow the rules of the legislature not the other way around.
While, on the one hand, she is against corporate interests exploiting her community, she embraces mutual aid as a way to strengthen it. "Mutual aid" is rooted in the belief of creating beneficial and interdependent systems, that it is community members who keep communities safe. Mutual aid can be everything from childcare, to groceries, to alternatives to calling the police, all things that allow a community to divest from systems that are inherently oppressive. Mehta's campaign has been involved in vaccine mutual aid and outreach to communities, efforts to provide transportation to vaccine appointments, grocery drops, and hopes to build on food sovereignty so that they are divesting from corporate control of food systems. During the pandemic, mutual aid has also allowed community support for families who have public school students that are learning virtually.
Another way Mehta believes in building community power is through a robust labor union movement. Virginia ranks as one of the lowest labor standards across the country because of an antiquated law called "Right to Work." This law has its origins in the Jim Crow era when it was passed to ensure that black and white workers are not unionizing together and to enforce segregation within the workplace. It's been an ongoing struggle within the state to get it repealed, but doing that is the first step for Mehta to ensure that people are able to come together in the workplace and demand dignified conditions and better benefits.
She successfully fought to unionize her preschool along with other teachers. While she was proud to have fought for a union, Mehta recognizes that a large barrier preventing more widespread unionization is the lack of education and awareness around America's vibrant labor movements. Because of this, children and young adults aren't learning about the people who fought and died just for a few days off (the weekend), an 8-hour workday, paid sick leave, or paid time off, which are a few of the demands of strong labor movements.
"Teaching young people about that, about how they have the power inside of them, of how everyone is a labor organizer that has to work to live, and to bring that organizer out of everyone that's very critical."
Fast 4 to get to know Mehta!
What are some of your book recommendations?
"We Do this Till We Free Us" by Mariame Kaba
"Education and Capitalism. Struggles for Learning and Liberation." Edited by Jeff Bale and Sarah Knopp
"Freedom is a Constant Struggle" by Angela Davis
"Change everything." Coming out in June 2021 by Ruth Wilson Gilmore
"Azadi" by Arundhati Roy
"For young people and people interested in learning more about our systems and how they interact with our freedom, I'd recommend those."
What are some easy-to-cook meals that you've made recently?
"Tacos. So versatile, super quick and easy way to have a healthy meal. I grew up a vegetarian so I am trying to get back to those roots by incorporating Portobello mushrooms or even some jackfruit. I don't really follow recipes, I just like experimenting and seeing what happens.

Vada and other Indian street food like Pav Bhaji. I've been learning from my mother how to season the potatoes and flash fry them or using my air fryer to make them healthier.

Pasta."
What's the funniest thing one of your students has said?
"My students are 4/4.5 years old so they have very wild imaginations. It was a Friday afternoon and everyone goes around and says what they're planning to do for the weekend. And I say, "I'm so excited to go home, make some pasta, watch a movie and relax." And one of my students has a shocked look on his face like, "What do you mean you're going home? No, like…don't you live here? Excuse me?"

Here's the thing, I wasn't about to tell him that I basically do live here, because I take my work home with me, but this kid thought I actually live here. I must exude this perpetually "here" energy.
What is your favorite spot in your district?
"So hard to choose but Sofia Pupuseria on Columbia pike. Also Columbia pike in general. I know it's not a place but it's like Main Street, with Black and brown businesses, and different communities all coming together. It's indicative of how lively the district really is. Every nationality, every ethnicity, and all walks of life, are there and it's so beautiful to be fighting for the community here. You never feel alone."
Mehta ran for election to the Virginia House of Delegates to represent District 49 on June 8.