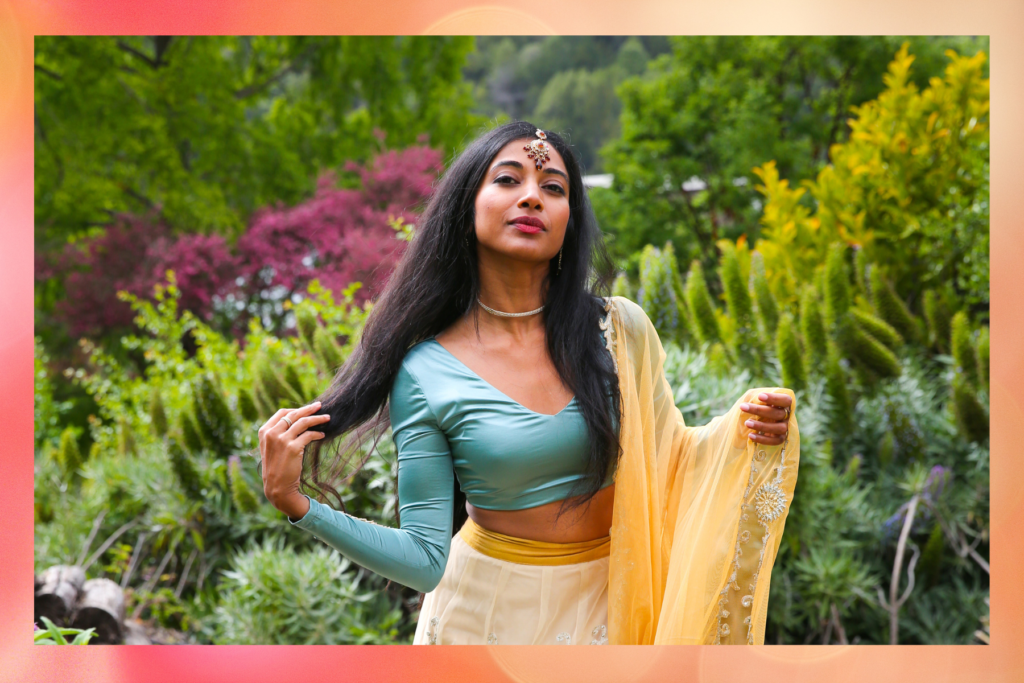 While growing up, the only complaint I had when wearing desi clothes was that the embroidery on the fabric would always end up scratching my skin. As beautiful and intricate the details were, putting on an embellished blouse meant wearing an inner or a comfortable t-shirt underneath. Fortunately now, many South Asian brands are changing the game; focusing not only on the quality and intricacy of the embroidery, but also on comfort and wearability of the blouse itself. One such small business is Khushey.
Khushey is a one-stop shop for "buttery soft" performance blouses that don't compromise on comfort for fashion and pair just as well with any of your mom's saris as they do with your newest lehenga. In an interview with Brown Girl Magazine, founder Neha Seelam talks more about what inspired her to launch Khushey and what the brand has to offer.
View this post on Instagram
Why did you want to start a brand that specializes in South Asian/Indo-Western blouses specifically?
I wanted to specialize in blouses because blouses are really the only part of Indo-Western clothing that I found a specific 'problem' with — one I thought I could solve. I absolutely love everything else about our clothing — with the variety of patterns/styles/cuts available, I feel that you can easily find the perfect piece out there.

But the part of South Asian clothing that my friends and I found to be a perpetual challenge was the blouse. They're usually gorgeous, but by the end of the day you can't wait to take them off. Also, it's so hard to find a fit that looks seamless and beautiful — usually the chest, underarm or sleeve just wouldn't fit the way you want it to with the heavy material and traditional tailoring.

I wanted to start off with basic colors but in shiny/formal-looking material that I could mix and match with all the different colors and styles of South Asian clothes that I already have in my wardrobe. The goal is that the blouses can be used multiple times with different outfits, are ideal for long nights of partying, and feel great against the skin.
What's the story behind the brand's name, Khushey? 
The English word "cushy," which means comfortable, actually originates from the Hindi word 'khushi' (happiness). I thought that the origin story was very sweet and resonated with the idea of comfort and happiness I had for my label. That's how I chose the word Khushey — slightly adjusting the spelling so I could snag the right URL! 
What is your number one priority when it comes to your blouses?
Formal wear that's actually comfortable! I would love for women to be in the moment at their celebrations, and not feel constrained, itchy, or uncomfortable in their blouse.
View this post on Instagram
Who is your target customer? 
South Asian women! Customers, from recent graduates all the way to stylish moms, have loved the product — especially moms since they typically value comfort and movability if they have to chase down kids at events!
How do you think Khushey allows South Asian women to embrace their love for South Asian fashion? 
Over the last decade, I've seen women repurposing crop tops from Zara and H&M as sari blouses, and while I think that's awesome and creative, I wanted to create an option for South Asian women where every detail was oriented around recreating the perfect sari/lehenga blouse. The shine is intended to be appropriate for formal wear, the cuts were inspired by some of my favorite blouses from when I was younger that wouldn't have bra straps showing from underneath and were versatile for saris or lehengas, and the embroidery is intended to add a desi flair.
You've mentioned sustainability on your website. How are your blouses sustainable?
I plan to donate five percent of profits every year to a sustainable organization. Once I get enough interest from the public, I would like to fund new product lines that use eco-friendly materials that were prohibitively expensive for me to launch with. But I am eager to incorporate recycled spandex/nylon and metal into my pieces once I can afford to!
View this post on Instagram
What sort of designs do you plan on incorporating into your label in the future?
I've thought of so many designs that I can build on. Starting with colors; I'd like to have all of the major colors available in my basic sleeveless blouse and then create a more modest version of that blouse with a variety of basic colors as well. 

I'd also love to expand the patterns and embroidery options on the blouses. I hope to create seasonal collections that enable me to tap into the vast array of style/color inspirations that South Asian wear includes.
Khushey promises to offer comfort and style, all packaged into one performance blouse that you can reuse with a variety of desi outfits. Like Neha said, ditch your Zara crop top for a design that actually complements your desi look. Make sure to keep your eyes out for her latest designs!