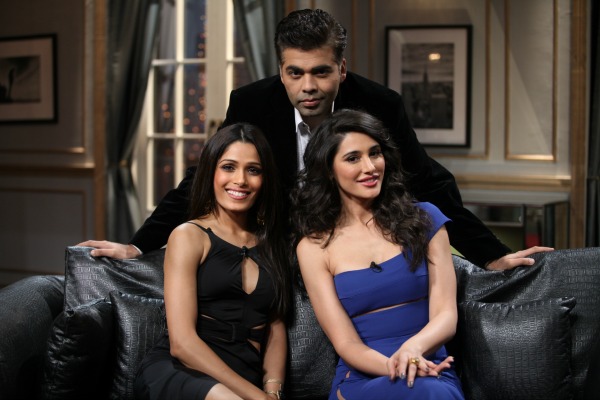 Their stories are almost opposite, yet it seamlessly ties them together. They both left the mainstream cinema industries in the countries they grew up in to venture into new territories. This makes their experiences and views unique, which provided for some wildly entertaining television. In case you are still confused, I am referring to Indian-born Frieda Pinto and American-born Nargis Fakhri, and their recent appearance on the show "Koffee with Karan," with the beloved "Kuch Kuch Hota Hai" film director playing as host, Karan Johar.
Most of us know Pinto from the acclaimed 2008 British drama film, "Slumdog Millionaire," which made a splash in the United States and the international film world. The success of Danny Boyle and Loveleen Tandan's film launched Frieda straight into Hollywood, surpassing any work in Bollywood. This is the stuff that crossover dreams are made of.
Since her debut, she's starred in Woody Allen's "You Will Meet a Tall, Dark Stranger," "The Rise of the Planet Apes" and other independent films. Pinto spoke about some surreal moments during her journey to fame, such as receiving praise from Angelina Jolie, while stuffing her face with cake. Pinto also mentioned the struggles she faced in India prior to her film career, specifically in modeling and commercials. She was told by various director and casting departments that she did not look "Indian enough" and she was not up to their idea of "physical standards." (As stated on the show, Pinto was told she wasn't fair enough and parts of her body were "too thin" and was recommended that she have some work done…I will let you figure out the rest).
While it was refreshing to see Pinto's beauty appreciated internationally even after such criticisms, I was surprised to hear that she developed a slight British accent. I cannot help but wonder if this is the result of some accent coaching to make her sound more "global" and less "Indian," or a byproduct of spending time with her British-raised beau of four-and-a-half-years, Dev Patel.
On the contrary, there was nothing fake about Fakhri's New York accent. I did not know much about supermodel Fakhri before watching this episode except that she had been heavily criticized after her Bollywood debut in Imtiaz Ali's "Rockstar." However, it was refreshing to see a sassy, frank model-turned-actress, born and raised in Jamaica, Queens, NY.  Apparently, Nargis said she is known as a "ghetto girl." She said it stems from the area in which she grew up, which, according to her, sees many murders, prostitution and drug deals. Noticing the vast juxtaposition of the real personality of Fakhri versus the one of her that she played in "Rockstar," I definitely think she did justice to her role.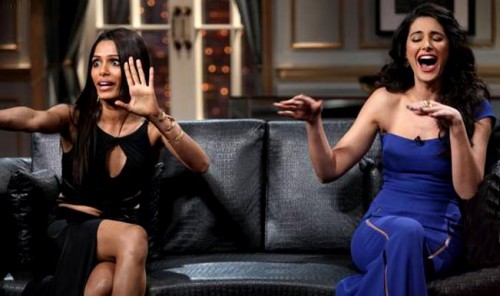 A passion for travel, ignited by tales from her Czech mother, inspired Fakhri into a career of modeling that enabled her to live all over the world, ranging from Costa Rica to Germany to Singapore. Finally, Fakhri found herself in India, which demanded the most from her in terms of cultural acclimation. Prompted by Johar, Fakhri hilariously described how many men propositioned her in India. To all the man who tried, she said they need to "hold up and back up."
Besides the men, Fakhri's rocky start in Bollywood did not help her feel any more at home. However, she defended herself, asking Johar and Pinto how they would do in a Chinese film had they been given two months to learn Chinese. She adds humor to the situation to further illustrate her difficulty all of her Hindi-dialogues sounded like, "bada-bada-bada-HAPPY" or "bada-bada-bada-SAD." But, despite the harsh remarks, Fakhri is still standing. She recently danced to an item song for "Phata Poster Nikhla Hero" and stars in "Main Tera Hero" with co-star Varun Dhawan, which will release in April.
Their respective journeys aside, Pinto and Fakhri bonded on being uprooted, dealing with men and confidently embracing their sexuality. The episode turned into one of Johar's raunchier ones, as the ladies discussed pole dancing. Fakhri even told us that in Spanish her first name sounds like the word "butt cheeks." Fakhri's spunk shined in witty one-liners and a certain realness with humility that you don't always see in other Bollywood stars. At one point, Fakhri jokingly began airing out her underarms because she felt sweaty and nervous.
I appreciated such a relateable gesture because it's something I could never imagine the glamorous Deepika Padukone or Priyanka Chopra doing. There were many points in the episode where Pinto, Fakhri, Johar, and myself erupted in laughter, thanks to the chemistry and conversation between the two guests.
The "KWK" newcomers did exceedingly well in the "Rapid Fire Round," tying for the much-awaited hamper full of luxurious prizes. One of personal favorite answers was when Pinto said her matrimonial advertisement would read "anyone who is not looking for a 'fair, light-eyed virgin.'"
Fakhri's cleverest quip was her response to the game "Kill, Marry, Hook-up."  Out of her the choices she given, Fakhri said, "I'd kill to see John [Abraham] hook up with Ranbir [Kapoor] and marry Uday [Chopra]."
This episode of "Koffee with Karan" is, without out a doubt, one of the best and funniest I have seen in a long time. Much of this can be attributed to Fakhri's quirkiness and wackiness. While these two actresses are not as dominant in Bollywood mainstream cinema as some other stars, it is still worth it to keep an eye-out for them in years to come.
Featured Image Source: http://mumbaiboss.com/2014/03/04/koffee-with-karan-season-4-recap-freida-pinto-and-nargis-fakhri/