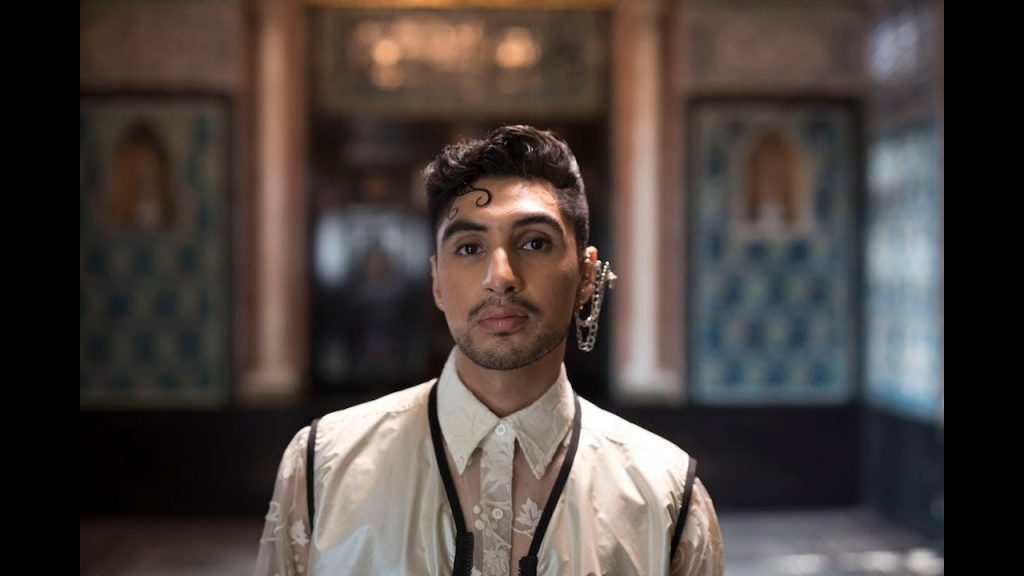 British Pakistani Leo Kalyan is a singer-songwriter, model and music producer who has more than 18,000 followers on social media and can count artists such as MNEK, Olly Alexander and Sam Smith as his friends. Kalyan has recently modelled for fashion designer Rahemur Rahman who premiered his first collection at London Fashion Week 2019, as well as producing music for the designer. Kalyan's emotionally eclectic, soulful sound comes together in his single "Trevi Fountain," which celebrates the power of queer friendships.
Most recently, Kalyan released a beautiful melody, "The Road," which takes the listener on a journey of healing broken relationships of loved ones and the surrounding society that breeds hate and prejudice.
https://www.instagram.com/p/Bwt69EWni1j/
Kalyan's found a passion in Indian classical singing which in turn, he used to develop his talent in music production. However, it was his love of singing imitations of his favourite singers such as Mariah Carey and Janet Jackson that first caught his friends' attention who praised him for his vocals. Dated cultural attitudes typically caused Leo's hesitation when his family discovered his secret to wanting to become an artist. Kalyan speaks exclusively to Brown Girl Magazine about his journey.
I knew I wanted to be a singer since I first discovered I could sing when I was about 13. I kept singing secret from my family for years, to be honest. They only found out when I was singing an 'Umrao Jaan' song in my room when I thought no one was home. My family weren't very supportive at first and it's actually taken years for my dad to take it seriously and see it as a real job. He still sometimes says things like 'why don't you become a music lawyer or a music journalist?' and I just have to sigh and explain how it's not really the same thing as being an artist.
The lack of understanding from Kalyan's family didn't deter him. He saw this as an opportunity to grow and learn how to overcome social attitudes.
I think part of being an artist is not caring about the opinions of others. You just have to do what you need to do. If you let other people's feelings stand in the way of your own, you'll never create anything truly meaningful.
Listening to songs such as "Fucked Up," which describes his conflict with his identity, you can hear a real fusion of influences from a slow pop song to traditional classical Indian folk. Kalyan explains how important it is to merge these influences in keeping with his authenticity.
It took me a long time to figure out how to blend my Western pop, R&B and hip-hop influences with my love for Indian classical music and Bollywood. Indian classical music has an incredibly rich history spanning back 4,000 years! It's complex and detailed and has lots in common with Jazz and the Blues, especially in terms of its improvisational aspects. It's really fascinating when you start seeing the unexpected overlaps between seemingly different musical traditions.
It's not just South Asian artists who catch on to the unique and versatile sounds of classical Indian beats and Kalyan points how renown producers such as Timbaland, Pharrell, and Will.i.am have all sampled Indian sounds in their work. It comes as no surprise that Kalyan knows the importance of representation and being a role model who feels that the rise of Xenophobia and Islamophobia has had a negative impact on South Asian living in the west.
https://www.instagram.com/p/BwCr6MaHJaM/
In a bid to see more South Asian men in music who don't fit the stereotypical narrative and overcome the lack of representation, Kalyan describes how one of his biggest influences growing up was George Michael and describes him as an icon he had always wanted to meet.
He opened up a path for all queer artists to be open. Growing up I had never seen someone in music who was openly gay – writing songs which were literally about aspects of a gay person's life. 'Outside' was a real moment for me.
Kalyan always sings from his experiences with meaning and from the heart, which makes him a credible and undeniable artist of our time and I am excited to watch him evolve and blossom.