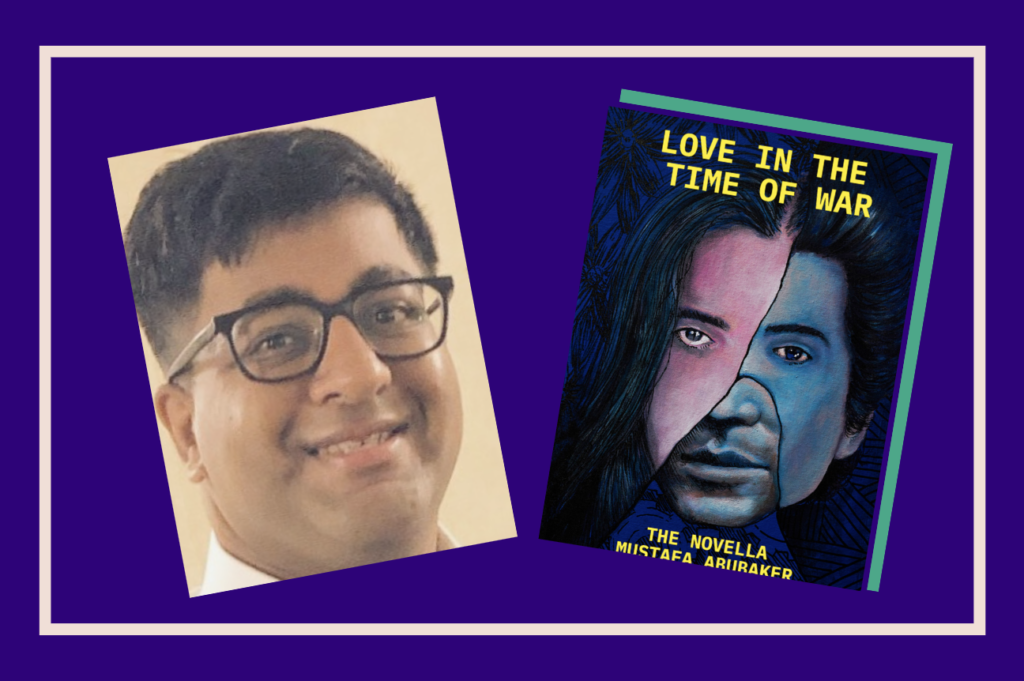 "Love in the Time of War: A Novella" by Mustafa Abubaker is a nihilistic love story set in a post-apocalyptic America, 30 years after Donald Trump's hypothetical re-election. The experimental novella follows the story of Eva, a Los Angeles trust fund heiress, and Julian, her boyfriend, as they escape their California home following a Russian nuclear attack. Joined by a disgruntled doctor desperately holding onto a white supremacist worldview, this motley group embarks on a precarious journey to safety, allowing Abubaker to explore timely philosophical questions: What do you do if the world is ending? What do love and faith mean in the face of death? Who does the world belong to, and when it's all over, who are we really as human beings? 
A play on the title of the poetic classic "Love in the Time of Cholera," Love in the Time of the War explores the idea of love growing and pushing out of tight, enclosed spaces. What is implied about its conditions is that this kind of love is not intended to survive. It endures the impossible and is evidence of life where life is not meant to exist. Mustafa explores this contrast throughout this book with a heap of nihilism and dark humor. There are moments when this book feels like a tender romance novel. There are other times when this book feels like a macabre version of Seinfeld. As with Abubaker's previous books, this novella possesses gorgeous romance. The way that the author weaves the nostalgia of love's initial moments with that of love slipping away, is both beautiful and moving, in spite of its tension. I am convinced Abubaker writes from experience because he knows too many of love's whispers for me not to believe that he's been there himself. Like many stories of unraveling love during the pandemic, this is a relatable story for the times. 
Even though Abubaker's book is set in a futuristic city, there is a sense of history repeating itself evidenced by the xenophobic and white supremacist rhetoric throughout the story. Sentiments such as "all modernity are nothing but an inheritance of European sensibilities," and "where would humanity be without the efforts of the European race?" pose direct challenges about who truly belongs in the United States, and who is allowed to make that ultimate decision. Without ruining the end, readers will walk away with further insight into life after death, and the true nature of undying love. Personally, I think the novella could have done equally as well as a focused short story. Notwithstanding, I think this story was a very important commentary on concepts like othering, belonging, and the shifting demographics of the United States. If you are a fan of the nihilistic genre or have esoteric interests such as learning how to survive nuclear attacks, this is the book for you. Abubaker is dedicated to his craft, and I recommend his book to anyone who is interested in supporting fellow South-Asian American authors.
Purchase your copy today!