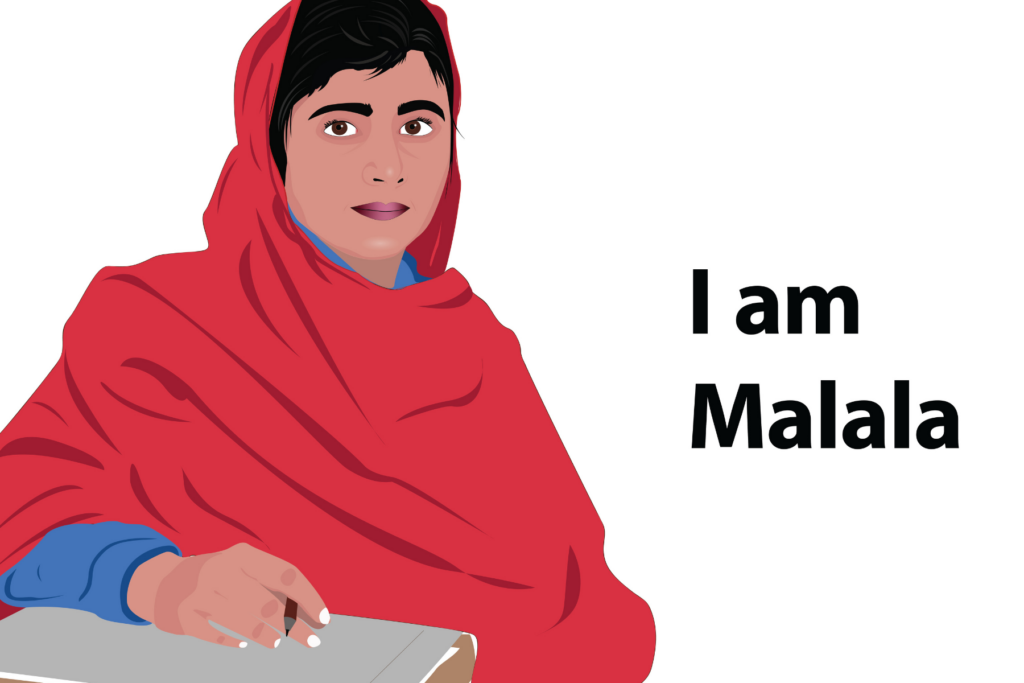 She's the youngest Nobel Laureate (being awarded the Peace Prize in 2014), receiver of the Sitara-e-Jurat by Pakistan for relentless courage, co-founder of one of the biggest non-profit organisations in the world, an author, Oxford graduate and now on the cover of British Vogue. At just 23- years-old, Malala Yousafzai has done the unthinkable; a young Pakistani woman putting her country on the map.
View this post on Instagram
Clad in her statement dupatta, fiery red and fierce for this appearance; the iconic cover deserved nothing but excitement, love, and appreciation. Yet what ensued, was an incoming barrage of abuse, neither new nor unexpected. Surely, surviving a bullet in the head and setting an example of strength for communities across the globe calls for empathy, courage, and support? Apparently, that isn't enough for some. 
In a particularly candid moment during the interview with Vogue writer Sirin Kale — those who genuinely bothered to read the whole exchange — witnessed what any twenty-something experiences; a quarter-life crisis, with Malala's ideas on romance, marriage, and life-long commitment only just maturing. She questioned the institution of marriage, particularly arranged marriages and whether it's something she's considered, with her response recalling an exchange with her mother (as many daughters would) of gentle questions and thoughts that often plague evolving young minds. 
This cherry-picked quote was met with vile abuse and attacks on morality. For reference, she never spoke of a live-in relationship, which is prohibited in Islam outside of marriage. Although arguable how this statement alone (if the conversation had actually ended here) could be taken issue with, this was not the entire quote. There was a context; a background and foreground to the banter. She merely questioned the idea of partnership, long-term commitment and whether her work and love for family were enough. She further laughed and added how her mother, Toor Pekai, encourages marriage and Malala herself is coming round to the idea. 
Yet her words, were of course, twisted to malicious perfection. Not because she is a young woman, with an educated brain to question but because a curious woman is often seen as a threat to patriarchy and its hypocrisy. For example, men may continue to pursue romantic – even live-in – relationships, once they are "free" from the shackles of desi society. Their logic? Well, nobody is watching them. However, Islam is equal for men and women. There isn't a set of different rules.
In South Asian culture and tradition, it seems like certain ideas are not allowed to flourish but are instead squashed at a young age, with a linear life path formed that sees parents decide their kids' professions before they are even born, so that growing up, the pressure of getting good grades mounts to breaking point. What follows is an often mindless pattern of being top of the class, graduating school, college, and university, landing a well-paid albeit soul-destroying job, getting married to phupo ki beti or beta, or the first person the parents lay eyes on. 
View this post on Instagram
So, when a world-renowned activist gently questions the rigmarole of traditional norms and notions, it's met with fierce backlash. How dare she muster the courage to go against convention? How dare she exercise her God-given free will? Malala is then labelled to be a "western puppet" with "western values" — notions as ridiculous as they sound.
This is where the second round of hypocrisy sweeps in. It is okay for "normal folk" to aspire for a life in the same West they so claim to dislike but it is not okay for someone whose mere existence continues to be threatened by a terrorist organisation. What people conveniently forget is that the Yousafzai family were granted asylum, as people around the world usually are when lives are in danger. They also forget how the Government of Pakistan advised them to stay put in the UK; it was not safe for Malala to return. 
"Right. But if she claims to really love her country, she should return at any cost," the critics continued to repeat and retweet.
Trolls attacked the global icon's comments on marriage but her father says the magazine interview is being taken out of context.https://t.co/S7U07RxJOE

— VICE (@VICE) June 9, 2021
As a matter of fact, she did. During her short visit to her home town in Swat District in 2018, the All-Pakistan Private Schools Federation banned her book and celebrated 'I Am Not Malala Day' because they did not agree with her "western principles."
When she survived an assassination attempt on her life at the age of twelve, reactions were empathetic. To society, she was a would-be martyr. Everyone would mourn, media channels would question the reprehensible act of shooting a child and authorities would denounce such a heinous crime. When she miraculously recovered from her near-fatal wounds, the world rejoiced. A hero was reborn. 
Malala was no ordinary woman though; she had gone "against convention" even in the fight to survive. Everything changed overnight. The support turned sour, with the pre-meditated shooting alleged to have been a "staged act." There was a lack of WhatsApp conspiracy theorists back in 2012, but a homegrown grapevine decided, without any evidence, that a child had been offered money to defame "cultural values."
"Are the Taliban really capable of shooting a child? This was choreographed to humiliate us," was an apparently valid reaction from some, until the Taliban shot 132 schoolchildren in Peshawar. In fact, Waleed Khan, a survivor of the Peshawar Army Public School (APS) attack, has consistently defended Malala when people compare the two. Like Malala, Khan also resides in England.
The patriarchal system remains busy questioning her "western character," as she proudly wears a dupatta on her head, even on the cover of the most celebrated fashion magazine in the world. A piece of cloth some parts of the world have tried to remove time and again, while other parts continue to drape women in it. Yet Malala has reclaimed it as hers and hers alone, fiercely holding onto her identity and showing the middle finger to both groups. 
"Sure, whatever, but how does this justify Malala being the only one in limelight? What about the other two girls who were shot? Why were they not granted foreign education?" They were. Both Kainat Riaz and Shazia Ramzan were admitted to UWC Atlantic College in South Wales to finish schooling, before heading to the University of Edinburgh. In fact, UWC offered a full scholarship to Malala but she politely declined, requesting instead that her fellow injured school friends be sponsored to attend, with former UK Prime Minister Gordon Brown, now UN Special Envoy for Global Education, helping make it happen. Both Riaz and Ramzan were mentioned in Malala's Nobel Peace Prize Award acceptance speech as they sat in the audience and cheered her on.
She's proved us wrong repeatedly, yet these non-existent flaws are examined even more carefully. Questions that have been answered a million times before are reiterated. Conspiracy theories built like a broken record. Haters continues to hate, not for anything she's done but because they relish in hating her.
"Well fine. But why doesn't she condemn what's happening in Palestine or Kashmir?" She did on both occasions – and was relentlessly trolled for the latter. In fact, when Malala won the Nobel Peace Prize in 2014, she donated $50,000 of the prize money to rebuild a school in Gaza.
"Okay, what about drone strikes carried out by America? So many people have died and she hasn't raised her voice." She condemned the violence directly to President Obama without an ounce of fear or hesitation. Malala bravely expressed valid concerns of how drone attacks may have fuelled terrorism and thousands of innocent civilians had lost lives in Pakistan. 
In other words, Malala has always pointed to exactly the right issues. But when the Vogue interview was published, patriarchal backlashers reunited once again, to clutch onto a single statement out of context, from an article they likely have yet to read, all in a desperate attempt to blame her for sabotaging the "family system and its values." 
It would be wiser to invest our collective energies into tackling matters like child and forced marriages, marital rape, domestic violence and emotional abuse. For some reason though, it's easier to turn into 'keyboard warriors' and bash those speaking out against these kind of issues.
I am proud to have shared the University of Oxford grounds with Malala, during our time as students there. She is exactly the person we see on TV; a young woman of substance, with impeccable vision. She continues to build a world outside of convention, offer a safe place for women who dare to dream, fight for girls' education, question norms and practices, while certain sections of society tear her down, partake in online trolling and label her a "western puppet." 
Despite this, she stands more dignified than ever; ready to offer us a world of possibilities, hope, courage and the right to exercise free will. Even when parts of the world may continue to make her feel unwelcome, she will continue to care about these issues. At every opportunity, she reminds the world that she's a Pakistani and a South Asian first. She is one of us. 
I hope people see her for who she really is — an icon, hero, legend and inspiration for women across the planet. 
Long live Malala.