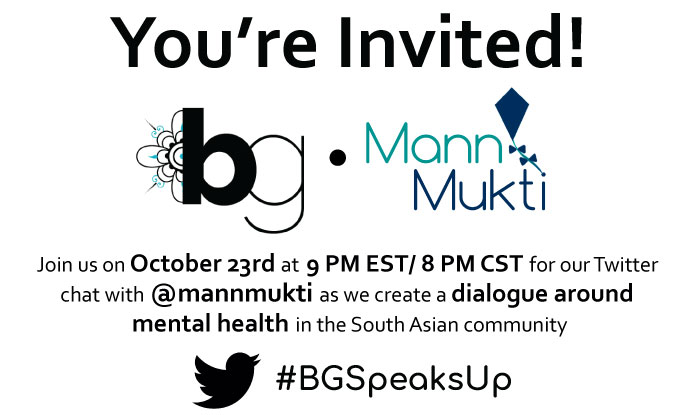 by BG Staff – Follow @browngirlmag
Our October Brown Boy of the Month Abhi Ravinutala, created a movement when he started MannMukti—a South Asian mental health organization with a mission to reduce the stigma surrounding mental health in the desi community. Formed earlier this year, they exist primarily through their website and podcast series, Stories of Stigma: South Asian Mental Health.
Earlier today, we were able to have a Twitter chat with MannMukti to learn more about what they do, the importance of mental health in the South Asian community and how we all can work together to combat the stigma. If you missed out, no worries! View the Q&A below, and comment to join the conversation!
Q1: What does the phrase "MannMukti" mean and what is MannMukti trying to do? #BGSpeaksUp
A1: MannMukti roughly translates to "mental liberation." Our mission is encourage healthy, open dialogue of mental health issues in an effort to remove stigma, improve awareness and promote self-care. We do this primarily through our website, mannmukti.org, which serves as a storytelling and awareness platform as well as a hub for resources, research and more. We also have a podcast series "Stories of Stigma" to serve as another platform, and we create in-person conversations by speaking at or co-hosting events across the US and Canada.
Q2. What is something you as an organization have realized about South Asian mental health since starting? #BGSpeaksUp
A2: We've realized how singular the problem is and how varied the solutions are. Stigma seems to be a root cause of so many issues: lack of education, lack of language to describe mental illness, lack of help-seeking behaviors. Yet, there is a variety of amazing things people are doing to combat all angles of this problem – we've met several through our website and podcast series. People are trying group therapy sessions, peer-to-peer counseling, prioritizing cultural training, and more! We've realized there's so much hope in the current moment.
Q3: Do people in the South Asian community experience mental illness like everyone else? #BGSpeaksUp
A3: Absolutely – we just have a harder time acknowledging it or getting help due to the increased stigma in our community. There isn't even a word in many South Asian languages for mental illness. The closest that we get are words for "crazy" – which clearly doesn't help.
Q4:  Who do people in the South Asian community facing mental illness typically reach out to for support? #BGSpeaksUp
A4: Through our work with South Asians across the US and Canada, we've uncovered that it's very difficult for individuals with mental illness to reach out for support. Those in college seek out campus mental health centers, while others may resort to peers who can sympathize, religious communities, etc. More often than not, unfortunately, people suffer in silence.
Q5. What are some of the biggest challenges South Asians face in the face of mental illness or seeking help? #BGSpeaksUp
A5: Fear of being misunderstood, lack of access to competent resources and feelings of isolation are all common challenges, and all relate back to stigma. The narrative surrounding mental health in South Asian countries is negative at best – and more often nonexistent. As children of those who immigrated from these countries (or immigrants ourselves) we often don't know how to approach our mental health, or that mental health is even something to consider.
Q6. What do South Asians want to see more of from their healthcare providers as far as mental health? #BGSpeaksUp
A6: People want to see that their providers understand their issues. Providers need to have the cultural competence (and training) to understand the unique South Asian pressures contributing to mental health issues in the diaspora.
Q7. What do you wish people understood better about mental illness? #BGSpeaksUp
A7: It affects more people than you think! Mental health exists on a spectrum: all of us are mentally unwell at times, just as all of us are physically unwell at times. Also, mental health is critical to overall health. You can't have one without the other.
Q8. How can today's generation of South Asians work to combat the stigma? #BGSpeaksUp
A8: Be vocal about mental health. Have open conversations with yourself, your family and friends about what you're going through or what you see others going through. And be proactive. You don't have to wait until something is "wrong" to seek help. Just like you take care of your physical health so that it doesn't deteriorate, you can do the same with your mental health. Most importantly, teach younger generations to make mental health a priority.
Q9. What does taking care of one's mental health look like? #BGSpeaksUp
A9: It's highly personalized. For some it may be taking medications; for others it may be acts like writing in a journal every night. Some might even stay away from triggers or remove negative aspects from their lives. The common and crucial factor is to apply practices that are healthy and work best for you.
Q10: What is the South Asian community's strengths as far as improving how we approach mental illness? #BGSpeaksUp
A10: The younger generation's greatest strength is our willingness to #SpeakUp, to be brave enough to peel back years of stigma. Another strength is the sheer number of us going into some aspect of the medical field – more and more of us will be well-educated about the realities of mental illness and start to change the conversation.
Q11. What are some of MannMukti's future goals? #BGSpeaksUp
A11: Ultimately we'd like to become a household name – a resource that people recognize and feel comfortable turning to when they're struggling or just curious about mental health. We also have an ambassador program comprised of individuals across the US and Canada who are dedicated to reducing the stigma surrounding mental health in their communities through #SpeakingUp and hosting events. Our goal is to have an ambassador in every US state and Canadian province (and Europe someday!)
Q12. How can one get involved with MannMukti? #BGSpeaksUp
A12: The ambassador program is a great way to get involved – the application opens next year. You can also write a testimonial for our website, partake in our online forum, or download episodes of our podcast "Stories of Stigma: South Asian Mental Health." For other opportunities, interest in the ambassador program, or just to connect with us, you can email info@mannmukti.org for more information.
For more information or ways to get involved, email info@mannmukti.org. You can also find them on Facebook, Twitter and Instagram.