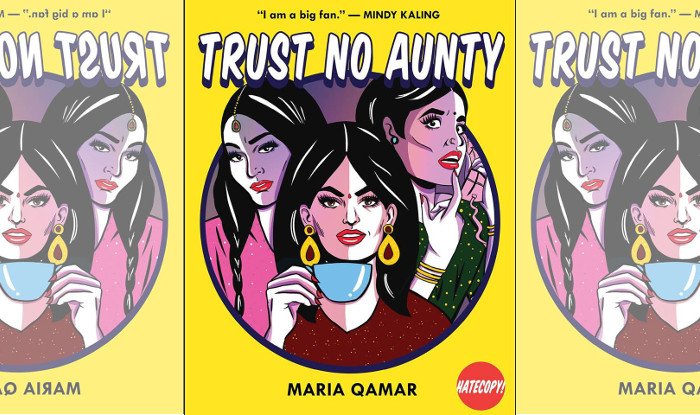 by Jessie Brar – Follow @jessieebrar
On September 7th, I had the incredible chance to view and be a part of an immersive art installation by Maria Qamar, a.k.a Hatecopy, for the Art Gallery of Ontario First Thursday: Borderlines Exhibit.
Qamar is a Toronto artist of Pakistani descent. Her relatable pop artworks depict many situations that are all too familiar for desi millennials. Her new book, "Trust No Aunty," tackles social stigmas in South Asian culture in a creative way. She speaks out for the South Asian diaspora with her art, which shows the struggles of balancing modern and traditional views as a first-generation immigrant. Qamar has been recognized for work around the world and even caught the attention of the likes of Mindy Kaling.
In her latest installation, Maria tackled a topic that is relatable to many desis around the world: being stopped at the border. Earlier this year, Maria was detained at the U.S. border while on her way to a party in New York City. If you haven't had a chance to read up on the story, you can watch it here.
https://www.facebook.com/Hatecopy/videos/845091708990713/
In this immersive experience installation, the viewers walk into a dark room with bright red lights and are given a boarding pass to the "Republic of Hatecopy" by an attendant. As they walk through the exhibit, they experience various airport checkpoints. At the first, you are asked to give up your cell phone. Then you are told to get rid of all of your jewelry. Then an officer yells at you to take off your shoes. Some of you are stopped and told to step to the side while your friends move through. Then you come to an officer who questions you about your intentions, asking where you are from, where you are going, and what your business is. As you pass through the checkpoints, there art pop-up banners throughout, satirically depicting many thoughts we have during our trips to the airport. Finally, you step out and face your judgment.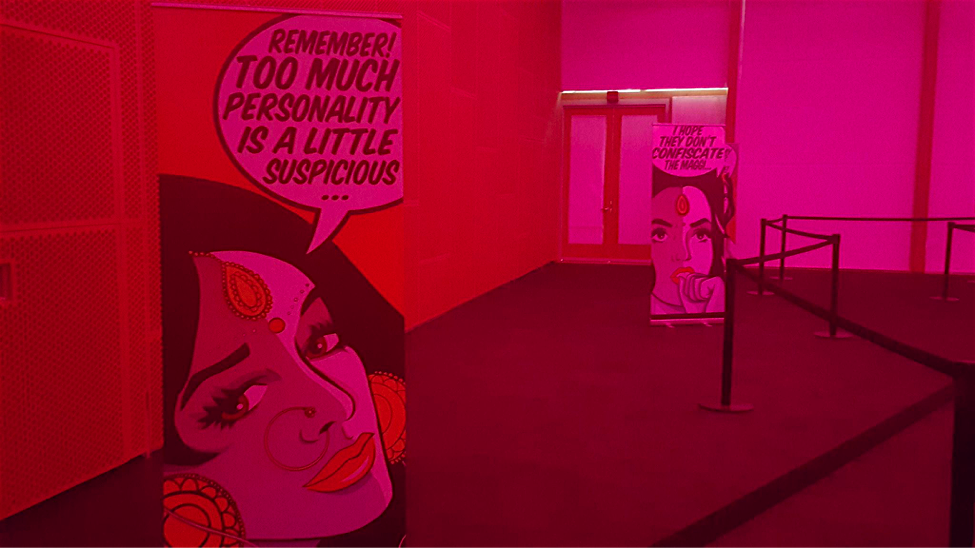 This experience is all too familiar for people of color. Many times, we are made to feel like criminals for no reason. Maria was stopped at the border while she was on her way to a party and had a return ticket because she was born in Pakistan. Last year, Waris Ahluwalia was stopped from boarding his flight due to his appearance and the fact that he wore a turban. Many of us have experienced these situations. Being stopped and taken for secondary searches, just because of the color of our skin.
I had the incredible opportunity of playing the role of the first officer, keeping a stern face and telling people to take off their shoes and depicting who got to go through and when. It was incredible to see people get nervous and ask me if I was "actually serious," even though they knew this was only an exhibition.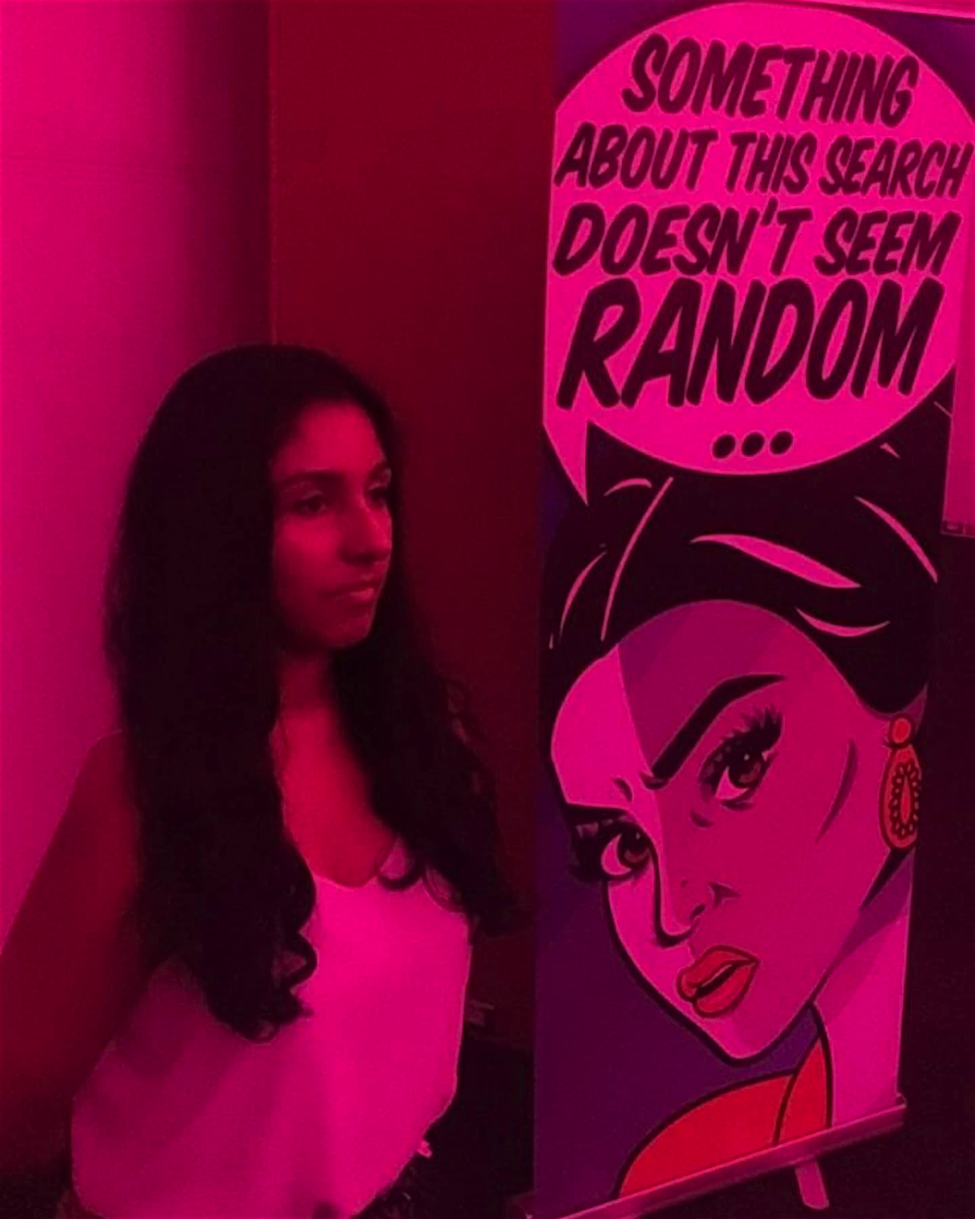 The exhibit gave me chills. I felt tense as I walked through. Going through lines, giving up my items, and being stopped for secondary searches is common for me when I walk through airport security coming to the United States even though I've never had any trouble with the law, am a Canadian-born citizen, and have not visited any of the countries on Trump's list.
This powerful exhibit shows how we judge others based on superficial things like their skin and make the world an uncomfortable space. They ask us questions and make us think we did something wrong. We're treated like criminals for no other reason than that we were born with more melanin in our skin.
Be sure to purchase Hatecopy's new book, "Trust No Aunty," here. Check out more of Qamar and her art on Instagram @Hatecopy or at hatecopy.com.
---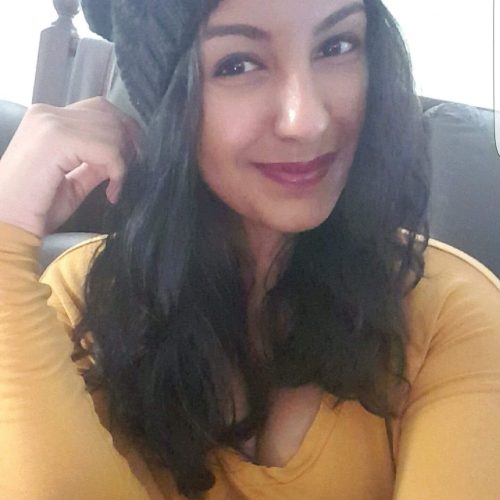 Chocolate Lover – Bollywood Dancer – Bhangra Enthusiast – Mental Health Advocate.
Jessie

 Brar studied psychology at Queen's University and is currently working at a boutique recruitment firm in Toronto, Canada. Her spare time is dedicated to raising awareness about mental health through volunteering with organizations such as Jack.Org and running The Mental Health Spotlight (@TheMHSpotlight), an Instagram project dedicated to erasing stigma around mental health and mental illness in South Asian communities through the power of storytelling. In her downtime she can be found cuddled up watching/reading Harry Potter, eating Reese's Cups, or dancing to Bollywood and Bhangra tunes in front of a mirror.