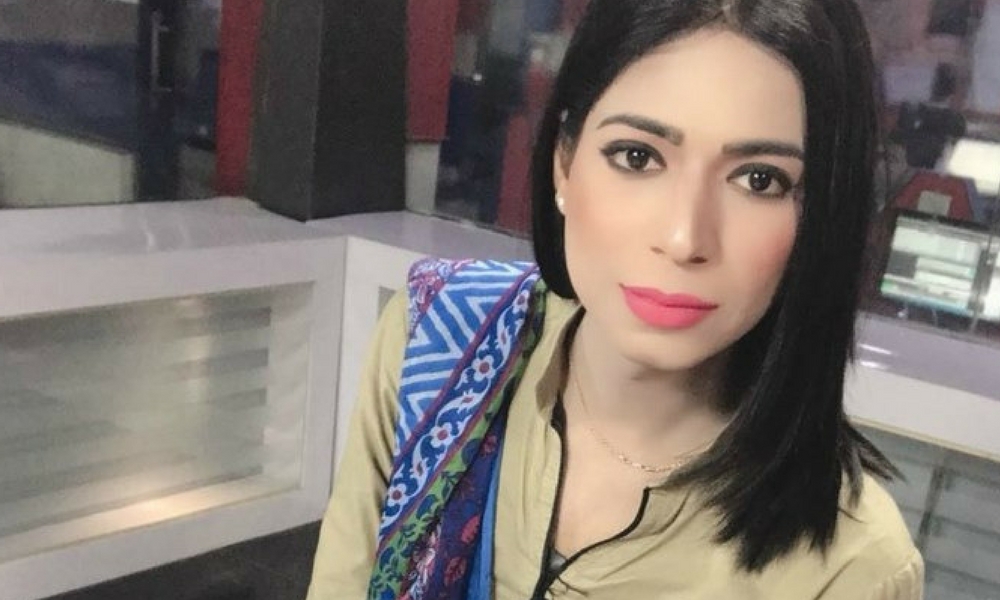 A Pakistani journalist has become the country's first transgender news anchor, making history in a country where the transgender community is still ostracized and targeted in violent attacks. On March 23, Marvia Malik made her debut appearance on Kohenoor TV news channel days after becoming the first transgender model to grace the catwalk of a prominent annual fashion show hosted by the Pakistan Fashion Design Council.
Malik's colleagues and employers at Kohenoor admitted that Malik had stunned them while interviewing for the job.
"She asked, 'Would you want to see me a beggar, a sex worker or dancing at the cultural festivals, or give me a respectable job in your channel?'" news director Bilal Ashraf recalled to Agence France Presse. "Her question stunned us really, and we had no reply."
Although Pakistan officially recognized transgender as a third gender in 2012, transgender individuals are largely confined to the margins of society, forcing them into begging, dancing, and prostitution in order to survive. The struggle to gain employment is just one of the many obstacles faced by this population. For example, those who wish to undergo reassignment surgery are required to obtain a court order, family approval, and a medical recommendation.
"Our society treats transgender people shamefully, degrading them, denying them jobs, laughing at them and taunting them," Malik said to the Associated Press. "I want to change that."
The movement for transgender rights in Pakistan is slowly progressing; last year, the first transgender passport was issued, while several transgender individuals have also run in elections.
According to Ashraf's interview with AFP, Malik's addition has created an atmosphere of welcome and acceptance for all in their newsroom, and they are unconcerned about how this will impact channel ratings.
The reaction to Malik's appointment has been very positive, for the most part, with many voicing their support on social media. Malik told reporters she lost count of the phone calls and messages congratulating her on her new role, which came as a shock to her as she has battled to survive after being shunned by her family.
"I got a lot of appreciation from those associated with the fashion industry when I did catwalk modeling two weeks back, and now this… it's quite overwhelming," she told the Thomson Reuters Foundation. "I was thrown out after [10th grade] after which I joined a beauty salon, earned just about enough to put myself through college, but it was not easy. My story is no different from that of a hijra on the street you see begging."
Malik emphasized the importance of family and protecting the rights of transgender people as citizens of society, not as a 'third gender.'
"My family knows I have modeled and they know that I work as a newscaster," she told BBC News. "It's the age of social media and there's nothing that my family doesn't know. But they have still disowned me."