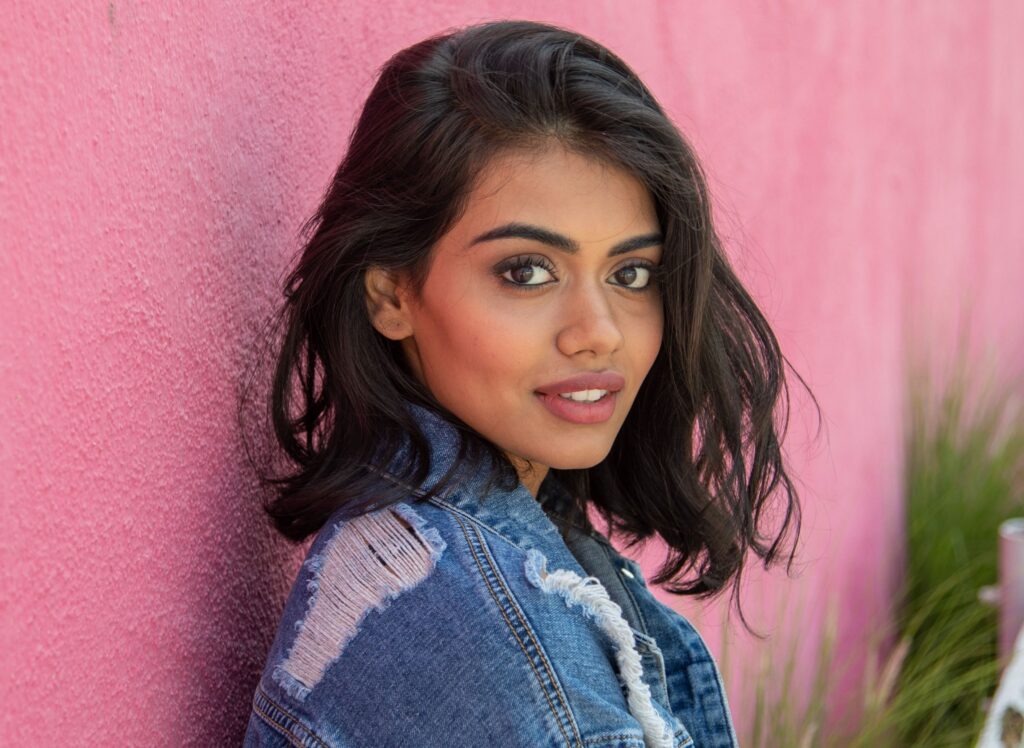 The following interview with Megan Suri contains a massive SPOILER ALERT.
TW: discussion of anorexia
With the recent release of "Never Have I Ever" Season 2 on Netflix, we got the chance to interview Megan Suri, who stole the show as confident & striking new girl Aneesa Qureshi. Aneesa is introduced in Season 2 Episode 4, "Never Have I Ever…Had An Indian Frenemy," as she seeks a fresh start upon transferring from Toluca Prep to Sherman Oaks High. Her confidence and radiance quickly intimidates series protagonist Devi Vishwakumar.
Devi makes Aneesa her first Indian friend, but not before chaos ensues. Megan Suri talked about her love of Megan Thee Stallion, spirituality, Aneesa's complexity and the importance of a decolonized mindset.
What was your experience joining "Never Have I Ever" Season 2?
"Everyone was so kind and welcoming! Even though my character was the new girl, I was never made to feel like an outsider. [When] I ran into Mindy Kaling — she was so sweet. She said, 'I feel like I've known you!'"
You're no stranger to TV, having appeared in "Atypical" and "Fresh Off The Boat" previously. Can you tell us about your funniest experience auditioning over Zoom?
"The funniest audition I had, even though it went terribly, was with this guy I had seen before but couldn't remember from where. He turned out to be a cast member from '90 Day Fiancé.' So that was really strange!"
Do you watch "Love Island"? I feel like you would enjoy it.
"I like "Love Island" – the British version. British reality TV is the best! I started my journey into "Love Island" three years ago, watching clips on YouTube."
There are many romantic dynamics at play on "Love Island," just as there are on "Never Have I Ever." Devi is caught between Ben and Paxton, until Aneesa starts dating Ben. What can we expect from Aneesa in Season 3?
"I feel like my girl Aneesa got done a little dirty. We need to denormalize this idea of boys–or anyone, really– jumping in and out of romantic relationships without healing first. Ultimately, I hope that we see Aneesa choose herself. I just want good things for my girl. She's too cool to end up with a guy who has feelings for someone else!"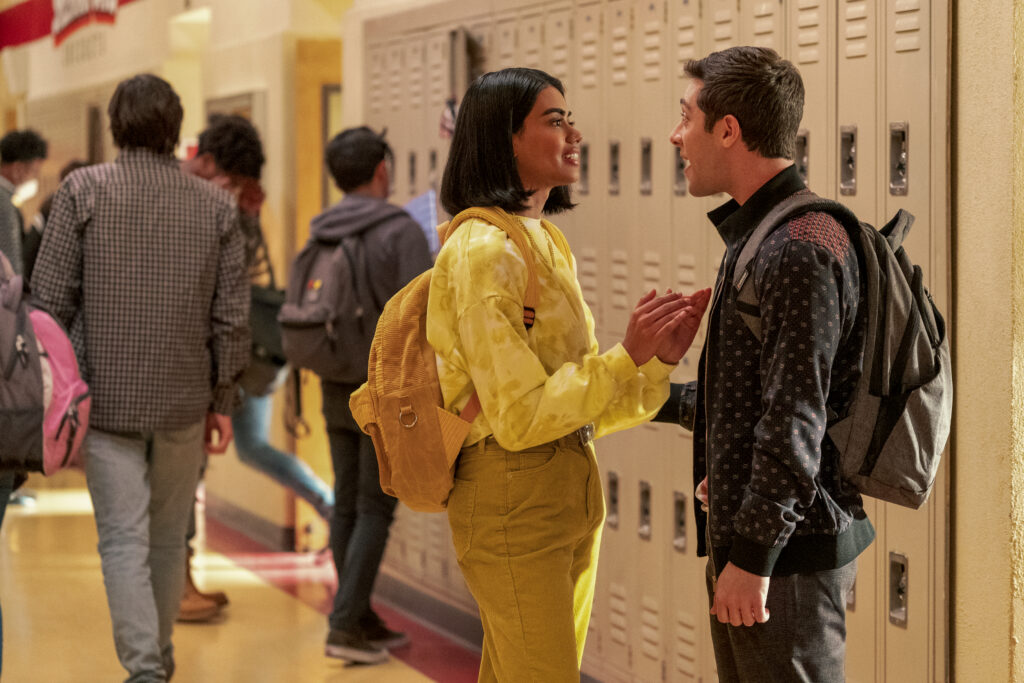 Aneesa definitely deserves better! Speaking of relationships: in your podcast with Green Actors Guild, you mentioned how Indian-Americans no longer have access to the same meet-cutes and matchmaking schemes that their parents did. For brown women: the choices are endless, but they still come with a responsibility to find "the one". How have you navigated finding love as a brown girl?
"The reality is I'm in my early 20s. I'm still figuring it out! Both of my parents had a love marriage. My dad even encourages me to date! Something I've learned about love from "Never Have I Ever" is that: you are the one that you need. Working on yourself, [cultivating] organic love within yourself, and being open to receiving love is so much better than chasing love or treating it as a deadline."
As you said earlier: you have to heal yourself before you can love yourself, or anyone else.
"Exactly! Once you do that, you attract what's meant to be in your life. I've seen my manifestations come into fruition, so I'm speaking from a place of honesty."
I get it! I noticed that you follow spiritual.diary and spiritual.teachers.of.our.time on Instagram. I'm curious: how has spirituality played into your own life?
"I'm still on my journey. It's constantly finding answers throughout the universe. But it has been super helpful for me. It's allowed me to stay grounded, as a crazy over-thinker. Knowing that everything just falls into place and seeing that in my own life has helped me calm down. That trickles into acting: auditions, rejections, etc. It all plays into it."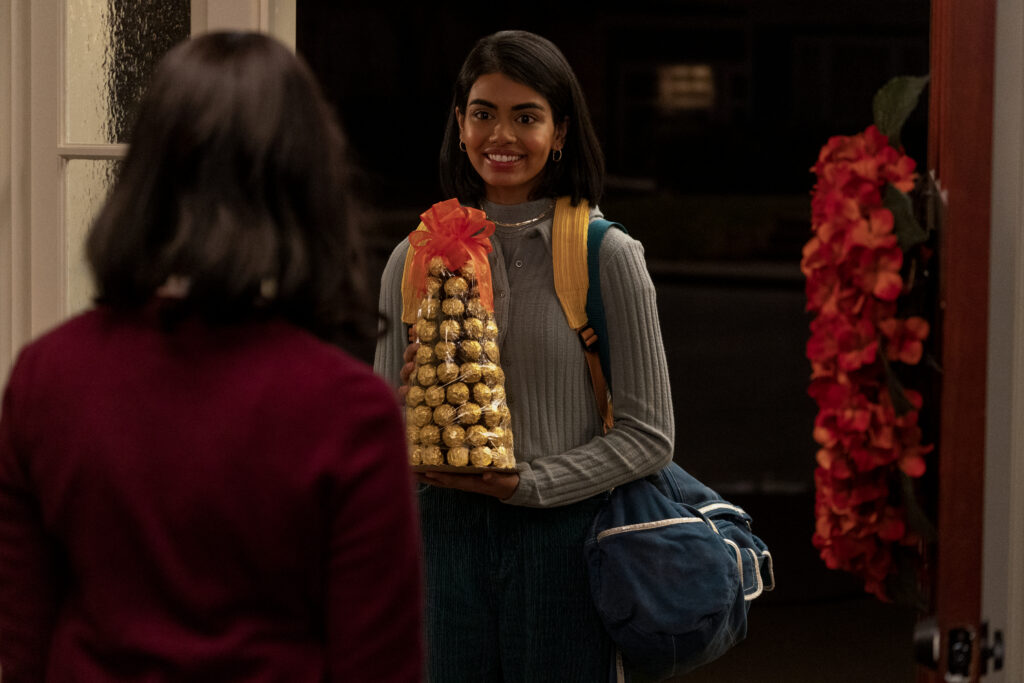 Aneesa is very confident in her Muslim identity and having core values such as compassion, tenacity, and the ability to forgive others. She's such an authentically cool person. How were you able to channel such a complex character?
"The effortlessly cool thing was not effortless for me! I'd say Aneesa's confidence came from the clothes. A few weeks after the show had ended, [the cast] had to come back in for character shoots. I panicked, because I had forgotten what being Aneesa was like. But when I put on my costume, Aneesa came back. Muscle memory."
More on the clothes. Aneesa's style blends her athleticism from playing defensive soccer and her heritage as an Indian woman. What was your favorite fit?
"I loved her first day outfit. I loved all of Aneesa's shoes; I wish you got to see more of them. I wore this outfit in Episode 4 — a neon yellow situation, because Aneesa's whole style is monochromatic — and the drip was fantastic."
You know what else is fantastic? Your eyebrow shape.
[laughs] "Thank you! Shoutout to my girl Aarti. She's been doing my eyebrows since I was in 5th grade. Give these brows two weeks, and I'll start looking like my little brother."
[laughs] It's okay. I'll be lucky if my unibrow moment arrives as far out as two weeks.
"You'll love Aarti! She's great."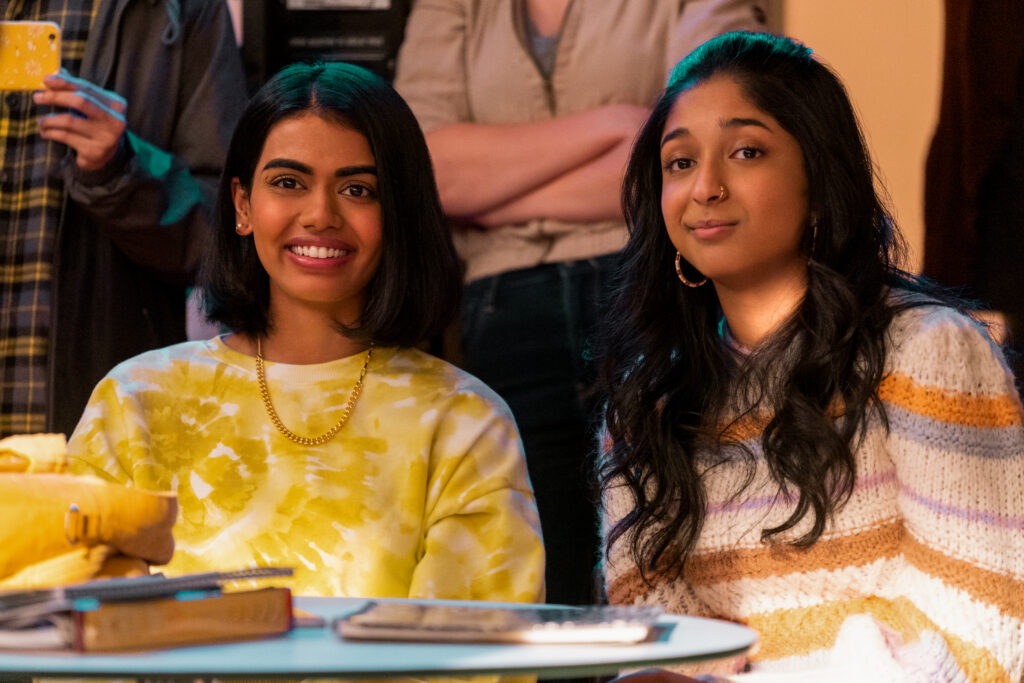 I hear you! So you grew up in L.A., but you also lived in India for 2 1?2 years. What was it like to grow up at the convergence of so much creativity and joy?
"Being on set since I was 8 years old [means that] acting has become a part of me. But I also have a foundation and connection to India. I'm American, and Indian. Very much in the middle!"
I think many Indian-Americans would understand your situation, of reconciling the hybridity of our cultures. As creatives, we're [sometimes taught to] choose between being Indian or American, when you can be both.
"Exactly! You can be both. I'm an actor today because of my parents. They support me, even when it gets hard. Us actors, we're expected to be deep feelers and [simultaneously] capable of brushing off rejection. Having a parental support system really means the world."
Rejection is a huge theme in Never Have I Ever as well. What is your advice to Indian-American creatives on not relying on external validation?
"Rejection is inevitable. But also –some of the biggest moments of my career, in recent years, have been thanks to South Asian women creating that ladder to allow girls [like me]. Everything happens for a reason. Solidify your confidence in yourself as an artist & connect to your communities!"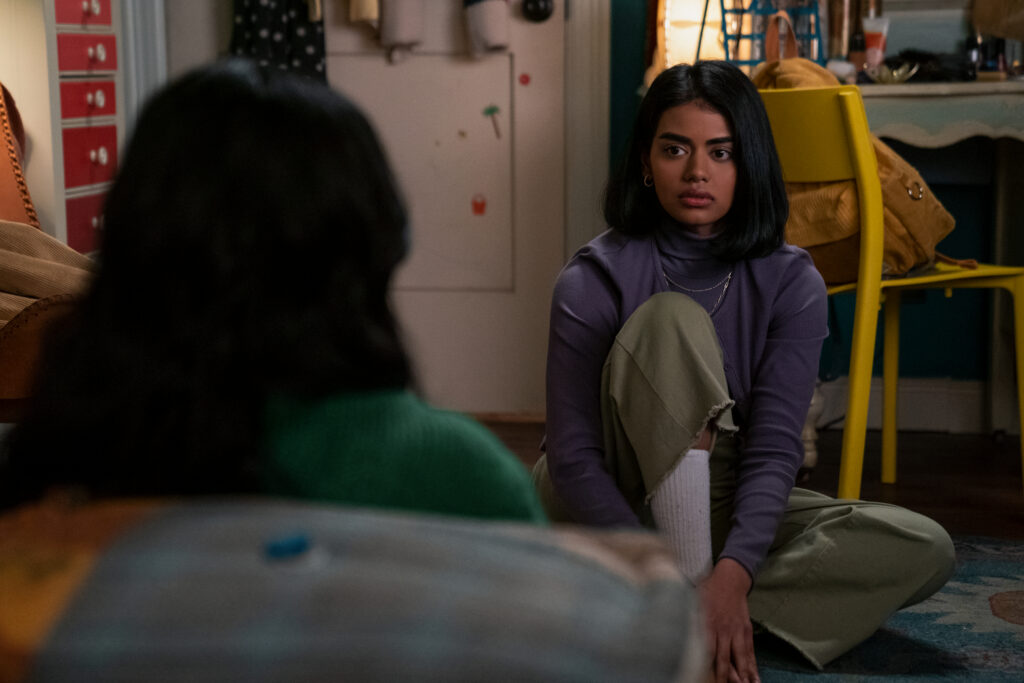 Well said! So you've starred as Quinn in "Atypical", Aneesa in "Never Have I Ever", and Bindu in "The Miseducation Of Bindu"–
"You watched "The Miseducation Of Bindu"? That's crazy!"
[laughs] I did! Why do you sound surprised?
[joking] "You watch stuff that I'm in? What?"
Yes! I noticed how different your characters were: Bindu struggles to gain confidence in high school, whereas Aneesa is confident from the jump. Whose teenage journey of confidence aligned most with your own: Bindu's? Aneesa's? Or Quinn's?
"On the outside, I acted like Aneesa, because I was involved in sports and can be extroverted. On the inside, I felt like Bindu — super insecure and awkward. And I loved working on Atypical, but I [couldn't relate] to Quinn. She's the mean private school girl, you know? She probably could have been one of the private school girls who bullied Aneesa."
Funny you mentioned that…have you seen the theory going around TikTok?
"No! What is it?"
This TikToker played a clip of Quinn at private school asking Casey if she was bulimic, followed by a clip of Aneesa telling her friends how she'd been bullied at private school. So the theory going around is that Atypical's Clayton Prep is right next to Sherman Oaks, and Quinn bullied Aneesa in-universe. What's your perspective on this crossover?
[laughs] "It could be true. It could be! I wouldn't be surprised."
On Twitter, you said "At this point, I only have Twitter to support @theestallion on as many platforms as I possibly can" and honestly, I could not think of a more legitimate reason to use Twitter. If you woke up as Aneesa tomorrow, and could only curate the soundtrack of your life with Megan Thee Stallion songs, which ones would you pick?
[laughs] 'Top 4: Captain Hook, Realer, B.I.T.C.H., Thot S**t. I immediately connected with Megan [Thee Stallion] and her energy. Her music helped me tap into this inner confidence which all women have but are sometimes forced to minimize."
Aneesa, who is very confident à la Thee Stallion, speaks about the pervasiveness of Eurocentric beauty standards, and how South Asian girls often turn to powerful symbols of Indian femininity like the nose ring to decolonize their noses. As an actress in Hollywood, how have you decolonized your mindset?
"The more that we see girls who look like us, the more we can overcome the notion that there's only one idea of what beauty looks like. As for decolonizing my mindset, I've started to love myself and tell myself: you look great as you are. Diminish the ideas of colorism that are prevalent, even in our own communities. Through doing that, along with surrounding myself with women who have shared my struggle, I've developed a love for myself I did not have growing up as a teenager."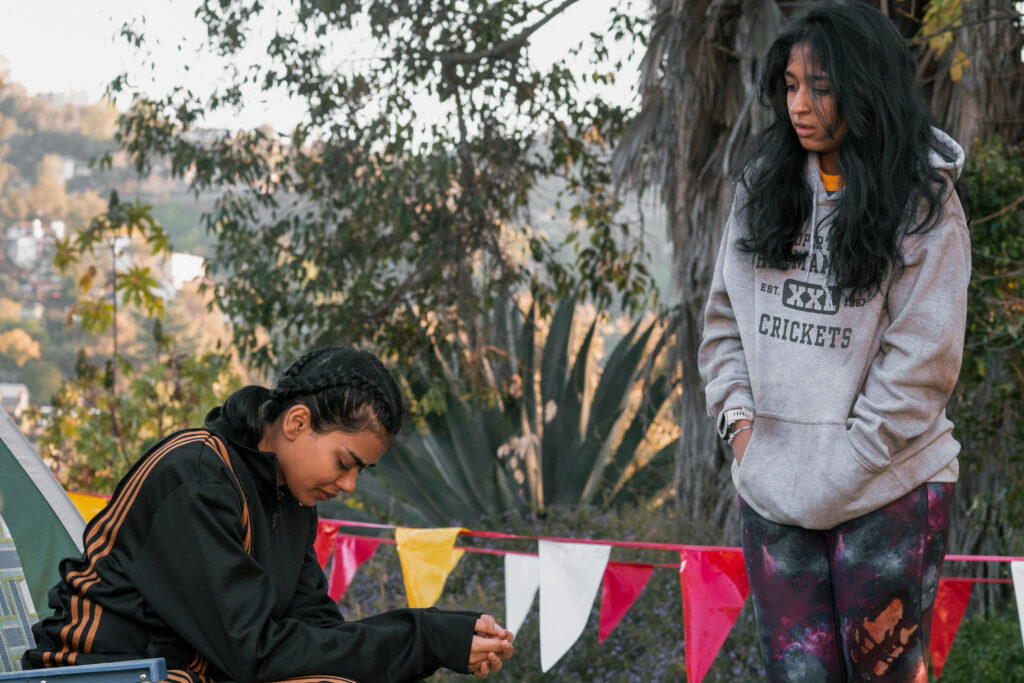 Brown characters on "Never Have I Ever" struggle to decolonize their own mindsets from depression, anxiety, and now, eating disorders. Aneesa grapples with anorexia. What did it mean to play a character with an ED? How'd you get in that headspace?
"I had no idea that Aneesa had an ED until my first fitting. I made sure to research, watch TedTalks, and read interviews to prepare for that headspace, but the Never Have I Ever writers also consulted with a doctor to make sure Aneesa's behavioral patterns in-script were consistent with those of patients dealing with anorexia. I hope my portrayal of Aneesa inspires anyone who suffers from anorexia or any other mental health disorder to reach out for help, and to know they are not alone."
Name some things that you've been obsessed with lately.
"Number one: Chalk ASMR helps me destress. Number two: sleeping. Number three: I'm obsessed with getting my little brother to like me, because I've realized he's the coolest guy I know. He's also a Virgo, so he's very mysterious. I want to know more about him!"
Speaking of Virgos…what's your Big 3? Have you given any thought to Aneesa's?
"What do you think they are? I like to ask people."
I know your birthday. I have a solid lead on the first one.
[sighs] "Then you know me! Aries Sun, Leo Moon, Sagittarius Rising — fire signs. Aneesa's very grounded — earth signs for her. Good thing we haven't established Aneesa's birthday yet!"
Lately, brown women are getting cast as royal detectives, superheroes, fantasy warriors. Hollywood is teaching brown girls that they can be anything. Which South Asian leading lady has been your favorite to watch?
"I'm happy to see that there are so many of us! I love Jameela Jamil, because of how outspoken she is. It's also been really cool to watch Maitreyi's star rise."
Indeed! Lastly: what does representation mean to you?
"Less tokenization for our identities and more recognition for our acting abilities. Less "Oh, that's the brown actress!" and more "Oh, that's the actress that happens to be brown!". Being brown is not a monolithic experience, so it's important to create stories that reflect our reality."
Catch Megan Suri on "Never Have I Ever" Season 2, now streaming on Netflix.