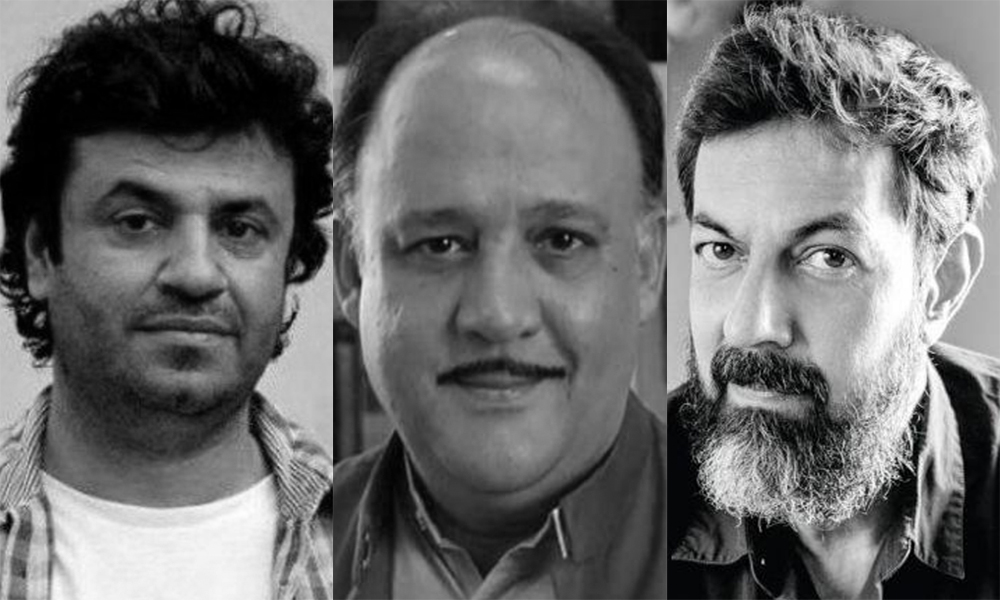 Just about a year ago, the numerous allegations against Hollywood producer Harvey Weinstein poured out of the mouths of his accusers one after the other. Then, a tweet by actress Alyssa Milano, calling for victims of sexual harassment and assault to use the words "me too" on social media, became the catalyst for the popular whirlwind movement in the U.S. Now we're seeing the birth of #MeToo in Bollywood.
There have been conversations about whether or if ever #MeToo would take flight in the Hindi film industry, with many doubting it would happen in the near future. Since Tanushree Dutta's recent sexual harassment accusations against actor Nana Patekar, choreographer Ganesh Acharya and director Vivek Agnihotri, other major allegations against a lengthening roster of the nation's public figures have come to light. It seems that survivors are now finding the courage to speak out and name their abusers.
A Television and Film Legend's Sexual Transgressions Exposed
One of the most harrowing accounts came on Tuesday, Oct. 8 from television writer, director and producer Vinta Nanda. In a Facebook post, Nanda detailed her memories of being raped on the way home from a party 19 years ago. The perpetrator was none other than popular '90s actor Alok Nath, a colleague at the time and the husband of a close friend.
"I started to walk home on the empty streets although the distance to my own house was long," Nanda wrote. "Midway I was accosted by this man who was driving his own car and he asked me to sit in it and said he would drop me home. I trusted him and sat in his car. I have faint memory after that. I can remember more liquor being poured into my mouth and I remember being violated endlessly."
She also described other instances on the sets of "Tara" when the now 62-year-old actor reportedly sexually harassed the lead actress of the television show. The post spoke to a culture on the sets that both encouraged and turned a blind eye to such actions:
"He was an alcoholic, shameless and obnoxious but he was also the television star of that decade, so not only was he forgiven for all his bad behaviour but many of the guys would egg him on to be his worst. My lead female actor was being harassed by him. He would mess with her on the sets and everyone would be silent."
In an exclusive interview with ABP News, Nath responded to the allegations by contesting any such incidents ever having occurred.
"Neither I am denying this nor do I would agree with it," he said. "It (the rape) must have happened, but someone else would have done it. Well, I do not want to talk much about it as for the matter if it has come out, it will be stretched."
He went on to say that he was responsible for Nanda's professional success and that it would be wrong for him to comment on the situation because only a woman's account would be taken seriously in "today's world."
Since then, in solidarity with Nanda, actresses Sandhya Mridul and Deepika Amin also disclosed their own experiences with Nath and continued to expose his terrifying transgressions.
https://twitter.com/sandymridul/status/1049905872439263234
Phantom Films Vanishes into Thin Air Amidst Sexual Assault Controversy
A Huffington Post India article published on Saturday, Oct. 6 revealed serious allegations against another influential Bollywood personality. A former female employee of production house Phantom Films accused director and producer Vikas Bahl of sexual impropriety following a 2015 "Bombay Velvet" cast and crew party in Goa.
The woman, whose identity has not been disclosed, said Bahl walked her to her room in the early hours of the morning, seemingly concerned about her safety due to a limp acquired from a previous injury. According to the article, the pair said their goodbyes at the door, but Bahl snuck into her room while she was in the bathroom and then pretended he could not move from the footrest of the bed where he had placed himself.
After repeatedly asking him to leave, the woman eventually created a barrier between them with pillows. Bahl then allegedly pushed his hand up her dress, and as she attempted to push away his advances, he exposed himself and began to masturbate.
"What Bahl did to me that night in that hotel room in Goa has had a lasting impact," the woman said in an interview with the Huffington Post. "I am still healing. It has affected my relationships, my spirit, my social life, everything."
She also said that she delayed confiding in Bahl's Phantom Films partner Anurag Kashyap because of the disastrous failure of "Bombay Velvet" that sent the film's director into a depressive spiral. When she finally told him, he claimed he would look into the matter. However, the former employee said no meaningful action was ever taken until early 2017 when Bahl's three business partners—Kashyap, Vikramaditya Motwane and Madhu Mantena—were looking to distance themselves from him. Bahl's verbal harassment of the woman continued during the interim period until she left the company.
"I was disappointed in Kashyap. He knew everything," the woman said to the Huffington Post. "He had the power to do stuff. He could have if he wanted to. He didn't. And I don't think so I will never be able to forgive him for that."
Kashyap was the only member of the quartet of producers who responded to the Huffington Post's inquiries, according to the outlet, and he admitted to his mishandling of the situation.
The day before the article was published, Kashyap took to Twitter to announce that Phantom Films was being disbanded and all four partners would part ways.
Phantom was a dream, a glorious one and all dreams come to an end . We did our best and we succeeded and we failed. But i know for sure we will come out of this stronger, wiser and will continue to pursue our dreams our own individual ways. We wish each other the best.

— Anurag Kashyap (@anuragkashyap72) October 5, 2018
In the following days, he and Motwane issued their own personal statements, which include clarifications about their actions (or lack thereof) and apologies to Bahl's accuser.
"Queen" actresses Kangana Ranaut and Nanyani Dixit have also accused Bahl of inappropriate physical contact, making them feel uncomfortable on set and at social gatherings.
What's Next for #MeToo in Bollywood?
As names of the accused begin to pile up in a matter of days (the list of offenders include other well-known figures like actor Rajat Kapoor, author Chetan Bhagat, politician MJ Akbar and Hindustan Times journalist Prashant Jha), the #MeToo movement has already knocked on the doors of men in various positions of power. Not only are perpetrators of sexual harassment and assault finally being held accountable, but the men and women who have stood by and quietly watched from the sidelines are also being called out. While some have denied such indictments outright, others have apologized and publicly claimed to recognize their failure to promote safe social and professional spaces for women.
However, it will be up to the survivors to continue the momentum of the movement without fear. Nath and Bahl are prime examples of men whose major influence hushes others into silence, creating a culture that perpetuates sexual misconduct.
The hushed whispers are getting louder and are finally being heard. We all need to be in it together. Let's give courage to those who want to speak up but haven't felt able to yet. https://t.co/d2mvRYPYPV

— Nandita Das (@nanditadas) October 6, 2018
The Huffington Post reported that sources within the film industry begged to remain anonymous for fear of ending their careers when asked about the accusations against Bahl. Kashyap said in his personal statement that lawyers informed him Phantom Films could not take any legal action against Bahl because he was part owner of the company and there was no clause in their contracts pertaining to sexual misconduct.
Nanda also explained that channel executives brought Nath back onto the sets after being written off the show for misbehavior and how she allowed him to take further advantage of her after the initial rape because she could not afford to lose her job.
It is only people in even higher positions of power in Bollywood that can help to eradicate this vicious never-ending trend. Hrithik Roshan released a statement on Twitter saying he could not continue working with Bahl on the upcoming film "Super 30" and asked the producers to use the facts of the incident to "take a harsh stand" if necessary, as he was out of the country at the time:
— Hrithik Roshan (@iHrithik) October 8, 2018
The Mumbai Academy of the Moving Image (MAMI), in support of #MeToo in Bollywood, dropped two films from its festival lineup due to the accusations against Kapoor and members of comedy group All India Bakchod. Actor Sushant Singh tweeted he would issue Nath a show-cause notice as a member of the Cine & TV Artistes' Association. While these are certainly steps in the right direction, they are all reactionary, taken after survivors have already gone through the painful ordeal of making their trauma public.
"This is an open secret in the industry," Amin said about the allegations against Nath in an interview with Firstpost. "When actors sit around and chat, I've heard male actors say that women on set were upset with Alok Nath because he would knock on their doors at night. I wish some of these male actors would come forward."
Actions need to be taken in a timely and serious manner by those who are witness to or are made aware of such attacks. At the very least, support for the victim should be offered, expressed and acted upon. Preemptive measures must be put in place to discourage and penalize inappropriate sexual behavior on sets and outdoor schedules, as well as in company offices. The men of the film industry must become better allies for women now during #MeToo in Bollywood, a role that largely entails active listening and open eyes and minds.
There is still much to be done, but the brave survivors who have reclaimed their voices in this new #Metoo in Bollywood movement have empowered others to speak up, proving there is hope for a safer future for all.