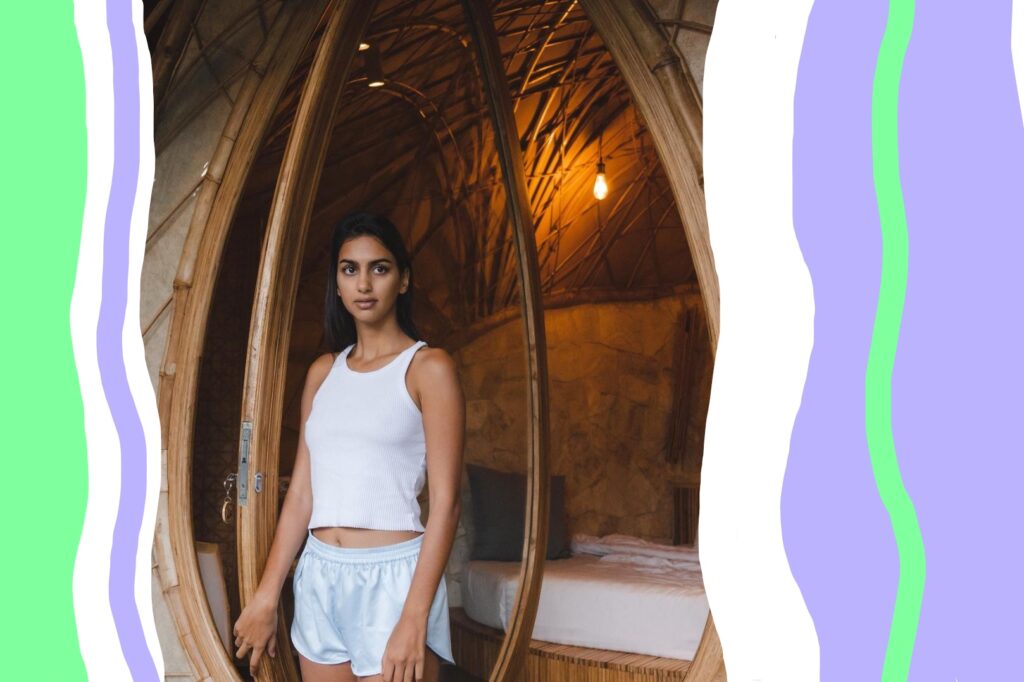 As a young girl growing up in Fremont, California Nanki Singh didn't feel proud of her South Asian background. Her classmates were primarily white and she didn't find herself relating to them very much, which hindered her ability to make friends. 
That changed in 2009 when her parents decided to retire and move to Nilgiris in South India, a place that 14-year-old Nanki never knew much about. Little did she know that this experience would help shape her love of her South Asian culture, a love that was instrumental in building DreamyTripsBali. This travel company focuses on curating personal experiences for South Asian women looking to travel independently and broaden their horizons in Bali, Indonesia, where she currently resides.
View this post on Instagram
After moving to South India, Nanki's parents decided to enroll her in a British boarding school — the Hebron School in Ooty's region in Tamil Nadu — which Nanki describes as "a completely different world" but the first place she felt like she fit in. 
"In the beginning, I had a hard time adapting to the culture… I was very outgoing and athletic, which wasn't what the teachers were used to. But I learned a lot about India and Indian culture," Nanki says. 
She also made her first group of friends, who embraced her differences while she learned about theirs. Although she had finally found some semblance of community, in 2013, she decided to move back to the United States at 17 years old to attend California State University. She first began her solo travel journey, utilizing platforms like Contiki and E.F. College Break to travel to places like Spain, France, Italy, Mexico, Scotland and more. 
"This was such a pivotal point in my life. It felt like this was the first time I had an identity. Traveling solo was like therapy; it made me learn more about myself." Nanki said. 
After graduating from university, Nanki started her first job in the entertainment industry in L.A. After a few months, she quickly realized that corporate life wasn't suited for her. 
"I was really burnt out. I thought this was what I wanted, but I was so sad all the time and didn't feel like I was a person," she said.
Nanki was unsure of her next steps, but in 2018 everything changed. During Thanksgiving break, she traveled to Bali, Indonesia for the first time, a place that she had always wanted to visit after seeing its popularity on Instagram. 
View this post on Instagram
"Bali changed my life. I didn't know exactly what I wanted to do, but I know I wanted to be here," she said.
She quit her job, packed up all her belongings and booked a one-way ticket to the island, leaving the U.S. behind in January 2019.
As soon as she landed in Bali, Nanki realized what she had done. 
"Those first few months, I was lost," she laughs. "I didn't know what I was doing; everyone back home thought I was crazy." 
She spent her mornings at cafes applying to jobs and would teach English the evenings while planning her long-term goals and next steps. Things changed when friends and family started to visit her in Bali. They didn't know where to go and what to do, so Nanki planned itineraries and acted as a tour guide. She realized that she loved the process of curating personalized experiences for her loved ones. Feeling inspired, she realized that she would build her brand around travel. Nanki said she targeted South Asian women who wanted a getaway. 
DreamyTripsBali was born. "When I went on solo trips during college, I was usually the only Indian girl. I never questioned it, but now things have changed. I want to see more South Asian women travel." 
For Nanki, her brand is all about building personal experiences curated to each person's needs. She says that every person wants something different out of their trip to Bali; sometimes people want to relax and other times they want to see everything the island has to offer. 
Nanki handles all the details herself. After interested parties reach out to her via email or through mutual connections, they will do a video chat so that she can find out what they envision for their trip. She'll then dive into research, find accommodation options and create a WhatsApp group for smooth communication. She attributes her success to her experience living in L.A. and India, staying organized and being persistent. 
"Living in India taught me to be street smart, to hustle. Looking back, L.A. was also pretty cool because it taught me how to network. I'm smart about how I introduce myself and what I want out of a partnership, and that really helped me find hotels and secret spots in Bali that not many people go to," she said.
Sharing her brand and story on Instagram, Nanki has inspired many other South Asian women to take risks as she did. "I started out with 900 people; I think when I first moved here, now I have around 10,000 people, and I get a lot of people asking me how they can do what I did." 
She shares detailed posts about her journey to her thousands of followers, including what her experience was like moving to Bali, how she embraces her South Asian identity and the importance of prioritizing mental health. 
"I don't see a lot of Indian women putting themselves first. I think travel is a great way to take time for yourself and figure out what you want in life," she said.
She sees Bali as the perfect place to start. Although travel to the country was restricted for many months due to COVID-19, it's slowly started to open back up, and Nanki hopes to begin planning trips once more. 
"I love what Bali represents, and I want to help other women discover what it means for them," she said.