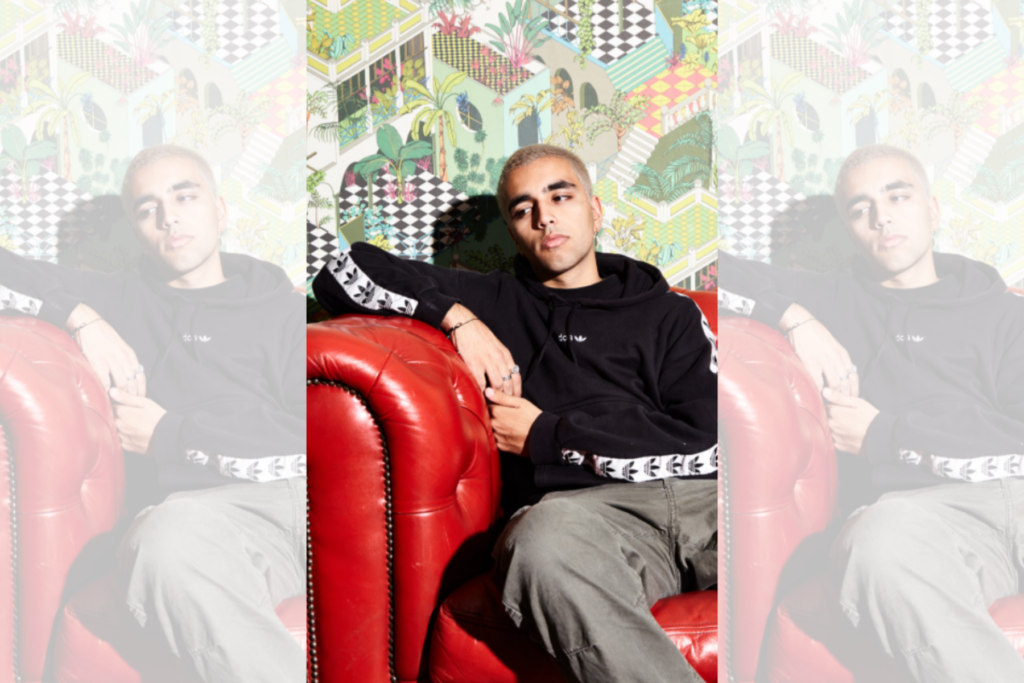 From producing music from his bedroom to selling out shows in London, Nick Mono pushes the levels of his creativity. The artist hails from West London and was obsessed with writing and releasing music from an early age. His music can be described as hazy instrumentals combined with his lyrical craftsmanship.
Mono has a unique style all his own. I decided to ask him who were some specific musical influences that inspired him.
My parents were into lots of different music so I've been inspired by their taste quite a bit. From a young age I was hearing bands like Foo Fighters and Led Zeppelin in the car. I also heard Michael Jackson, Whitney Houston and certain (non-explicit versions at the time) Kanye & Jay-Z songs. But I was also listening to all the pop-rock music. I was hearing a lot on the Disney Channel and that led to me getting more into pop-punk music when I was like 12 years old.

Going into my teens I became obsessed with the scene of artists making music from their bedrooms. They were blowing up off blog posts and shit so lots of alternative hip-hop and bedroom pop. This started to inspire what I wanted to do as an artist. Basically everything has inspired me at some point and I feel like I've gone through every phase and scene and been obsessed with it at some point.
Mono continued to open up about specific artists he looked up to who could relate to his nuanced experiences as a South Asian artist.
I think being a big Brockhampton fan seeing Romil Hemnani as a producer in the group. He was clearly a big influence on a whole new generation of producers coming up now has been really sick to see. And Zayn in One Direction was big. I'm always rooting for him. Also not really an answer to the question or an artist but the character Beck in Victorious was game-changing for a lot of reasons. So Avan Jogia will always be a legend to me. Jay Sean a legend too. Down is a classic.
Something I love to ask artists is who their dream collaboration would be. Mono elaborated and shined a light on his other creative pursuits.
Kevin Abstract. Musically would be amazing but I also really want to work with him on films. I write a lot of screenplays and I'm working on one for a film that I want to accompany my debut album. I'd really want him to direct it because I think he's great and also it would be iconic.
We moved on to talking about Mono's artistry and creative process of making music.
It's never really the same each time around. I guess it usually comes down to a good chord structure and building from there but that's not even always the case because sometimes a melody will come first and then I'll make chords that fit around that. I think the process is to just always feel it out and go with it.
"Effy Stonem" was one of my favorite tracks from Mono. I decided to get to the bottom of the meaning behind the track.
Everything about making that song was very thoughtless and fast. It really just came about from me watching "Skins" and thinking of the hook idea in my head. The next day I recorded it all in like an hour and then put it out a couple weeks later. It's really cool to me seeing the reaction to that song be so huge because more often than not I'll overthink the stuff I'm making so I guess that song is just a reminder to not always overthink shit.
"Rusty" is another popular track full of versatility. Mono opened up about the meaning and creative process behind the track.
I've got my EP 'The Sun Won't Stay After Summer' coming out on March 11. It's six songs and the best I could do at putting together a bunch of songs that could all act as standalone singles while having a story and concept be present within the project. All the songs just relate to the idea of trying to manage relationships and feelings for people during a time in life where everything else is changing.
Mono moved on to describe his music and what he thought of the term bedroom-pop.
I'm not too pretentious to be offended by the idea of being boxed into a genre. I think it's whatever people think it is really but I think the easiest way to classify it is alternative. I've always liked that as a blanket word to cover the range of styles I've already approached and plan to in the future.
Creative control and being able to fully express yourself as an artist are important. Mono talks about how he feels about creative control.
I like to have a lot of control over what I'm making and what I put out because I take every aspect of what I'm doing very seriously. That's not to say I don't want to collaborate because I think some of the best pieces of art are born from a team effort but I'm not going to be willing to sacrifice any part of my creative process just for the sake of it.
We ended the interview by talking about Mono's aspirations and what his movement represents.
I want to make timeless art. That's the goal. And have it impact a lot of people in a meaningful way. To reach the most people possible I think you have to time your journey carefully and tactfully. But I'm also just trying to create and act on impulse because that shit is the most powerful I think. So finding that balance. And I guess my movement just represents chasing something constantly and that chase being a never-ending chase but living for that. It's about feeling a lot and making the most out of those feelings. There's everything worth living for so you have to keep living for every moment in this constant chase.
Photo courtesy of Eva Pentel
"Nick's debut EP 'The Sun Won't Stay After Summer' will be released on 11th March, via Parlophone"