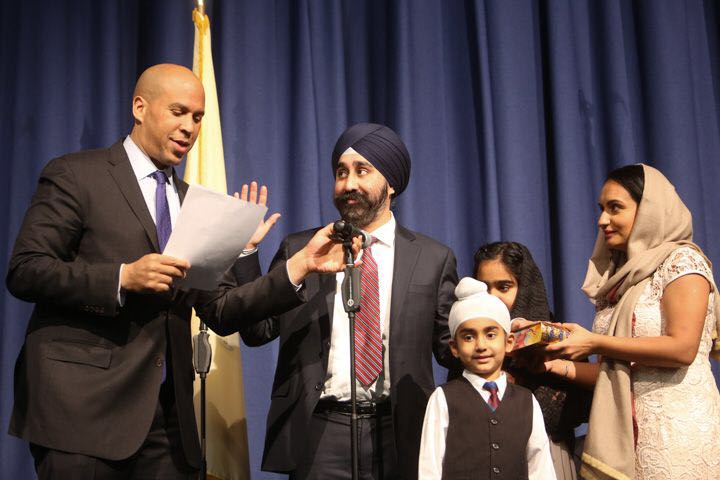 "Today is not a victory for a narrow community. It is a victory for the principles and ideals of the United States of America," New Jersey Senator Cory Booker said, during a speech at the inauguration of Mayor Ravi Bhalla, one of the first turbaned Sikh mayors in US history.
Ravi Bhalla, the former city council member, was sworn in as Hoboken's 39th and first Sikh mayor on Jan. 1, 2018. His election marks history not only as Hoboken and New Jersey's first Sikh mayor but as one of the first turban-wearing Mayors in the country.
The inauguration ceremony was an inspirational way to begin the new year. Government representatives all over New Jersey spoke about this memorable moment not only for South Asians but the country as a whole.
"There is just something so right and so encouraging about celebrating this moment today, as we turn the page on 2017 and embark upon on a new year," Bergen County Prosecutor Gurbir Grewal said.

"Because today together all of us, in this room, are turning the page on a year that saw a rise in intolerance across this country. We're turning a page on the year that saw an increase on attacks on people based on hate, ignorance and bias."
Grewal spoke not only on behalf of New Jersey Elect Governor Phil Murphy but as Bhalla's childhood best friend. In December Murphy announced Grewal as his choice of New Jersey Attorney General, making Grewal the first Sikh Attorney General in New Jersey history.
Bhalla's election and the campaign was an enduring and meaningful election for South Asians and representation. Many tried to discourage the Mayor with hateful speech and even flyers, declaring him a terrorist. Despite these obstacles, Bhalla finished strong depicting leadership and courage throughout his campaign.
"What a long way we've come," Bhalla said. "This past election was a model of diversity showcasing for New Jersey and America a city that cares less about who you love, where you came from, what your gender is, where you worship than they care about your ability to take on the challenges ahead for our city. So while the mark of the moral universe may be long, there is no doubt that here in Hoboken, it bends firmly toward justice."
The city of Hoboken has had a rich history for South Asians. One of the strongest and most successful hate groups against South Asians existed in the city in the mid-80s. The Dotbusters was a hate group that attacked and threatened South Asians, particularly Indians. The name originated from the traditional attire Hindu women and girls wore, including Bindis on their foreheads.
In July 1987, the group published a letter in The Jersey Journal stating that they would take any means necessary to drive Indians out of Hoboken and Jersey City. A number of South Asians were harassed, beat and killed, causing many leave the cities out of fear.
During his inauguration speech, Bhalla briefly mentioned the history of this hate group, assuring people that as his first act in office, he will sign an Executive Order officially designating Hoboken a "Fair and Welcoming City", this will ensure that such a group never exists again.
"This order is intended to reflect the values of our country and the belief that we are all equal and entitled to dignity and respect," he posted to his official Facebook account.
https://www.facebook.com/RaviBhallaHoboken/photos/a.1553922541522403.1073741827.1552898834958107/2004871929760793/?type=3&theater
Bhalla's appointment in office serves as not only a success for Sikh Americans and the immigrant community, but the country as a whole. It shows that despite the current political climate change is possible. One of the most memorable aspects of the inauguration included the opening prayer being conducted by a Sikh religious leader, Giani Raghvinder Singh and Bhalla taking oath on the Guru Granth Sahib, Sikh holy book.
His inauguration served as a success to all those who once faced the conflict of having to decide between representing their faith or religion and wanting to succeed. Bhalla ended his speech with a thank you to his father who, he shared, upon arriving to the United States to attend university was faced with the cruel decision of whether or not to continue wearing the turban. His father's decision to not remove the turban and continue representing his faith, despite any struggles, made Bhalla the man he is today.
"No matter how difficult it may be to maintain your Sikh identity in the country, you can do so and you can thrive That there is simply no conflict between your faith and your success to achieve," Grewal said.
Watch the full inauguration below:
https://www.facebook.com/Hoboken/videos/1748047771882627/?hc_ref=ARTM6k0EItMk4oo00s_ayhRzfq6tSkPxKhDjX_lk6NLP-u3UsrUaGERlEzd9QcdGxBE