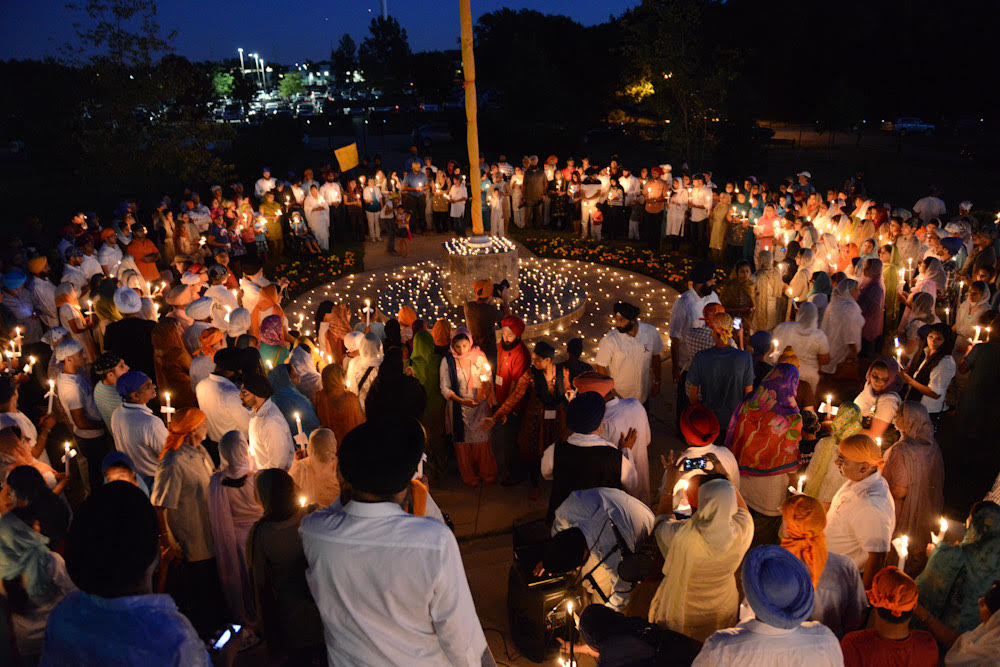 Every year on August 5th, the Sikh American community remembers one of our community's most devastating tragedies in recent memory — the Oak Creek massacre. On this day in 2012, a white supremacist gunman entered the Sikh Temple of Wisconsin, a gurdwara (Sikh house of worship) in Oak Creek, Wisconsin where he shot and killed six worshippers and severely injured others. This violent attack was the deadliest mass shooting targeting Sikh Americans in U.S. history, and at the time, was one of the worst attacks on a U.S. house of worship in decades. Six worshippers — Paramjit Kaur Saini, Sita Singh, Ranjit Singh, Prakash Singh, Suveg Singh Khattra, and Satwant Singh Kaleka — were killed on that horrific day. An additional community member, Baba Punjab Singh, was severely paralyzed and ultimately passed away from complications related to his injuries in 2020. Others, including Bhai Santokh Singh and responding police officer and hero, Lt. Brian Murphy, were seriously wounded during the shooting. 
In 2022, the community came together to demonstrate that we are undaunted. My organization, the Sikh American Legal Defense and Education Fund (SALDEF) joined in supporting the anniversary observance at Oak Creek: a remembrance event centered around the theme of "Heal, Unite, Act." The Oak Creek Sikh community hosted a series of in-person events, including the 10th Annual Oak Creek Sikh Memorial Anniversary Candlelight Remembrance Vigil on Friday, August 5, 2022. The program included a representative from the White House, Wisconsin Governor Tony Evers, Oak Creek Mayor Dan Bukiewicz, and representatives of the families who lost loved ones. Being there in Oak Creek 10 years after the tragedy was deeply meaningful — both to see the inspiring resilience of this community and to remember how much remains to be done.
In D.C., SALDEF continues to fight for policies that improve the lives of Sikh Americans. I had the honor of chairing the most recent iteration of the Faith-Based Security Advisory Council at the Department of Homeland Security, providing recommendations at the request of Secretary Alejandro N. Mayorkas. Consequently, the three subcommittees published a report that emphasized the importance of greater accessibility, greater equity, and greater transparency in counterterrorism efforts that for too long revolved around surveilling populations like the one that was senselessly attacked at the Oak Creek gurdwara in 2012. Leading the FBSAC as a Sikh woman, and representing a community that was highly targeted alongside Muslims by both white supremacists and in post-9/11 counterterrorism profiling, was an opportunity to push the Council to advocate more fiercely for further information-sharing between communities and law enforcement, extending grant opportunities for security for Gurdwaras and other houses of worship, and building trust between the government and Sikh communities. In addition, I advocated for accountability for the damage needlessly caused to Muslim, Arab, South Asian, and Hindu (MASSAH) communities by federal agencies historically pursuing "counterterrorism" objectives which has resulted in eroded trust rather than the development of strong partnerships. 
Although we have made great strides in this country, there is still more to do. Through our work we have partnered with many across the nation to come together and find solutions through tenets central to Sikhism and America — unity, love, and equality. SALDEF continues to strongly endorse the policy framework articulated across the Domestic Terrorism Prevention Act (H.R. 350 / S. 963); Justice for Victims of Hate Crimes Act; and the Nonprofit Security Grant Program (NSGP) Improvement Act (H.R. 6825). We believe strongly in mandating federal agencies to create dedicated offices to investigate domestic terrorism; allowing prosecutors to feasibly indict perpetrators of hate crimes; and allowing religious nonprofits to access federal funding to enhance their own security.
While 11 years have passed, the effects of the Oak Creek shooting are never far from the minds of Sikh American advocates and the community we serve. SALDEF will not stop taking a stand against senseless violence and hate crimes. We continue to work in unity with our community and movement partners, and fight for better policies that will actively keep all of our communities safe. Through tragedy, we find hope. We know there can be a world where people from all backgrounds and cultures can practice their faith freely and, even though it has eluded the Sikh American community in the past, we still believe this world is possible.
Photo Courtesy of Amrita Kular
---
The opinions expressed by the writer of this piece, and those providing comments thereon (collectively, the "Writers"), are theirs alone and do not necessarily reflect the opinions of Brown Girl Magazine, Inc., or any of its employees, directors, officers, affiliates, or assigns (collectively, "BGM"). BGM is not responsible for the accuracy of any of the information supplied by the Writers. It is not the intention of Brown Girl Magazine to malign any religion, ethnic group, club, organization, company, or individual. If you have a complaint about this content, please email us at Staff@browngirlmagazine.com. This post is subject to our Terms of Use and Privacy Policy. If you'd like to submit a guest post, please follow the guidelines we've set forth here.