by Ravleen Kaur – Follow @rippinrav
The following piece is in collaboration with our friends at Bollywood America, a national Filmi-Fusion dance competition that made its debut 7 years ago.
Joining the Bollywood America (BA) Bid Competition network once again, Buckeye Mela kicked off its 10th year of competitions on Jan. 27. The competition was hosted by Ohio State University's Indian Student Association (ISA) and Indian-American Association (IAA) with sponsors from many local organizations and companies.  
On Friday, the mixer took place on campus and consisted of dinner, games, and a special visit from BA representatives. Mixers are the first chance teams have to mingle with one another, truly the best way of expanding the Desi Dance Network, Inc. (DDN). Because so few competitions ever make it to their tenth year of existence, Umar Rashid, Paruul Batra, and Steven Maheshwary of BA attended the mixer and even brought the Mela board a cake to congratulate them.  The mixer theme was Hawaiian – cute, albeit random – and paved the type of games that would be played to decide show order that night.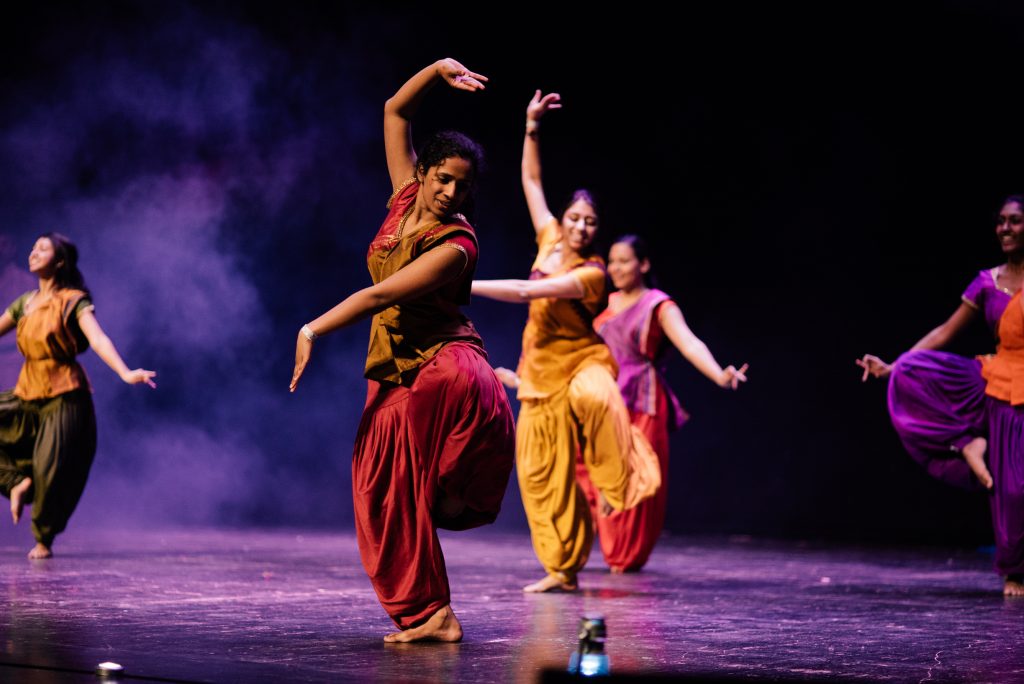 The Mela system consists of three games, and teams earn points for how well they do in each game: limbo, pineapple bowling, and a Buckeye Mela classic — fusion dance teams choreographing a short dance to a bhangra song and bhangra teams choreographing a dance to a Bollywood song. Out of all the mixers I've been to, this is the most fun game I've ever witnessed. The team with the highest points picked their show order blindly from a cup containing a random number. 
This system resulted in the following line-up:
 Alamo City Bhangra
 Northwestern Anubhav
  Princeton Bhangra
  Michigan Manzil
  CMU Bhangra
  BU Jalwa
  Raakhe Virse De
  UC Dhadak
  First Class Bhangra
  Men of Dance
  Shahi Taj Bhangra
  UW Kahaani
  UNC Bhangra Elite
  UGA Asura
  Spartan Bhangra
  UNC Chalkaa
The Mela mixer was an amazing experience, despite having 16 teams packed into a small room and despite the high tensions and stress that become inevitable during competition weekend. During some down time at the mixer, I got a chance to speak with the three core types of people that make this weekend possible: a board member, a liaison, and a competitor.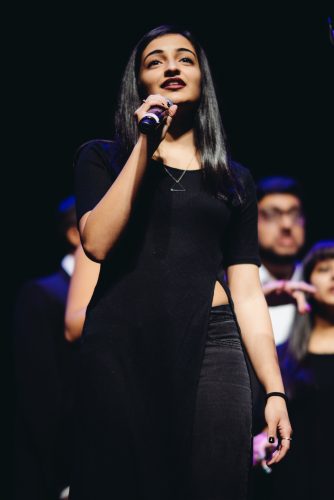 Raj Grover, co-director of Buckeye Mela, said, "I do Mela because I danced for OSU Genesis for a year and went to a lot of competitions. I would go to these competitions and think of ways I could improve them with new ideas. The best way to make these changes I had in mind was to join a competition board. I'm lucky I got a huge position on my first year being on Mela board!"
Isha Das, fellow Brown Girl and liaison for University of Washington (UW) Kahaani said, "Buckeye Mela is such a fantastic opportunity for all people from different South Asian and non-South Asian descents to come together and celebrate what we love most: dance."
Ampal Kaur, captain of Alamo City Bhangra, said she came all the way from San Antonio because she hadn't been to Columbus before, and because "[she] constantly heard from all of [her] friends in the circuit how well this competition is run and didn't want to miss out anymore." She adds that she does bhangra because it allows her to express herself in a way that she usually keeps tucked away.
Come Saturday, the teams were up bright and early. Tech time flew by without much hassle, and before I knew it, I was in my seat, bursting with excitement. Buckeye Mela cuts straight to the chase. With a short introduction of the emcees, Sneha Rajagopal and Johnson Thomas, the show was in full swing.
The four hours spent in Mershon Auditorium whizzed by. Saying Mela had the best damn teams in the land competing would be an understatement. My friends and I were in awe. Some fusion performances left our hearts aching, while the bhangra teams had our jaws drop to the floor with their clever gimmicks and song choices.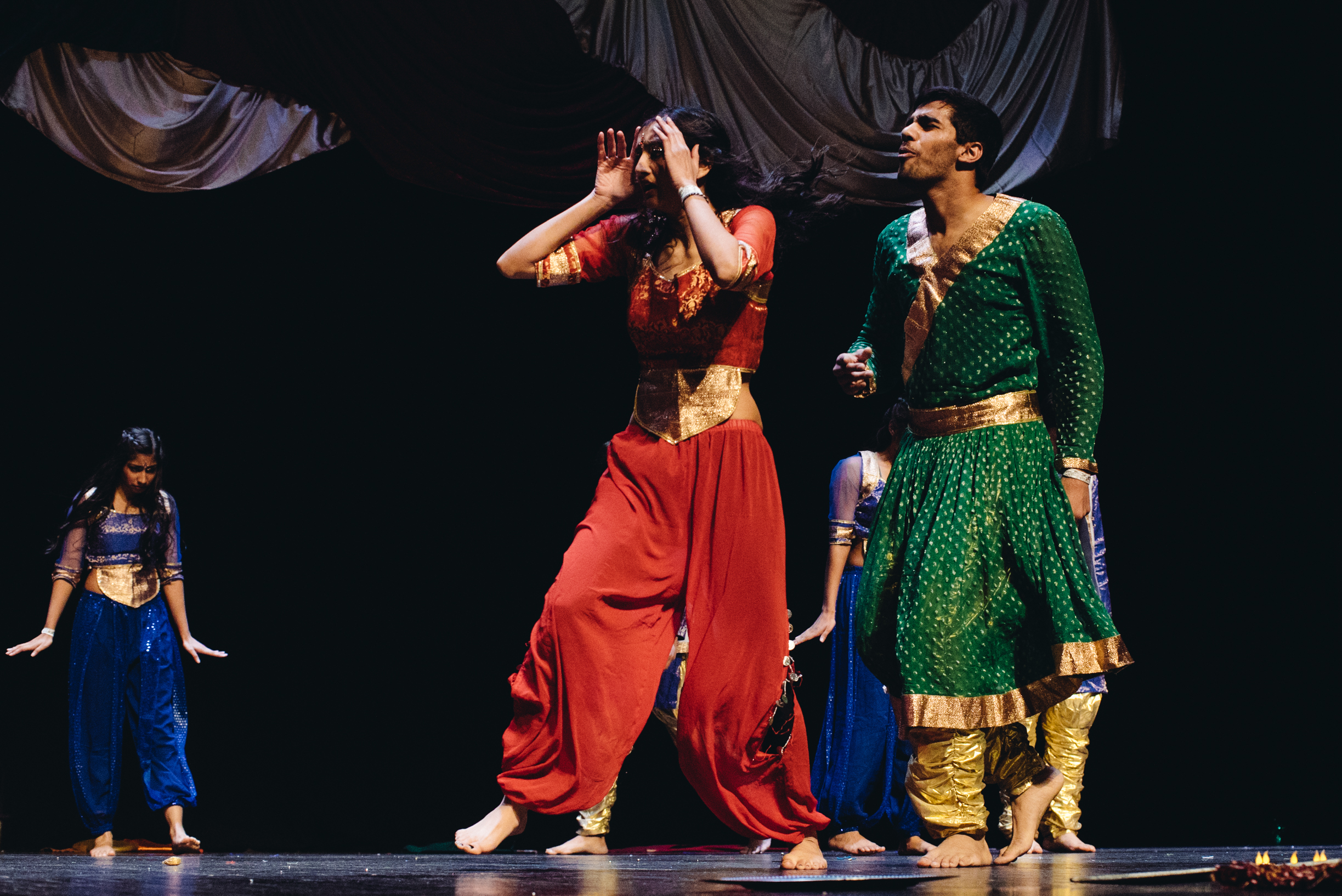 At one point, the audience of over 1,000 belched out "Broccoli" in perfect unison. The night ended with multiple performances by OSU Dhadkan, Ohio State's premier South Asian a cappella team, as the judges deliberated and the teams anxiously waited to take their spots on stage for placing announcements. The judging process was smooth and the results came back without much backlash or disagreement from viewers:
Fusion: 1st– Northwestern Anubhav, 2nd– Men of Dance, and 3rd– UNC Chalkaa
Bhangra: 1st– UNC Bhangra Elite, 2nd– First Class Bhangra, and 3rd– Raakhe Virse De
Overall, Buckeye Mela was an extremely enjoyable and smoothly-run weekend. The profits from this weekend were all funneled into Pratham USA, an organization that aims to relieve the learning crisis in India. Mela weekend packs a full punch: fun mixer, amazing line-up, and a worthy cause to which your ticket money goes.
Mela came. Mela conquered. Mela left. Every year Buckeye Mela announces its competition dates, I can't help but get that same feeling of giddiness and excitement I did freshman year. So here's to another 10 years of Buckeye Mela, the best damn competition in the land at the best damn school in the land.
---
Bollywood America, the most prestigious national Filmi-Fusion dance competition that made its debut 7 years ago, celebrates South Asian culture, tradition, and diversity through dance by bringing together the most talented dance teams in the nation to compete on one stage every year.
It is a rigorous competition where the caliber of choreography, production, costumes, and dance continues to excel as South Asian dance styles become more prominent in communities across the country. Bollywood America is the final championship of the year for the entire Filmi-Fusion dance circuit and takes the 11 teams who accumulated the most points over the course of the competition year. The 100+ teams in the Filmi-Fusion circuit audition, travel and compete at regional competitions hosted in various cities in order to earn Bollywood America bid points, cash prizes, and respect.
Bollywood America attracts audience members from across the world and continues to gain more attention each year from local press and global media channels. This national dance championship will be held on April 8, 2017, in Dallas, Texas where the next Filmi-Fusion Champion will be crowned.
---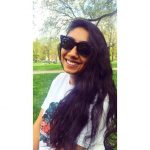 Ravleen Kaur is a student at The Ohio State University studying public affairs and public health. Her hobbies include drinking over-sweetened coffee and performing bhangra in public spaces. She is currently planning to run away from her home state in the Deep South and eventually work in the public health field.