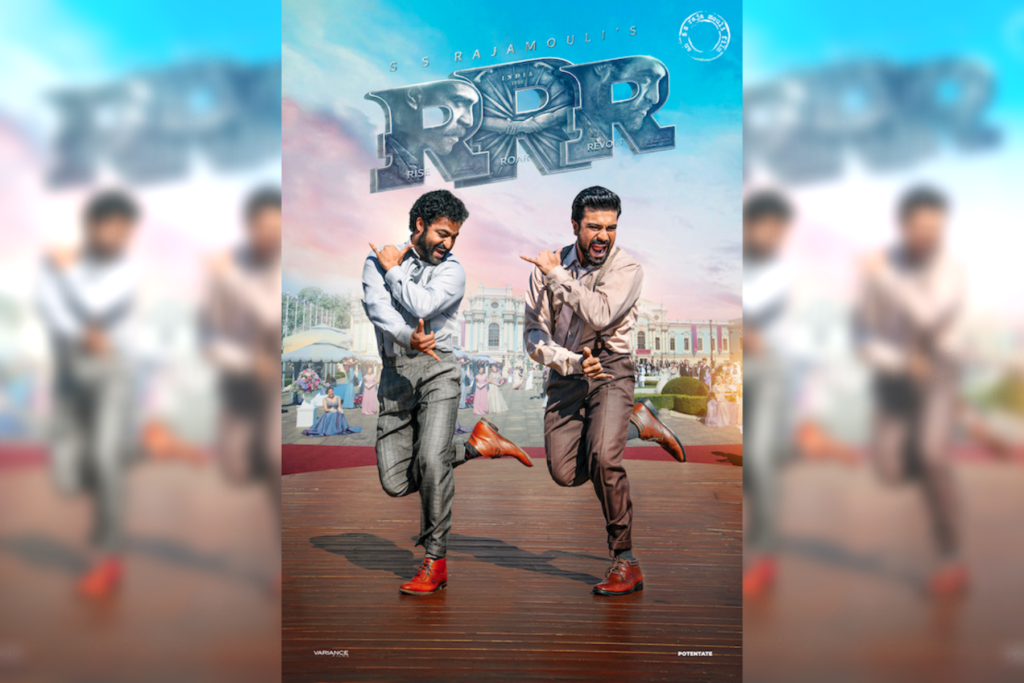 "Naatu Naatu" is one of the most memorable sequences from S.S. Rajamouli's epic action-drama "RRR," and has assisted the Telugu-language blockbuster in becoming one of the highest-grossing films at the worldwide box office. With music by M.M. Keeravani and lyrics by Chandrabose, "Naatu Naatu" is a celebration of regional music, dance, national identity, and male friendship.
But long before the song began collecting its accolades, its infectious tune and fast-step dance, performed vigorously by N.T. Rama Rao Jr. and Ram Charan, became a viral sensation outside of the film. It's now the first song in a movie from India to be nominated for an Oscar and also to have won a Golden Globe. 
When asked about the song's ripple effect across the world, Keervani remarked,
For us — the musicians and artists — social media is very powerful, because of the internet and reachability. Nowadays, globally, anything that is different by nature, anything that is innovative, a little innovative, will catch instant attention.
It all started with a TikTok dance challenge where thousands of fans mimicked the dizzying hook step, choreographed by Prem Rakshith, garnering hundreds of millions of views, and making the song a bonafide global phenomenon. Today, the official YouTube video has well over 123 million views.
While the science behind why certain songs have a higher virality is widely debated, Keeravani attributes a large part to the song's instant connection with the masses to its unusual 6/8 time signature, taken from carnatic music — which he believes is "inherently encoded in the human body."  
For non musicians, he vocally percusses the rhythm, "thik-i-tha tha-ka-tha, thik-i-tha tha-ka-tha, thik-i-tha tha-ka-tha, thik-i-tha tha-ka-tha." 
[This beat] will give you instant energy. Like suppose, you're going low on sugar. So there are things like instant energy boosters; like you consume some aerated drink or a cup of coffee with sugar. And instantly your energy is boosted. So six, eight will give you an instant feeling to get up, create some steps and dance. There is a swing in the beat. So you will react to that beat — involuntarily you will react.
Before Keeravani wrote the music for "Naatu Naatu," Chandrabose was given the challenging task to pen the lyrics to this rhythm. Continuing a long-standing collaboration that began 29 years ago, Chandrabose has co-written over 400 songs with Keeravani, including this iconic title track — his only co-write on "RRR." 
View this post on Instagram
Regionality played a significant role in the composition.
Ram comes from Andhra and Bheem comes from Telangana. Both dialects are different; the slang is different. So, there is a challenge to write both slangs in one song. Everybody should understand those words. That is the challenge.
Chandrabose explained how he needed to appropriately incorporate the various dialects from the regions the primary characters were from, and reflect colloquialisms from 100 years ago, when the film's story takes place, that is also recognizable to present-day listeners.
In [the lyric] 'Yerrajonna rottelona mirapathokku kalipinattu' (which translates roughly to "like eating a jowar roti with a chili" in English), 'thokku' means pickly, like mango pickle. In Andhra, it is known as 'pachadi' and in Telangana, it is known as 'thokku.' So, everyone can relate and connect [to] that word. And since 'thokku' belongs to Telangana, that line is sung by Bheem.
The original Telugu version of "Naatu Naatu" was also dubbed and released across a variety regional Indian languages, including, "Naacho Naacho" in Hindi, "Naattu Koothu" in Tamil, "Halli Naatu" in Kannada, and "Karinthol" in Malayalam, and has collectively been streamed over 92 million times on Spotify.
Chandrabose remarks that he envisioned the lyrics to 90 percent of the song in half a day, but it took about 19 more months to finalize the song in its entirety. This was in great part due to the time spent on researching the dialects and finalizing each word to the overall ethos of the song. Rajamouli had given strict direction that the song should authentically be about one's nature, their culture and countryside, and be universally respectful.
View this post on Instagram
When asked about how they scaled this process across the other five language releases, Keeravani recalled that they had to prioritize lip sync.
Since it's a dance number, there is a combination of close shots and long shots. So the long shots are spared, but in the close shots, they need to be as close to the Telugu lyric, I mean, lip wise.
He added that the writing team had to make some concessions,
There will be a certain amount of compromise in the meaning of the lyric. But that is inevitable. As long as the song is conveying its main essence, it has no problem.
Culturally, India has a rich history of celebrating songwriters, composers, and music directors in cinema. However, this recognition does not always translate to credit and compensation. For example, "Naatu Naatu" was extraordinarily successful on TikTok, but TikTok isn't available in India, creating complex monetization adversities. It's especially important to understand that India's non-bollywood and independent music market has a nascent publishing infrastructure and is traditionally known to have a work-for-hire payment model where song contributors are not offered royalties. 
Speaking optimistically to changing times, Chandrabose shared,
I'm getting royalty from past 12 years (from performing rights societies IPRS in India and PRS in the U.K.).
He explained that, especially with viral songs, some songwriters and composers have only limited careers in the "limelight," but "after 10 to 15 years, they cannot get more work and they cannot get money." He speaks to songwriting royalties as a key to retirement for the next generation of song makers.
So, at that time they will receive these IPRS royalties as their pension to meet their needs. They will get these amounts in their old age that will help them a lot.
Upon concluding our chat with Chandrabose and Keeravani, we marveled at the amount of progress that has happened for independent and non-hindi language music communities around the world. The virality of "Naatu Naatu" is a testament to the musical prowess out of South Asia, but also challenges the Western notion that Indian music is narrowly defined by belonging in the catchall 'world music' category, or the sounds of the sitar and tabla, or a lightbulb-twisting Bhangra club-hit wonder, or, if nothing else, then Bollywood — all in large part exclusively North Indian. Unfortunately, this distinctly important nuance still plagues Western media and major music institutions. 
View this post on Instagram
Recently during a Songwriters Hall of Fame conversation with Oscar-nominated songwriters, Paul Williams incorrectly introduced "Naatu Naatu," as "the first Hindi-language song ever nominated for an Oscar," which is spliced with not one, but two errors — not only misidentifying the language but ignoring A.R. Rahman's "Jai Ho!," a Hindi song which was nominated and won in 2009 for the same category. As South Asian artists around the world begin to traverse into global markets, we hope to see more Western entities taking the time to research, hire South Asian contributors, and execute due diligence to minimize inaccuracies and cultural erasure.
Looking ahead to the 95th Oscars on March 12, 2023, we can rejoice that "Naatu Naatu" is confirmed to be performed live by the original singers Rahul Sipligunj and Kaala Bhairava at Academy Awards ceremony. The Best Original Song nomination is up against "Applause" from "Tell It Like a Woman;" "Hold My Hand" from "Top Gun: Maverick:" "Lift Me Up" from "Black Panther: Wakanda Forever;" and "This Is A Life" from "Everything Everywhere All at Once."
"RRR" is streaming on Netflix and Zee5. On March 3 it will be re-released in over 200 US theaters as part of 'The RRR Fan CelebRRRation'. Check your local cinema guides for one-off theatrical screenings.