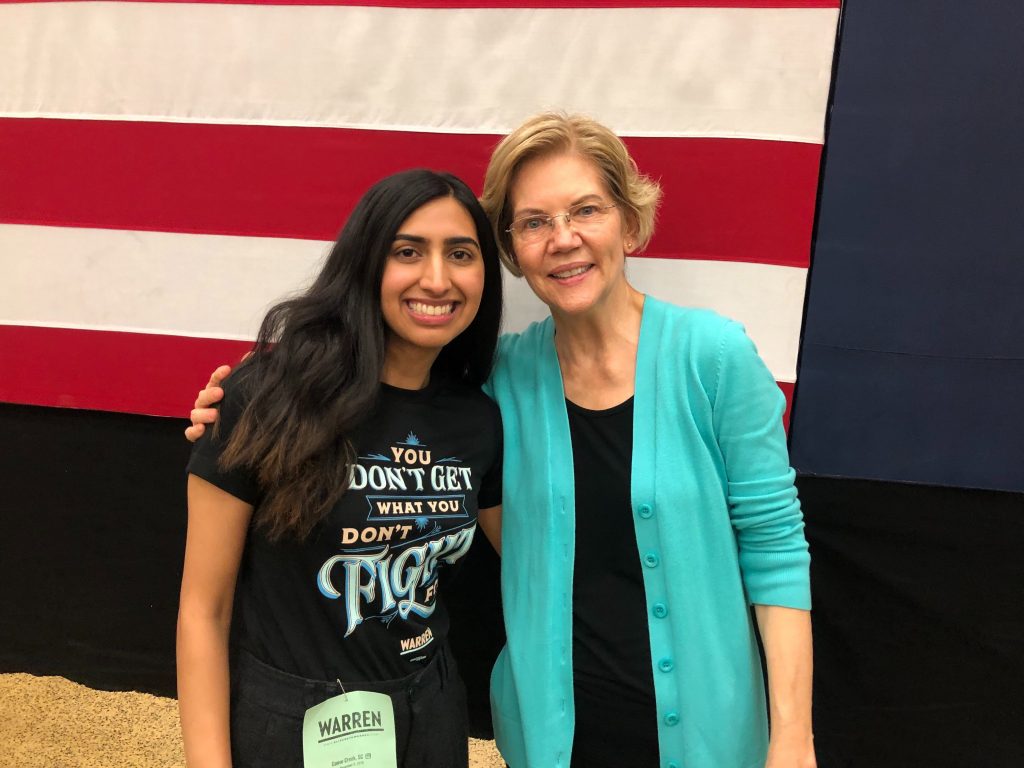 The following post reflects the author's own views and is not a representation or an official endorsement of any candidate by Brown Girl Magazine. We will not be endorsing any candidate running for the 2020 presidential election.
Elizabeth Warren wasn't perfect and she never claimed to be. But if you didn't support her, you respected her. That's the kind of person she was and that's the kind of person I fought so hard to make the President of the United States. 
I told my son that Warren dropped out & he asked who was going to save the whales ? . The blue new deal was my 5 yr olds favorite plan ?

— Amanduh social distancing from Reynolds (@Idiom_blue) March 7, 2020
As a field organizer in the deep South, I saw firsthand how Senator Warren energized voters. The stereotype is that her supporters are all white libfems who support her "watered-down version of progressivism," my personal experience suggests otherwise. Warren's message resonated with a plethora of voters in a way no poll or statistic can explain. She spoke to truck drivers who traveled far and wide, in addition to trans activists in small towns. A single mother once herself, she spoke to parents that were struggling to keep it all together. She spoke to the HBCU students who chose to spend their Saturday nights making calls. She spoke to faith leaders, former state senators, grocery store clerks and teachers. She spoke to John Legend and Roxanne Gay. She spoke to everyone and anyone and most importantly, she spoke loud and clear.
I am incredibly disappointed that Warren has to drop out. I believe in her vision for America. I respect her intelligence, her plans, her willingness to learn. It hurts that we probably won't see a woman president in my lifetime because people will find a mutable metric…

— roxane gay (@rgay) March 5, 2020
The moment that solidified my faith in her was when, after concluding her town hall event in November, she ran over to the ADA section and got on her knees to meet eyes with and shake hands with folks in wheelchairs. I watched Warren wait patiently as an elderly woman tied a friendship bracelet she had made onto Warren's wrist as a swarm of reporters and elected officials waited for her on stage. I saw the black and brown little girls walk into her rallies with pink facepaint, often clutching her action figures. I watched them make pinky promises to her.
Warren calls the fact that the field has narrowed to two men one of the "hardest parts" about dropping out. "And all those little girls are gonna have to wait four more years," she says.

— Josh Jamerson (@joshjame) March 5, 2020
I watched Senator Warren look them straight in the eye and declare, I'm running for president because that's what girls do. My biggest hope is that they still believe her. 
I also knocked on the doors of Republicans who always made it a point to tell me that they didn't like her. They feared her movement, her tenacity to challenge billionaires on the debate stages and do the right thing.
While canvassing, I met people, even former civil rights activists, who would listen to my pitch, then frown and proclaim "I'd love a female in the white house, but America is just not ready for a woman president." "But your vote decides that!" I would insist. By then, the door would be slammed shut. In the short walk to the next door, I would always wonder if we would ever be ready. 
"Every time I get introduced as the most powerful woman, I almost cry, because I wish it was not true," @SpeakerPelosi says when asked about @ewarren. Says she wishes there were a woman president

— Kasie Hunt (@kasie) March 5, 2020
Today, there are a thousand more cracks in the glass ceiling because of the movement she inspired. Warren is a powerhouse who has demonstrated time and time again that she is qualified, determined and ready through her debate performances, her track record of excellence and in her ability to persist. The power of her movement was never in multimillionaire endorsements or advertisements, it was in the conversations we had in hair salons and churches. It was in the roundtable meetings with climate change activists and teachers and in the moments where we wanted to give up, but didn't. 
Today is one of those days that you hope never comes. Over the past several months I have traveled this country and met thousands of Americans who all had a dream of big, structural change. @ewarren built a movement across this nation, one that will never be forgotten. (THREAD) pic.twitter.com/IG1nN4ODmG

— Deb Haaland (@Deb4CongressNM) March 5, 2020
Her movement believed in me when I joined as an organizer with no previous campaign experience. It believed in my passion for big, structural change when it trusted me to knock on the doors of everyday citizens. It believed in me to share the power of progressivism as an advocate for Medicare for all, universal healthcare, free public college for all Americans and universal childcare. Warren believed in me and I know this because it was the first thing she told me when I met her. Four months later, I find myself wishing, more than anything, that America believed in her as she believed in me.