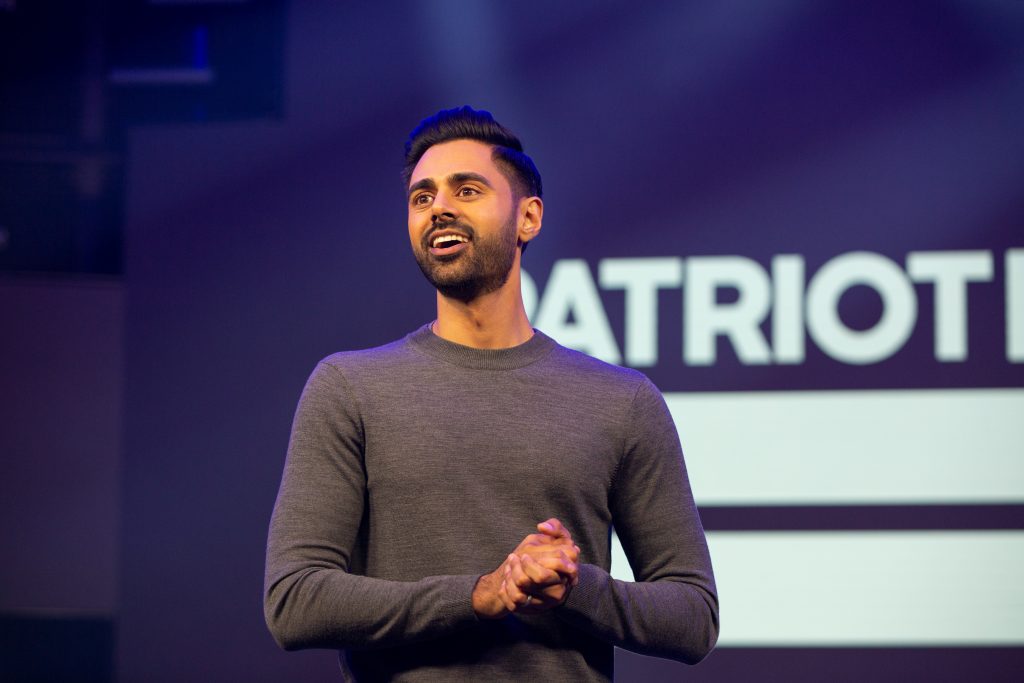 When I saw that the last episode of Volume Six of "Patriot Act with Hasan Minhaj" was titled "Why Doing Taxes is SO Hard," I did my happy dance. "He's talking about taxes, he's talking about taxes," I sang to myself.
This dance had been done many times in the past with the release of many an episode of "Patriot Act with Hasan Minhaj."
Over the years, "Patriot Act" has successfully discussed seemingly every cause I have cared about and more — so much more. It was one of the few shows that truly spoke to me.
It's also helped youth to "get woke," learn about issues that face us as a global society, and prove to their parents that political science majors can, in fact, "make it."
So naturally, its cancellation came with a bounty of shock and a wave of emotion.
https://www.instagram.com/p/CECKNK9pWQ9/
"Patriot Act with Hasan Minhaj" was one of an extremely limited list of comedy news shows hosted by a person of color. It was known for its deep dives into our news cycles and discussing issues concerning South Asians. The show highlighted topics that often carry a stigma with them, such as mental health. It called out billionaires, the cruise ship industry, fast fashion, and it often ruffled feathers. For example, just months after the show's premiere, Netflix pulled an episode in Saudi Arabia that discussed the kingdom's conflicting explanations of journalist Jamal Khashoggi's killing.
"Patriot Act with Hasan Minhaj" was humorous and easy to digest, with helpful graphics and an incredibly personable host. And as the show abruptly came to an end, I couldn't help but reminisce all of those early Sunday mornings that I shared with Hasan Minhaj, my cup of tea and my chunky blanket.
As we mourn the loss of this funny, insightful and bold show, here are some of my favorite bits and moments that really stuck with me.
Calling Out Anti-Blackness in the South Asian Community
In wake of the deaths of George Floyd, Ahmaud Arbery and Breonna Taylor, Hasan Minhaj breaks down why we can't stay silent over their deaths and the injustice they carry. Hasan more specifically delves into anti-Blackness and racist mindsets in the South Asian community. He discusses the double standard among desis about how it's seen as bad to be "Black," in spite of so many South Asians wanting to be Black and associating themselves with Black culture.
While Bollywood stars were advertising skin lightening creams, Hasan called out anti-Blackness. Hasan provides not only insight but important calls to action for authorities as well as individuals.
Calling Out Saudi Arabia
In this episode, Hasan takes on the realities of the autocratic rule of Saudi Crown Prince Mohammad bin Salman using his perspective as an American-Muslim. He also breaks down reasons why the world should reassess its relations with Saudi Arabia.
Netflix went on to pull this episode in Saudi Arabia after Saudi authorities claimed it violated anti-cybercrime law.
This was one of the first episodes of the Patriot Act and Hasan was already calling it like he saw it and ruffling many a feather. This was something I, among others, found admirable.
Trying to Convert Canadian Prime Minister Justin Trudeau to Islam
https://www.instagram.com/p/B130gidJzKv/?utm_source=ig_web_copy_link
This entire episode spoke to me. It brought to light many of the concerns of young Canadians like myself and truly demonstrated the two sides of Canada. And the addition of the interview of Prime Minister Justin Trudeau reinstated why these concerns existed and provided some comic relief. This particular moment, however, was a moment of utter, awkward comedy. Here sits my head-of-state as one of my favorite comedians tries to convert him to Islam. What more could I ask for? Him to call J.T. White Panther? Forcing J.T. to say he was "like 1/16 Malaysian." Wait, he did do that!
Exposing the Cruise Ship Industry
I've long been skeptical about cruise ships. As someone who gets seasick and thinks the idea of living on a ship for a week is less than optimal, they simply weren't "it." I mean, why live on a boat when you could live on land?
In this episode, Hasan discusses what major cruise lines, like Carnival, don't tell us. He explores how the fastest-growing travel sector in the United States skimps on safety, exploits their workers and covers up their crimes.
In conclusion, aunties and haters, I was right!
Interviews with Senator Bernie Sanders & Congresswoman Alexandria Ocasio-Cortez
In this Canadian household, we support the Green New Deal, Medicare for All, and abolishing ICE. So, you really can't go wrong putting our favorite American politicians and one of our favorite comedians on a screen in front of us.
Both politicians were able to have a laugh (thanks, Hasan) and make us laugh, while also demonstrating how progressive policy would be beneficial to everyday Americans.
The Tupperware Teens
Abeer. That's all I have to say.
Exposing Fast Fashion
https://www.instagram.com/p/B5RKIjMFpIc/?utm_source=ig_embed
In this episode, Hasan discussed how our desire to look "fresh" is killing our planet. He calls out fast fashion brands like H&M and Zara for churning out cheap clothes every few days, which compels us to shop like we never have before. Our desire to look "trendy" leads us to be exceptionally wasteful with half of the 64-68 pieces Americans buy every year being worn 3 times or less.
This episode left many contemplating on their shopping habits and their impact on the environment. However, Hasan does leave us with some solutions such as visiting thrift shops and wearing your clothes for longer.
Deep Cuts
Never did a Deep Cuts segment disappoint. During these segments, Hasan would answer questions from his studio audience and even had guests join him for different topics of discussion. These segments were humorous (obviously), down-to-earth and allowed us to learn more about our host.
As someone who loved Minhaj's heartfelt Netflix comedy special, "Homecoming King," it was nice to hear an extension of the stories he told during that special.
BONUS: Hasan Minhaj's Testimony Before Congress on Student Loan Debts
https://www.instagram.com/p/B4k_b7cJ1MO/
After the episode about student loan debt was released, Minhaj was called to testify before Congress. This is a prime example of the show's immense impact and part of why I'll miss it so much. The show not only gave us insight but also gave us solutions.
Minhaj's testimony before Congress was informative, telling and in a manner that was expected, but also a complete surprise, very comic. Frankly, it was the best stand-up comedy I've ever seen done by a seated individual.
"Patriot Act with Hasan Minhaj" was an incredible mix of comedy and insight like we've never seen before. It combined our favorite things about high-tech Powerpoint presentations, a live audience and seeing a person front and center who looks like us and relates to experiences for all people of color. Every episode left us with important insight, solutions and changes we could all make in our lives.
As I look forward, I wish for only bigger and better things for Minhaj and to continue re-watching "Patriot Act with Hasan Minhaj" for hours on end with no judgment. Until then, cue theme music.