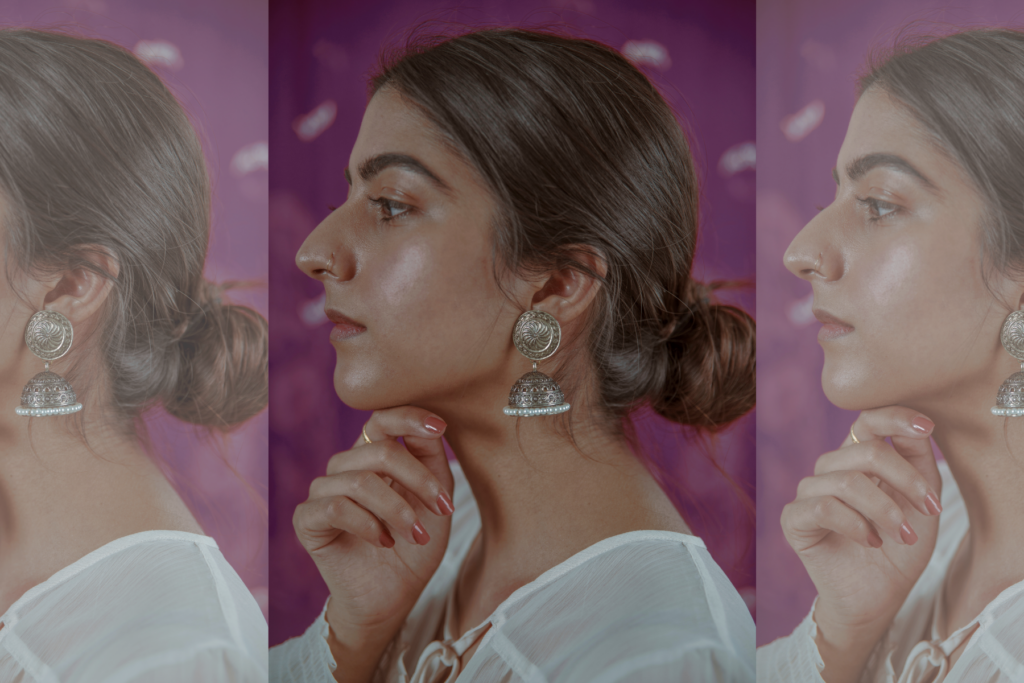 If you aren't familiar with Simrah Farrukh's photography, you've definitely come across her series featuring South Asian noses on Instagram.
Her work is immediately distinguishable due to its goldish-brown hue, muted colors, grainy composition, and "dream-like" aesthetic. From an intentional effort to spotlight dark-skinned South Asian women as models to showcasing South Asian LGBTQ love, Simrah's work challenges the status quo in refreshingly candid ways. Her photography centers South Asian-Americans in art and fashion while prompting conversations about the way South Asians define beauty. 
Simrah and I met over Zoom to discuss her booming career as a photographer and visual activist. At only 23-years-old, Simrah is producing critically acclaimed art that centers on South Asian and Muslim narratives while challenging western perceptions and lenses.
Simrah said she is an American-Pakistani photographer exploring "dreams, realities, and utopias primarily of brown women." Her work focuses on the intersection of fashion, women's empowerment, and tackling issues like colorism and eurocentrism. 
View this post on Instagram
Her most recognized photo series celebrates the diversity of South Asian women noses. The photos are side profiles of South Asian women with curved or broad noses. Each photo juxtaposed together highlights their differences.
The project was Simrah's response to the prominence of #NoseJobCheck on TikTok, where users showcase their nose job "before" and "after." 
"Getting a nose job isn't bad, but I know a lot of brown girls have insecurities about their noses. I want to show that their noses are not something to hide or alter," Simrah said.
This project was inspired by her own insecurities growing up and was an act of resistance to society's long-standing obsession with small, button noses as the universal standard of beauty. The series sparked Internet conversations about different beauty standards for men and women: even though non-eurocentric noses are generally disliked in South Asian communities, they are still seen as better looking on men.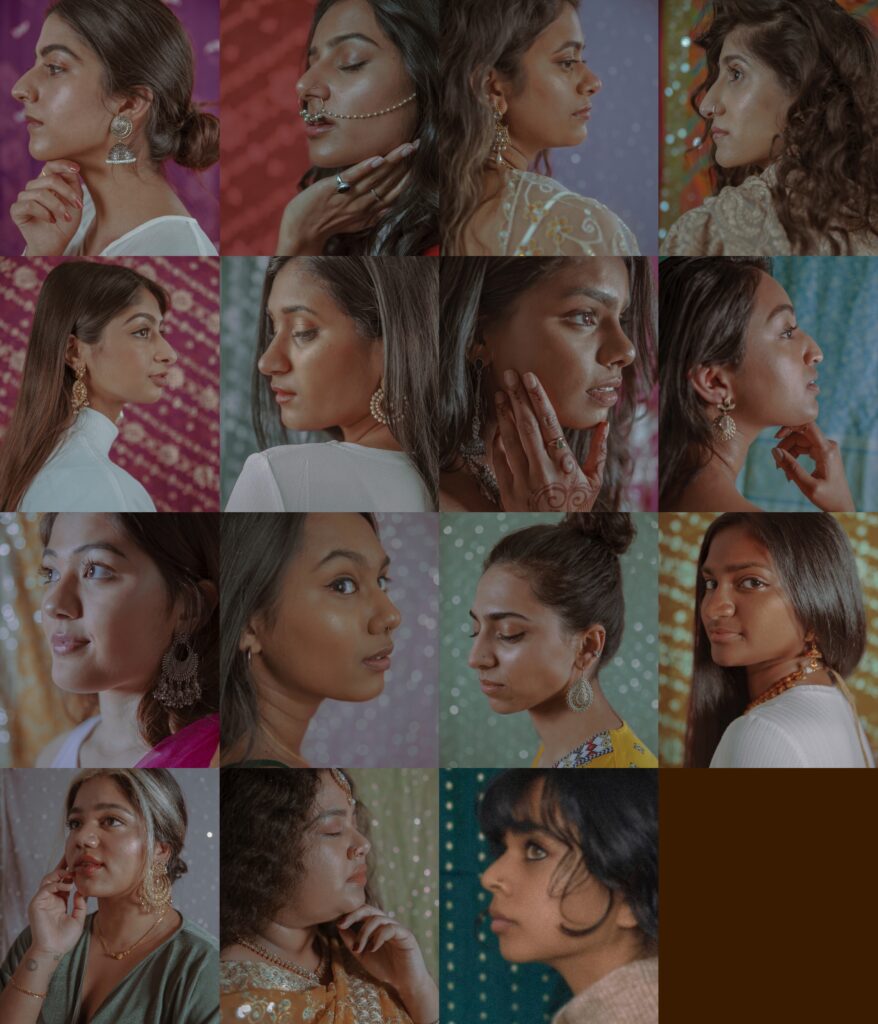 Using Shahrukh Khan as an example, Simrah explained that even though he has a wide, curved nose, he is still regarded as handsome. "Why is it that when the same nose is on a girl, it is seen as too masculine for their face?" Simrah questioned. 
View this post on Instagram
"The Underrepresented," another series by Simrah, tackles colorism by featuring South Asian women with dark skin in embroidered and jeweled desi attire in an outdoor, garden-like setting. The concept may seem straightforward, but when examined in its societal context it is revolutionary.
For many South Asian women growing up, society and popular culture wrongly instruct us that fairness equates to beauty. By showcasing the beauty of dark-skinned South Asian women in poses like models in a fashion catalog, Simrah makes a statement about the lack of representation in the fashion, media, and beauty industries.
She dedicated the project to "all the South Asian women out there who are…underrepresented…because the color of their skin doesn't fit South Asia's unreasonable, fair and lovely, Eurocentric beauty standards." 
To Simrah, combatting issues visually just "hits different."
"I chose photography because when you see something as a visual, it's different from reading about it. You can see the person's face and instantly feel a personal connection to them," Simrah explained. "Our brain processes photos 60,000 times faster than it does text. We see photos every single day. Putting issues through visuals is part of changing people's minds. Art is so powerful and hits you in the heart."
Simrah was first attracted to photography when she discovered her father's film camera in high school and took photos. Although she never developed those photos, she did develop a passion for photography. At first, this passion was innocent and aimless – geared towards capturing the perfect Facebook profile picture, for example.
However, it developed into something greater when she visited Pakistan. There, she came across her grandmothers' albums of family photos. The family photos helped her realize the power photographs can hold.
"This," she reminisced, "was a turning point with how I viewed photography — as an art form."
Simrah has a bachelor's degree in Studio Arts with a concentration in photography. However, she said going to school isn't necessary to make a career out of photography.
"Instead, I think people should make mistakes and learn by themselves—especially with all the resources on the internet," she said.
Without any formal mentorship, Simrah had to pave her own path to establish herself as a professional photographer. Luckily, Simrah's parents supported her in this endeavor, immersing her in Pakistani culture and art from a young age. 
View this post on Instagram
Simrah however recognizes she is lucky to have her parents' support.
"A big reason South Asians walk away from the arts is because of the pressure from our parents," she said. Because our parents haven't seen anybody like us in the arts at all, they feel like we can't make it. If they saw successful brown people in these fields, they would think 'my child could do this too.'"
Simrah wants to be this person.
"At the end of the day, I just hope my work serves as an archive for future generations of South Asians," Simrah said, her eyes sparkling. "It would be so powerful for a brown ten-year-old to walk into a store and see someone who looks like them on a poster."